Best HBO Max shows to watch right now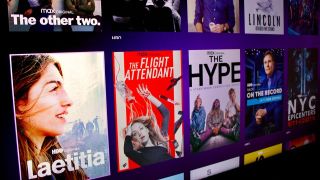 (Image credit: Keegan Prosser / Android Central)
HBO Max launched in 2020 as the digital hub for all your favorite HBO series and WarnerMedia content, from classics like Six Feet Under and The Wire to the latest films released by Warner Bros. Pictures. With so much media already available on the platform, and plans for more shows to premiere in the future, it can be tough to decide what you should watch next. As such, we've rounded up a list of the best shows on HBO Max right now.
HBO shows and more
Find both new series and a catalog of classics on HBO Max
HBO Max provides streamers with access to film and television content from HBO, WarnerMedia, and DC. Subscribe now to catch up on your favorite HBO and Max originals
Popular on HBO Max
When it comes to new and popular series, HBO Max is one of the best and most talked-about streaming platforms on the market right now. With that in mind, we've created a list of some of the most trend-worthy series on the platform right now.
The Gilded Age
A new historical drama from the creator of Downton Abbey, The Gilded Age is set during the boom years of 1880s New York City. It follows a young woman named Marian Brook (Louisa Jacobson), who moves from rural Pennsylvania to New York City after the death of her father to live with her aunts. Upon her arrival, Marian finds herself at the center of a social war between old and new money. New episodes air Mondays.
The Righteous Gemstones
Created by Danny McBride, The Righteous Gemstones follows the famous yet dysfunctional Gemstone family of televangelists as they work to expand their network of megachurches. The series also stars John Goodman, Adam DeVine, Edi Patterson, and Tony Cavalero. Season 2 premieres on Jan. 9.
Peacemaker
Peacemaker stars John Cena as the titular antihero, a character first introduced in James Gunn's Suicide Squad. The new series follows Peacemaker as he attempts to achieve peace at any cost — even if that means killing people along the way. New episodes air Thursdays.
Somebody Somewhere
A new comedy series from the Duplass Brothers, Somebody Somewhere stars Bridget Everett as a Kansas woman who begins to find the passion and joy that was previously missing from her life thanks to a group of fellow misfits in her hometown. New episodes air Sundays.
Drama on HBO Max
HBO Max is also a solid streaming service for viewers looking for some dramatic series. With that in mind, here are a few of the most action-packed series currently available on HBO Max.
And Just Like That ...
A sequel to Sex and the City, And Just Like That... follows Carrie, Miranda, and Charlotte as they continue to navigate friendship, family, and aging in New York City.
Euphoria
Euphoria stars Zendaya in her Emmy-winning role as 17-year-old Rue and follows the teenager and her friends as they navigate drug addiction, sexual relationships, and their futures. Season 2 is underway, with new episodes streaming on Sundays.
Station Eleven
Based on Emily St. John Mandel's 2014 novel of the same name, Station Eleven centers of a group of survivors as they attempt to rebuild the world in the wake of a devastating flu pandemic.
Landscapers
Based on true events, Landscapers stars Olivia Coleman and David Thewlis as an unassuming British couple who become the focus of a criminal investigation when two dead bodies are discovered in the back garden of a house in England.
Comedy on HBO Max
Want to laugh? Look no further! HBO Max has a variety of comedy series that will make you laugh until you cry. Here's a lineup of some of the best comedy series streaming today on HBO Max.
Avenue 5
Avenue 5 stars Hugh Laurie and Josh Gad as the captain and owner of a fictional interplanetary cruise ship. The series also stars Zach Woods, Rebecca Front, and Suzy Nakamura.
Black Jesus
Created by Aaron McGruder and Mike Clattenburg, Black Jesus paints a comedic picture of what might happen if Jesus Christ lived in modern-day Compton, California, and worked with his small group of followers to spread love and kindness throughout the neighborhood. All three seasons are streaming now.
Search Party
Search Party is a dark comedy about a group of friends who become involved in the search for a missing young woman. Season 5 premieres on Jan. 6.
South Side
Shot in Chicago's Englewood neighborhood, South Side follows two friends who are stuck working at Rent-T-Own while dreaming about taking over the world. New episodes of Season 2 stream Thursdays.
Reality competitions on HBO Max
HBO Max also features a ton of reality competition series that either aired previously on different networks or are exclusive to the platform. Here's a roundup of some of the best reality competition series streaming now.
Astral Journey (Journada astral)
A new reality series from Brazil, Astral Journey follows a group of expert astrologists as they consult with the stars in hopes of giving celebrities with the same zodiac sign new information about both their past and present.
Chillin Island
Chillin Island finds New York City natives and rap personalities Alec "Despot" Reinstein, Ashok "Dap" Kondabolu, and Aleksey "Lakutis" Weintraub recruiting a variety of their friends to experience nature across six episodes. Season 1 features Young Thug, Lil Yachty, Rosalía, Gunna, Killer Mike, Ski Mask the Slump God, Lil Tecca, Coi Leray, and Ezra Koening of Vampire Weekend.
My Mom, Your Dad
Hosted by Insecure's Yvonne Orji, My Mom, Your Dad is a new reality dating series that centers on a group of single parents who are looking for a second chance at love.
Take Out with Lisa Ling
In Take Out with Lisa Ling, the titular journalist embarks on a cross-country road trip to experience a number of diverse Asian American communities and cuisines. Along the way, she spends time with local artists, chefs, and community leaders.
Docuseries on HBO Max
You'll also find a collection of thrilling docuseries on HBO Max. Whether you're into true crime or something a little more uplifting, here are our top picks for docuseries that are currently available on HBO Max.
Dolores: The Truth About the Wanninkhof Case
Dolores: The Truth About the Wanninkhof Case finds Dolores Vázquez sharing her side of the story in the Rocío Wanninkhof case 20 years after she was wrongly convicted for the murder.
How To With John Wilson
How To With John Wilson follows the titular filmmaker and self-described "anxious New Yorker" as he films fellow New Yorkers and attempts to give advice on a variety of relatable topics.
The Murders at Starved Rock
The Murders at Starved Rock is a three-part docuseries that explores the brutal 1960 murders of three women in Illinois' Starved Rock State Park.
The Story of Late Night
A six-part docuseries from CNN, The Story of Late Night tells the history of late-night television through archived footage and stories about hosts Johnny Carson, Jay Leno, David Letterman, Conan O'Brien, Jimmy Fallon, Jimmy Kimmel, Jon Stewart, and Stephen Colbert.
HBO to the Max
HBO Max truly has something for everyone when it comes to the series. So whether you're looking to revisit an old favorite like Friends or want to dive into something new like Euphoria or Gossip Girl, you're sure to find the content that fits your taste.
The streaming service also offers a variety of shows that will keep you on the edge of your seat, whether through comedy series like The Righteous Gemstones or drama series like Landscapers or The Gilded Age.
If you'd rather experience stories based on real-life events, then Dolores: The Truth About the Wanninkhof Case might be worth a watch. And if you're looking for something a bit more scandalous, The Murders at Starved Rock will probably keep you on the edge of your seat.
In addition to the shows already streaming, as well as an impressive lineup of movies on HBO Max, the platform has a new batch of series coming over the next several weeks. This includes the Season 2 premiere of Raised by Wolves on Feb. 3, the Season 2 premiere of Painting With John on Feb. 18, and the highly-anticipated Game of Thrones prequel series House of the Dragon, which is expected at some point in 2022.
While HBO Max no longer offers a free trial, there are plenty of options to get the service through your cable provider, AT&T TV, and as a Hulu + Live TV add-on. You can also signup directly through the HBO Max website.
HBO Max has all the shows
The best-of-the-best in HBO series
HBO Max boasts a massive and ever-extending media library of movies and TV series from HBO, WarnerMedia, DC, and more. Signup now for all the content you need and more.
Get the Android Central Newsletter
Instant access to breaking news, the hottest reviews, great deals and helpful tips.
Keegan Prosser is a freelance contributor based in the PNW. When she's not writing about her favorite streaming apps and devices for Android Central, she's listening to a true-crime podcast, creating the perfect playlist for her next road trip, and trying to figure out which fitness tracker she should try next. You can follow her on Twitter @keeganprosser.