The best games for your Samsung Gear VR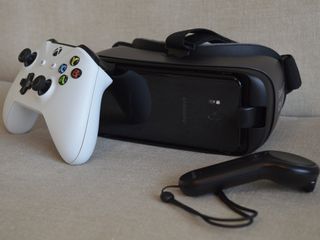 There are tons of great games and experiences available on Samsung Gear VR. Finding a great game within the Oculus store can be a pain though, and that's why we're here for you. We've collected the best of the best, and given you the details on each one.
Dreadhalls
Why you can trust Android Central Our expert reviewers spend hours testing and comparing products and services so you can choose the best for you. Find out more about how we test.
If you're a fan of horror games, then Dreadhalls ought to be right up your alley. You wake up inside of a dimly lit dungeon with no weapons, and nothing but a small lantern that helps to illuminate the room. You'll have to find your way out of the dungeon using nothing but your wits to escape the monster lurking in the halls.
Dreadhalls is an atmospheric horror game that will have you jumping as you peer around every corner. The dungeon is procedurally generated so you'll never see the exact same layout twice. Best of all, it's super affordable, at only $4.99 for the full game.
Eve: Gunjack
When it comes to shooting pirates in space, then you never need to look any further than Eve: Gunjack. Your only job in this game is to shoot everything that moves, and it makes things fun and challenging. There are plenty of levels to keep you occupied and it's quite easy to fall into for hours at a time.
Eve: Gunjack is a fast paced, space shooting, arcade game that will keep you on the edge of the street. You can grab it on the Oculus store now for $4.99 now.
Keep talking and nobody explodes
One of the best parts about VR, is being able to share it with friends. That's where Keep talking and nobody explodes comes in. One person wears a Gear VR and it presented with a bomb. To disarm it, they'll need directions from their friends who have the manual to defuse bombs.
The game makes for some hilarious challenges, and the bomb is procedurally generated so you won't be diffusing the same thing each time. You can grab it now on the Oculus Store for $9.99.
Smash Hit
Smash Hit is a fantastically fun game that has one real goal, to smash absolutely everything in your path. The game will automatically propel you through the world, and you'll start out with a single ball that can be chucked at the glass panels. It starts out fairly easy but you'll soon be moving faster, and required to hit more and more panels in order to unlock the next area.
This is a game that's easy to pick up, and tons of fun to play. It's beautiful, and also includes a soundtrack that can easily drag you into the game. One of the best perks is that you can grab it up for just $2.99 on the Oculus Store.
VR Karts: Sprint
Just because you're playing in VR, doesn't mean that you have to play by yourself. VR Karts: Sprint brings an awesomely fun kart racing game to Gear VR, and lets you play against AI or human opponents. There are several different play modes, a variety of tracks, and power ups that you can pick up in order to throw other racers off track.
It's a seriously fun game, and it brings a genre to VR that many gamers will remember fondly. Whether you're racing against the AI, or you're trying to put your friends in the dust, Kart racing games are a great way to blow off steam. It's one heck of a deal at just $4.99.
CoLab
When it comes to puzzle games in VR, they seem to be all over the place lately. CoLab takes a different approach, delivering you a game in which you are a contestant on the world's first VR game show. You'll have to think your way through trials that involve juggling, solving physical puzzles, and more, all while followed and narrated by the robot host of the show.
CoLab is a really fun puzzle based game that pull you in easily, and lets you walk away whenever you're ready. With a heavy dose of humor, and plenty of mind bending puzzles to keep you occupied it's a great addition to any gamer's library. You can check it at the Oculus store for just $4.99
Wrath of Loki
If you've been holding out hope for a hidden object game with an interesting story, then you may just be in luck. Wrath of Loki combines hidden object aspects, with environment based puzzles that are all painted beautifully. Between the soundtrack, story, and mechanics it's very easy to get pulled in.
While the gameplay itself is fun and occasionally difficult to figure out, the real star of the show here is the envornment. Everything is hand painted and the colors will grab you by the eyes, while the music puts you in the mood to stop Loki before he manages to wreak havoc across the world. It's available for just $1.99 on the Oculus Store.
Minecraft Gear VR
Minecraft is one of the most popular games of all time, and it's also on Gear VR. You'll be able to build just about anything you can dream of, encounter dreaded enemies in the wild, and enjoy the wide world from an entirely new perspective. All of the great elements of Minecraft, namely crafting, are here for you to play with and enjoy.
Minecraft Gear VR adds an immersive layer to a game that has already stolen the hearts of millions. With a super affordable price tag, there are hours and hours of exploration and crafting just waiting for you to dive in. It's available on the Oculus Store now for $6.99
Smashing the Battle
Have you been jonesing for a good hack and slash adventure that combines giant mechs, wrenches for weapons, and murderous robots, then Smashing the Battle may just be the game you've been waiting for. This hack and slash adventure game lets you choose between two different female characters, both of whom are armored up and ready to mow through the robots who have gone rogue.
Smashing the Battle is a ton of fun. With different play styles for each of the characters, you can find the gameplay that suits you best. There are also plenty of powerups to pick up during each level, which will help you out in a variety of ways. With a slick comic inspired look, and with a target heavy environment, this game will easily eat up hours of your time in fun and addictive gameplay. Best of all, it's available for $9.99.
Dark Days
Gear VR makes it easy for you to step into new and terrifying experiences with just a few moments. Dark Days occupies a creepy vibe that has the best of genre favorites like the X-Files and Twin Peaks, while putting you first person to all the action going on in this run down motel. Between an atmosphere that'll have your skin crawling, something following you, and plenty of puzzles to occupy you, this game should be on your list to try for sure.
Dark Days is at it's core an escape the room game, but there is plenty more going on. You'll need to solve puzzles, interact with the others at the motel smack in the middle of the desert, and try to survive whatever beastie is creeping around in the darkness if you want to survive the evening in one piece.
It's available for $7.99.
Anshar Wars 2
If you love spaceflight but want first person experience, Anshar Wars 2 will make you feel right at home. It's a freespace fighter where you control your ship's direction with your head and fire using a motion controller. If you're using this setup you'll want to have some free space as you're likely to get up out of your seat. If you'd prefer to use a controller, there's an option for that as well.
A recent update to Anshar Wars 2 also brought multiplayer support so you can play online or just battle against the AI in a multiplayer-style setting. The game is available for $9.99.
What's your favorite?
With so many excellent games available on Gear VR, it can be just a bit pesky to find the ones you really want to play. The games we've talked about here are some of the best of the best, but they're certainly not the only great games. Did we talk about your favorite games? Is there an excellent addition we ought to take a look at? Be sure to leave us a comment about it below!
Get the Android Central Newsletter
Instant access to breaking news, the hottest reviews, great deals and helpful tips.