The best Daydream apps for watching movies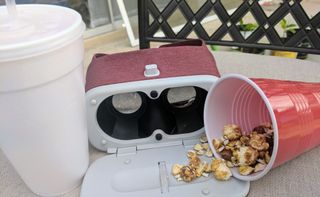 One of the first things I wanted to do when I got my Google Daydream was lay back and enjoy a movie. There is something about watching movies in VR that make me feel like another character watching from a first-person perspective as opposed to just a member of the viewing audience. Watching movies, or even videos, in VR, is something I absolutely recommend.
While you get yourself hype to which movie you want to watch I'll let you know some of the best apps to watch them on are.
Netflix VR
Why you can trust Android Central Our expert reviewers spend hours testing and comparing products and services so you can choose the best for you. Find out more about how we test.
With all their money behind them, you would expect Netflix to do a good job, and they do. You don't need a separate account so if you have Netflix already you can use the VR App.
The App itself is a recreation of a Swiss chalet in the Alps complete with low beams and picturesque mountain views. As places to sit and watch movies, it really is lovely. You get to sit on a comfy red sofa and watch a large screen TV built into a fireplace with a super weird work of art above it. I really enjoy watching Netflix in VR, with all the choices they have to offer and the lovely place to watch them, it's one of the best options. However, you can only watch what Netflix has to offer. What if you want to watch your own videos?
SkyBox VR
SkyBox VR is an App for watching local videos in a VR environment. Unlike Netflix, which only allows one environment to watch movies in, SkyBox gives you multiple choices including a very cool Sci-Fi space station to watch your home movies in. As well as allowing you to watch recordings from your phone, Skybox lets you stream from your PC to your phone via something they call "Airstream", it takes a little setting up and can be a little choppy, but as a concept, it's looking good.
SkyBox is a great choice for anyone who wants to use your own, DRM free, videos. It even separates your 360 and VR videos out to make finding the stuff you actually want to watch easier.
Google Play Movies
Of course, Googles offering is going to be one of the very best choices out there. The setting seems to be an Arizona desert-scape at night. It feels like you are watching a movie at a drive-in, a look they could have used more by adding some cars and a frame for the video.
You can buy or rent movies and TV shows from Google Play and even use google play credit to purchase them. Like Netflix, you can only watch the media you buy from them, which limits you, but Google Play does have a lot of content to choose from, at pretty reasonable prices. Is it the nicest place to sit and watch shows? Not really with this large variety of content, there are few apps that can compete.
See Play Movies on Google Play
Hulu
The Hulu App has a lot going for it in terms of VR. The setting is more contemporary than Netflix, a modern apartment in New York, but offers that same immersive feeling in the 360 space.
Hulu also has a category specifically for free VR video content which makes finding content much easier. The VR content does not seem to be behind a paywall either so you can download the Hulu App and enjoy VR content if you aren't a Hulu user. Videos on Hulu play in another large screen like Netflix but seem to be static, unlike Google Play Movies that allows you to resize the video to fit more comfortably.
Be an expert in 5 minutes
Get the latest news from Android Central, your trusted companion in the world of Android
Essa Kidwell is an expert in all things VR and mobile devices who can always be found with an Oculus Go, a Pixel 2, and an iPhone 7+. They've been taking things apart just to put them back together for quite some time. If you've got a troubleshooting issue with any of your tech, they're the one you want to go to! Find them on Twitter @OriginalSluggo or Instagram @CosmeticChronus.