Best Chrome apps to use with a stylus pen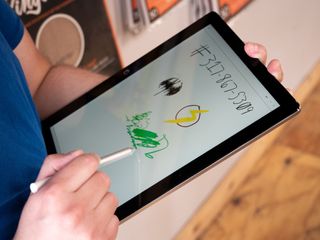 (Image credit: Android Central)
While styli are fun for doodling, there are also some serious productivity cases for using a pen on your gadget. You can draw diagrams, write out phone numbers, or just jot down a note, which may be faster or easier with a pen than it would with a keyboard. While not every Chromebook includes a pen or digitizer, there are plenty to choose from if you desire.
Here are the best Chrome apps to use with a pen!
The keyboard
Why you can trust Android Central Our expert reviewers spend hours testing and comparing products and services so you can choose the best for you. Find out more about how we test.
The software keyboard on Chromebooks supports swipe typing, so you can swipe away with your pen and have the keyboard automatically correct your input. The keyboard isn't officially the same Gboard as it is on Android (yet), but it's close enough and swiping is just as accurate as it is on your phone. It won't be as quick as typing on the keyboard, but it's plenty fast enough if you want to stay in tablet mode.
Google Keep
Google Keep's website and Android application both support pen input. You can doodle superhero logos, write phone numbers, or do anything you'd want to with a pen. Even on the website, writing is smooth and lag free. Because Keep synchronizes with your Google account, you'll be able to open up your drawings on any of your Android or iOS devices, as well as opening the Keep website on another device.
Squid
If you work with a lot of PDFs — or just want more note-taking features than Keep provides — Squid is the option for you. It existed on Android phones long before Android apps came to Chromebooks, and the Squid team worked closely with Google to optimize for the Chromebooks' larger screens.
That hard work paid off: Squid runs wonderfully on Chrome OS, and if you're a frequent pen user you'll come to love it. It has a special trick that sets it apart from other note-taking apps: you can draw with the pen, and erase with your finger. You can also Cast a note to a Miracast- or Chromecast-compatible display. Finally, you can back your notes up to cloud storage so you never lose them. You get some basic features like Casting, local backups and more for free, but the premium tier is only $1 per month or $10 per year.
Download: Squid (free, in-app purchases)
Adobe Fill & Sign
For better or worse, Adobe pretty much owns the corporate market for filling out PDFs. If your enterprise has been using Adobe Reader forms forever, you'll have a much easier time filling those forms out with an official Adobe application. Fill and Sign lets you do just that, and you can even take a picture of a paper form, fill that form out on your Chromebook, and email the completed form to wherever it needs to go. You get autocomplete as well to quickly fill in your name, address and other common details. Another great time-saving feature is that it saves your signature, so you don't need to draw it out for each and every form.
Download: Adobe Fill & Sign (free)
OneNote
If you use more of Microsoft's software than Google's, that's okay, we still love you. Microsoft still loves you too, since you can use almost all of its services on Android and Chrome OS. OneNote integrates right alongside the rest of your Office 365 applications, and notes you take are automatically backed up to your OneDrive storage. You can easily paste images into your notes, markup said images, or just create diagrams of your own. You can also share your notebook with anyone, and collaborate on the same note as someone else.
Infinite Painter
Relaxation is a fundamental part of letting your mind rest when you're not working, and drawing can be very therapeutic. While most of the other apps will let you draw, they aren't really designed for complex pieces of artwork. For that, you'll want something like Infinite Painter. You can import PSD layers from Photoshop, export as JPG, PNG, PSD or ZIP files, use over 80 preset brushes, create your own brushes, use built-in tools for filling, gradients, and more. Infinite Painter will look familiar to Pixelbook owners since it's installed out of the box. If it's excellent enough for Google to include in the flagship Chromebook, it's excellent enough for you to take a look at. Infinite Painter is free for the first seven days, then a cool $5.99 afterward.
Download: Infinite Painter (free, in-app purchases)
Brain it On
Another great way to unwind is with some games. There aren't too many pen-optimized games out there, but Brain it On works well. The basic premise is this: you draw shapes with your stylus (or finger, if you want to be a hater) to make pieces move and solve puzzles. It doesn't take long to learn the game's physics, and the game gets addicting quickly. It takes some creativity to solve some of these puzzles, so this would be a great game for your kids as well. The game itself is free with ads, but there's an in-app purchase to remove the advertisements.
Download: Brain it On (free, in-app purchases)
What say you?
Which apps do you use with a pen on your Chromebook? Let us know down below!
Get the Android Central Newsletter
Instant access to breaking news, the hottest reviews, great deals and helpful tips.