Best Cases for Huawei Mate 9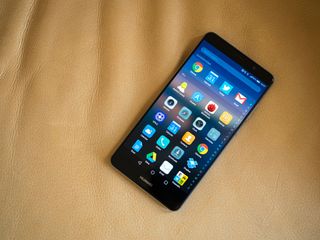 The Huawei Mate 9 is a big phone, but just because it's well-made — full of precisely-machined metal and Gorilla Glass — doesn't mean it is unbreakable. If you're concerned about damaging this new-to-the-U.S. smartphone, here are some picks for the best cases you can buy right now.
Ringke Fusion Bumper Case
Why you can trust Android Central Our expert reviewers spend hours testing and comparing products and services so you can choose the best for you. Find out more about how we test.
Get that brand new flagship into some covering — stat! If you're buying the Huawei Mate 9 from Amazon, add the Ringke Fusion Bumper Case to your cart. This particular case adds a bit of thickness to the Mate 9 so that there's ample space between the phone and what it's laying on. It also features a couple of elements that other cheap cases don't typically include, like covering for the headphone jack and charging port. It comes in four color varieties.
Vinve Ultra Slim Hard Cover
I am obsessed with cases sporting a built-in phone stand like the one featured on the Vinve Ultra Slim Hard Cover case. Not only is it shaped like a bear, but you can hook your fingers through it so that the Huawei Mate 9 doesn't slip out of your hand and fall to the floor. The case is available in chic black or rosy pink.
Feitenn Huawei Mate 9 case
Don't like showing off your screen to the world? The Feitenn flip case shields offers a window for notifications and a spot on the back for the Huawei Mate 9's 20-megapixel rear-facing camera and fingerprint sensor. This case lets you prop up the device for video watching, too, and it comes in five different colors.
Spigen Rugged Armor Case
Give the Huawei Mate 9 that carbon fiber appeal with the rugged armor case from Spigen. The case is made of flexible plastic and features an interior spider-web pattern for a neat design effect. It also comes with a raised lip that keeps the screen from touching the ground when it's laying down. At present, the rugged armor case is only available in black.
Your pick?
Is your Mate 9 sporting a case not mentioned here? Want it represented? Leave a comment below and we'll check it out!
Be an expert in 5 minutes
Get the latest news from Android Central, your trusted companion in the world of Android
Florence Ion was formerly an editor and columnist at Android Central. She writes about Android-powered devices of all types and explores their usefulness in her everyday life. You can follow her on Twitter or watch her Tuesday nights on All About Android.