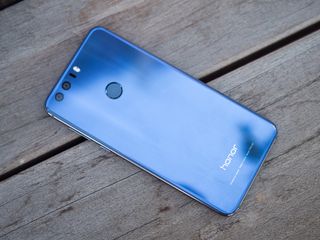 Updated May 2017: The Vinve and Dwaybox cases mentioned previously were swapped out for the Spigen and Sparin options.
The Honor 8, as made by Huawei, is one of the most attractive budget smartphones available right now. Take care of it by housing it in one of these recommended cases.
We'll keep updating this page as more cases become available. In the meantime, we've got some great suggestions to outfit your unlocked Honor 8.
Huawei Honor 8 Case
Why you can trust Android Central Our expert reviewers spend hours testing and comparing products and services so you can choose the best for you. Find out more about how we test.
Sometimes, the best case for your new smartphone is the official one. Huawei's clear Honor 8 case is the easiest choice if all you're looking for is simple protection.
This official Honor 8 case is made out of see-through TPU plastic so that the color and design of your smartphone shines through. Best of all, this case is only ten bucks and it's available on Amazon Prime.
See at Amazon (opens in new tab)
Terrapin Floral Card Case
Ladies, if you're into floral patterns, you might find the Terrapin case wallet to be a particularly attractive choice for your Honor 8. It's made of faux red leather and it has a frilly flower pattern made of cotton on the inside.
There are also three slots for your credit cards, as well as a larger pocket for your cash. And if you like to carry the wallet case solo, there's an optional wrist strap that comes with the case.
See at Amazon (opens in new tab)
Spigen Rugged Armor Case
Looking for something stylish, slim, and functional? The Spigen Rugged Armor Case is an affordable choice for keeping your Honor 8 protected from the elements. This flexible case features tactile button coverings and solid shock absorption. It also offers a raised lip, so you can lay the phone facing down without its display touching the ground.
The Spigen Rugged Armor Case is only available in black.
See at Amazon (opens in new tab)
Sparin Scratch Resistant Corner Protection Case
Unfortunately, there aren't any Otterbox cases available for the Honor 8. But if you're looking for something to protect against hard drops, the affordable Sparin Scratch Resistant Corner Protection Case could help. It offers full protection for the back panel, edges, and corners, not to mention it's see through so you can show off the chic chassis of the Honor 8.
The Sparin corner protection case comes pack of two, so you can have a backup at the ready.
See at Amazon (opens in new tab)
MoKo Universal Waterproof Case
Just because you didn't buy the latest water resistant flagship doesn't mean that you can't take the smartphone you currently have into the water.
Grab a universal waterproof case from MoKo for your Honor 8 so that you can take it out on a paddleboard with nary a worry. These water resistant pouches let you use your phone regardless of water splashing everywhere. This affordable pouch is a guarantee against the elements of the beach, though you should avoid dunk the Honor 8 in its entirety.
See at Amazon (opens in new tab)
State your case
Are you using one of our recommended cases for your Honor 8? Tell us how you like it. Or, if you're aching to tell us about another case you've found outstanding, shout it out in the comments below!
This post was originally published in October 2016. It was recently updated May 2017 with new information and updated links.
Get the Android Central Newsletter
Instant access to breaking news, the hottest reviews, great deals and helpful tips.
Florence Ion was formerly an editor and columnist at Android Central. She writes about Android-powered devices of all types and explores their usefulness in her everyday life. You can follow her on Twitter or watch her Tuesday nights on All About Android.
That Vinve ring looks like a pacifier.

Honor has 2 official cases. The one pictured is very minimal. They also have a TPU case, which provides better coverage all around but no protective lip. Just something to be noted. I really don't know what to do about this case situation, but the minimal case works well if you are not a fan of them because it provides some ease from concerns of having it slide off the table.

Still waiting for an "Honor Harrington" themed phone.

Nillkin makes the best cases in my opinion(especially their frosted ones), but they often get overlooked. Extremely minimalist.

How do you deal with it slipping off over surfaces? Do you always put it on something that has some texture?

I try to when I have to place it down somewhere. When I can't it actually fits quite comfortably in my front pocket.

This case from Amazon has been working well for me. https://www.amazon.com/dp/B01J4XR0AG/ref=cm_sw_r_em_apa_ORD4xb2C3ZS94?ta...

Florence Ion you definitely have a weird and funny taste on what are best cases. Next time try better. There are some serious people reading the articles you know

Just got the TPU Clear case and I love it. It's completely clear fits the phone with a nice snug grip no gaps like the ones in Amazon and if I'm not wrong it's $7.99. I bought 2 just in case but the case does not add any extra bloat to the phone and give more protection that the other plastic case that they have. I was able to find it on the Honor website.

The DWaybox case is hot garbage. I had that for my g4 and the stand broke off in my pocket. Smh

The Spigen Rugged Armor case is a good one

Seriously though when is the review for the Le Pro3?? Haven't heard anything from you guys about it?!

Second vote the Nillkin. It extremely minimal and adds nice grip to my Honor 8. https://www.amazon.com/Helianton-Nillkin-Anti-Scratch-Anti-Fingerprint-protector/dp/B01J66HTDE?tag=hawk-future-20&ascsubtag=UUacUdUcU1845359

I've had the Spigen rugged armor since day 1. Excellent protection without the bulk. I have a Spigen TPU case which is clear to show the phone but I always go back to this one. Recommend for all 8 owners

I have been using the Sparin case since I had the phone. Good option for a clear case and some corner protection.

This is a sexy device. If I had one I'd snag that Spigen one with the black Honor 8.