Best car mounts for Samsung Galaxy Note 5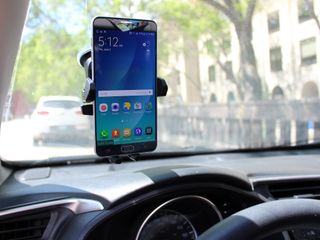 (Image credit: Android Central)
Don't be that guy (or gal) who's got their phone in their ear while driving at 60 miles per hour down the road. It's dangerous and you could get a hefty ticket — really. We mean it.
Stay safe while you're driving and use one of these car mounts with your Samsung Galaxy Note 5 instead.
Logitech Drive One-Touch Smartphone Car Mount
If you drive more than one vehicle regularly, then take a look at Logitech's Drive car mount.
It has a suction cup that you can attach to your dashboard or the windshield — a single twist mounts and unmounts it — no screws or sticky adhesive residue to worry about.
What's more, you don't have to fumble around with latches or brackets — the Drive secures your Samsung Galaxy Note 5 using magnets. It comes with magnetic adaptors that you stick on the back of your phone or case. Once you've attached one of the adaptors to your phone, just place it on top of the mount and drive. It's that simple.
See at Amazon (opens in new tab)
Tylt VU Wireless Charging Car Mount
Take advantage of the Qi wireless charging capabilities of your Samsung Galaxy Note 5 and enjoy hands free functionality at the same time with this car mount from Tylt.
You have the option of securing it to either your dashboard or the windshield, depending on which location works the best for you. Its Micro-Gel suction cup will stick to most surfaces and it supports landscape and portrait orientations. Since it uses three charging coils, it will charge your device no matter how it sits in the cradle.
Another nice thing about this mount is that it has an extra USB port so that you can charge two devices at the same time. If your friend's phone is running low on juice, it's no problem — they can charge it while you carpool.
See at Amazon (opens in new tab)
ProClip Samsung Galaxy Note 5 Phone Holders
ProClip has car mounts for the Samsung Galaxy Note 5 in just about every situation you can think of.
Strong and durable, all ProClip car mount configurations are made from high-grade ABS plastic — known for staying glossy and resisting scratches.
The mount itself supports viewing your device in landscape or portrait orientations and your phone will slide in and out of the mount easily. You'll never have to worry about fumbling with your phone while you're in the car again.
Whether you want a mount with a phone charger or one that will work with an Otterbox Defender case (opens in new tab) or both, ProClip has you covered.
Kenu Airframe+
The Kenu Airframe+ works well with larger phones such as the Samsung Galaxy Note 5 because it has a spring-loaded jaw that's expandable up to 3.4 inches. Even if your phone is in a heavy-duty case, it will still fit on this mount.
It fits securely in your car's air vents, so there are no screws and no adhesives to worry about. It's small enough to fit in your pocket, and when you're not using it in your car, it transforms into a stand for your phone so that you can read or play games in comfort, no matter where you are.
This mount is adjustable and holds your device, whether it's in landscape or portrait mode, and you can change the viewing angle for ultimate visibility in the car.
See at Amazon (opens in new tab)
Ram Mount Twist Lock Suction Cup Mount
Ram Mount's Twist Lock Suction Cup Mount provides a strong and flexible solution for operating your Samsung Galaxy Note 5 hands-free in the car.
It attaches to either your windshield or dashboard with a suction cup and, like the Drive from Logitech, mounts and dismounts securely with a twist.
Using a rubber ball and socket system with two adjustment points at either end, its arm is very flexible — the positions you can adjust it to are almost endless.
Like the Kenu Airframe+, the Ram Mount has a spring-loaded holder that adjusts for a perfect fit around your phone, whether or not it's in a bulky case.
If you want a car mount that you can adjust to a tee and that fits your Samsung Galaxy Note 5 like a glove, then this might be the one for you.
See at Amazon (opens in new tab)
Logi ZeroTouch car mount and app
Logi, the company formerly known as Logitech, has created a unique smartphone car mount solution with its ZeroTouch mount and accompanying app.
The mount itself comes in two flavors: a dashboard/windshield version and an air vent version. Regardless of which one you choose, it secures your Samsung Galaxy Note 5 with magnets, like its other car mount, the Drive.
The unique thing about this mount is that it has an app that you can download for free (opens in new tab) that helps you control your Samsung Galaxy Note 5 with your voice.
Take a look at our review to find out more about the mount and its app.
Download the ZeroTouch App - Free (opens in new tab)
Want more?
Like our selection of mounts but don't love it? Check out our list of the best universal car mounts for more options.
Proclip is tge best BUT they are size specific. That said, I'm using the LG G4 model on my Nexus 6P with no issues.

Very important to note, that if you use one of the magnetic car mounts than Samsung Pay will not work! I Have the Logitech mount for previous phones, but unfortunately cannot use it with the note 5 as Samsung pay is more important.

as well as wireless charging, of course.

And possibly nfc Sent from my ATT Note 5 paired with a 42mm Asus Zenwatch 2

Nah. If you position the metal plate on the lower 1/3 of the back of the phone (underneath a case) Qi and Samsung Pay will work. I had to test it on my Qi charger to find the right spot. Trouble is, then the phone slides around on the mount because the mass is above the holding point, causing it to eventually start sagging down to the right/left. Too janky for me. I bailed on magnetic mounts because of this. Wasn't worth giving up Qi and SP. That and GPS wonkiness due to the magnetic mount.

You mean if you leave the magnet piece on the back of the phone. If you remove the magnet, Samsung Pay will work fine??

Correct, the magnet disrupts all the above features. But the magnet sticks on the phone, so you either would need to stick it to a case or ut it sandwiched between case and phone, and take the case off to use samsung pay, etc

Oh OK, according to Droid-Life. Note5, S6-7 didnt require the magnet... http://www.droid-life.com/2016/06/06/best-car-mount-galaxy-s7-s7-note-5-...

Eh, a naked Note 5 will stick to the magnet mount disc (without the metal plate) but it's not a very secure connection. Especially with the charging cable weight constantly pulling on it. It's only a very light constant force (measured in grams I'm sure) but enough to not trust it...especially since the phone needs to be totally naked. No thanks.

I have the Tylt and a Note 5... decent, but i find that it struggles (with a slim case) to charge as fast as it discharges with apps like automate. The extra usb port is also only 500MA which is a bit disappointing. On top of that, the input to it is a proprietary cable. I had assumed it used simple micro usb to connect. Not a bit deal but if it fails the whole unit is dead.

This is the mount I use, after many years of buying different car mounts "wasted money" this is the best one I have used to date, skills as a rock, never let me down, great for any smartphone ://www.amazon.com/gp/aw/d/B00H89MLLM/ref=ya_aw_od_pi?ie=UTF8&psc=1 Posted via the Android Central App

+1 for Arkon. Got 2 of them still functioning perfectly after 2 years. Great value. Posted via the Android Central App

So glad I've found the Scosche Magicmount -- it is by far the best mount I've used. One of our mounts holds either my Nexus 6p or my wife's iPhone 5. The piece on your phone / behind your case is metal rather than a magnet, so it doesn't interfere with any features. Solid, solid, solid. Super-strong magnet in the mount itself.

I just got the tylt mount fit for my s6. I love it, Posted via the Android Central App

I have a ProClip car mount for my 6P, and it's one of the most well-designed phone accessories I've used. Definitely well worth the extra money, in my opinion.

I've used many mounts over the years, but by far, the best mount I've ever owned is the iOttie Easy One Touch 2. Pull it up on Amazon and read the reviews. This thing is amazing. I started with one, but then wound up purchasing three more to have two for each of my vehicles. I even purchased one of their tablet mounts and use that when I'm in my vehicle. The quality of iOttie products is truly great. http://www.iottie.com/Product/Detail/1139/iOttie-Easy-One-Touch-2-Car-Mo...

Car mounts seem like religion - people vigourously defend their choice. Here's my chance to do so. I've owned an embarrassing amount of mounts, including several on this post (including the RAM one). I strayed to magenetic mounts, which were neat, but just not stable enough for a Note 5 (and bumps). Found this one (CD mount...) https://www.amazon.com/gp/product/B00D4ABOZS/?tag=hawk-future-20&ascsubt... Hands down the best mount ever invented. ROCK solid and so easy to quickly insert/remove your phone with one hand. I have one my car and carry one for rentals (I travel every week). Slap it into the CD drive, plug in a QC 2.0 charger and you can use the phone at full brightness with GPS, music and everything on full tilt and it charges fast. I've found the best setup after way too much money.

I was about to order this and give it a try until I read the reviews. Posted via the Android Central App

What's with the reviews? The rating is stupid good. Sure, there are some who are not happy, but find me a product where it's 100% perfect. Suit yourself, this thing is amazing, IMO. I mean, it's $17, but to each his own.

There were bunch of people saying thst after 3 to 4 months the ball joint part wears out making it pretty much unusable. Posted via the Android Central App

Just get a magnetic ones which are easier and cheaper and you could use it for any device

Best car mounts are ones that connect through the CD player of the car Posted via the Android Central App

Unless your chart doesn't have a cd player Posted via the Android Central App

I love my zero edge with wireless charger built in. Posted via the Android Central App

http://ecx.images-amazon.com/images/I/41sPpyoJLzL._SY300_.jpg Posted via the Android Central App

This by far is the only phone mount I need! It's all natural, ergonomic, cheap and works with all the phones out there. https://goo.gl/photos/UHcW2y24kJswf7FLA Posted via the Android Central App

Double Post. #/Mods erase\#

Been using Kenu Airframe and Airframe + forever and love them. Both are very simple yet effective way to mount various phones to the air vent. These are simply indestructible and last forever. They seem pricey at first but trust me the lifetime warranty and simple replacements make up for the cost.

I will only do wireless. Why is there only one wireless in this list?

Agreed, car is the one place where wireless charging is a must-have, trying to stick a charging cord in the phone while driving is beyond frustrating & dangerous. This looks promising: magnetic car mounts and qi charging: https://igg.me/at/xvida/x/14382634

I have discovered a mount, that inserts to the cd tray. It is the best phone / tablet mount in a car. Really. The cd can still play inside (but who uses cds novadays) and it holds rocksolid. There are several brands. And its not an obstacle on the windshield. Posted via the Android Central App
Android Central Newsletter
Get the best of Android Central in in your inbox, every day!
Thank you for signing up to Android Central. You will receive a verification email shortly.
There was a problem. Please refresh the page and try again.