Best Arlo Camera Mounts 2022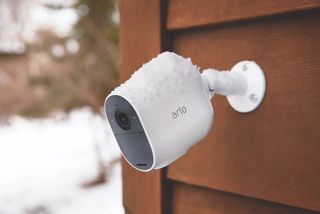 (Image credit: Arlo)
When it comes to finding the best Arlo camera, you'll also want to find the best Arlo Pro camera mounts. That's because the Arlo Pro 3 is our favorite of the bunch, along with being one of the best wireless security cameras, due to its versatility and the ability to use this either indoors or outdoors. Plus, you can't really beat having 2K video recording complete with HDR and the 160-degree field of view. If you are gearing up to mount your Arlo Pro, we've found the best Arlo Pro mounts for you to consider.
Pick one the best Arlo Pro mounts for you
Our favorite mount for the Arlo Pro is the Wasserstein Gutter Mount (opens in new tab) due to its flexible positioning and easy installation since there are no additional tools needed. This will mount on just about any gutter, although you will need to make sure that your power cable is routed properly if you aren't going the wire-free route.
Perhaps the most versatile of this group is the Aobelieve Flexible Twist Mount (opens in new tab), which can practically fit wherever you can think to put your Arlo Pro. This is made of stainless and flexible, so you can use it either outside or inside and don't have to worry about drilling any holes anywhere. The downside here is that if the mount is not secured properly, it could end up moving, which would set off the built-in motion detection features of the Arlo Pro.
And those who are big fans of having accessories made by the company who makes their products should check out Arlo Indoor/Outdoor Mount (opens in new tab). This mount from Arlo works with the standard Arlo, Arlo Pro, and Arlo Pro 2 while being able to be used mounted on a table or the ceiling.