The best Android apps to help you hit the gym and lift weights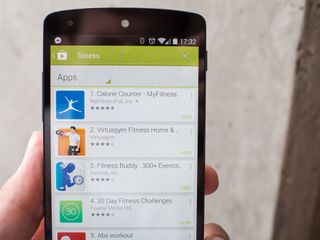 You don't need a fancy gym membership or a personal trainer, but using these apps to manage your fitness and do the correct exercises will certainly help
The hardest part about getting to the gym and hitting the elliptical or weights for a solid workout is building up a routine and having a set of goals to strive for. Once you make it there, making sure you're getting the most out of your gym time with the right weights and exercises is the next step.
With the extremely powerful mobile devices we each have access to, that motivation is a bit more attainable than before, and there are dozens of fantastic apps that can help you get started and (more importantly) keep going to the gym. Getting a personal trainer and a fancy gym membership isn't a requirement for getting in shape and losing a few pounds, and that holds true even more today with the wealth of knowledge contained in just a few apps — many of which are free or a simple one-time purchase.
We've rounded up some of the best apps for your Android that will help you get a routine, hit the gym and do the best exercises to help you meet your fitness goals. Whether you're looking to simply cut a few pounds or you want to completely change your physique, these Android apps can help you get to where you want to be. Read along and see which meet your needs.
Virtuagym Fitness
If you're looking for a solid and simple app to get yourself motivated and ready for the gym, Virtuagym Fitness is a great starting point. It offers hundreds of different exercises and workout routines for you to try, no matter your fitness level or available gym materials. The workouts range from a morning fitness routine that simply gets your heart rate up before you head off to work, all the way up to advanced weight lifting routines that take an hour to complete.
In any case, each workout follows a proper progression of lifts and exercises to maximize your time spent at the gym, with each step giving you a time or number of sets and reps to complete before you move on. All of the exercises have a moving diagram showing the proper form for the exercise, as well as further information on the moves if you need even more help. After you get into a routine of going week after week, you can track your progress and receive achievements for what you've accomplished.
Whether you're a long-term gym-goer or a first-timer, Virtuagym Fitness seems to have all of the pieces you need to get the most out of your exercise time.
Download: Virtuagym Fitness (Free)
Endomondo
While Endomondo is more focused on distance-based workouts like biking or running, it can be a great tool for tracking and setting goals when you're at the gym lifting or using stationary machines. You can select several different gym workouts such as elliptical training, gymnastics, indoor cycling, yoga and weight training, while tracking your calories, heart rate and more. If you want to get even more involved, Endomondo offers paid training plans, as well as a News Feed to keep up with your friends and let them offer you motivation.
Endomondo offers a free level of its app with ads and reduced features, but a full-featured (and ad-free) version is available for just $4.99.
Download: Endomondo (Free); Pro version ($4.99)
Workout Trainer
Skimble's Workout Trainer is a powerful app that focuses on creating guided workout routines to give you as little reason as possible to skip the gym. In contrast to apps like Virtuagym Fitness, Workout Trainer asks you a few simple questions about your goals and what you find difficult about working out, then comes up with a tailored workout routine to help you meet those goals.
When you select a workout routine, you'll get audio prompts — played alongside your own music — and an on-screen diagram showing how to do each exercise and for how long. Simply follow the prompts and you'll be on your way. You can choose your workout intensity and number of days per week, making it easy to get started.
The free version of the app is pretty simple and has ads, but you can jump up to its "Pro" level for $7 per month (or get a discount for going a full year) to remove ads, get HD video workout tutorials from real trainers and get access to even more content. This is one of the pricier options, but it could be worth it if you need the extra guidance.
Download: Workout Trainer (Free, subscription optional)
Map My Fitness Workout Trainer
Map My Fitness has a seriously great set of apps to help you track all kinds of exercise — from dog walking to long-distance cycling — but the best one of the bunch when it comes to hitting the gym is the Workout Trainer version. While MapMyRun focuses on... well, running, Workout Trainer will cover dozens of different activities such as running on a treadmill, using an elliptical, doing sit ups or push ups, swimming, wrestling, yoga, volleyball, skiing and interval training.
The goal here is to simply map any activity you do, whether it's a hard session at the gym for an hour or a casual walk through the park. Workout Trainer will pull together everything you do in terms of exercise as well as your eating habits if you choose to enter those. You can share and get encouragement from social media if you choose also. The app is free with ads, or $2.99 without, and you can get even more features if you upgrade to an "MVP" subscription for $5.99 per month or $29.99 per year.
Download: Map My Fitness Workout Trainer (Free, subscription optional); Ad-free version ($2.99)
Gym Workout Log (GymFrame)
This app isn't as big-budget and fancy, but it gives a great platform for people of any fitness level to get going with the proper lifts at the gym. Just as the name suggests, Gym Workout Log is first and foremost a place to keep track of your workouts as you go through them each week. You can go through and build workouts and routines in the order you want, then build a schedule for yourself and finally choose the workouts and log them once they're complete.
You get simple tutorials for the unfamiliar lifts, but there's a little less hand-holding here than in some of the more guided apps. If you want to get the feeling that you're managing your own workout and have more issues with form than motivation, this may be a good choice for you.
The app is powerful and ad-free in its free form, but you can unlock new log features, unlimited workout plans, alerts, themes and analysis with an upgrade to the full version for $4.89.
Download: Gym Workout Log (GymFrame) (Free, $4.89 in-app purchase)
Let us know which one is your favorite
These are the best apps we've tested out, but with so many out there, it's hard to cover all of the bases. If you looked at this selection and found one that worked for you, we want to know which one was your favorite.
Chances are we missed one that's been working for you, though. If you use an app other than the ones listed here, be sure to shout out in the comments and let us know what's working for you.
Get the Android Central Newsletter
Instant access to breaking news, the hottest reviews, great deals and helpful tips.
Andrew was an Executive Editor, U.S. at Android Central between 2012 and 2020.
So now we need a hands-on video where the boys of AC go through a workout routine from the app :)

Sorry for having to ask, but how can I view this article as a single page? I seem to remember being able to do that for other posts, but am lost on this one.

Same here, I'd rather view it in one page, there used to be a button for that in paged articles.

No kidding. Click-baiting horse-crap. And no Fitocracy? Seriously? Fitocracy beats the pants off of all these apps.

AC seems to be going downhill the past month.
Increased frequency of click bait articles.
Articles missing important details that are rushed to print.

Not just you, this is a way to get more views for advertisements. I'm a daily visitor who will just boycott by not reading such articles and buying stuff on shopandroid

It is one page in the app Posted via Android Central App

I don't remember this happening at this site before. And I can tell, because I visit this site almost every single day. Actually, none of the sites that I visit daily do it... Or said differently, I don't visit sites that do this. Hopefully this is just a very brief trial. P. S. I use the RSS feed.

What about BodySpace by bodybuilding.com?

I usually just go in the gym and go from machine to machine. Posted via Android Central App

I use JEFIT as a weightlifting log - most of the others are focused on running/biking/swimming. I've found it to be great for keeping track of my workout routines on a muscle-by-muscle basis.
They also have a website where you can view your progress, and share workouts with the community. https://www.androidcentral.com/e?link=https2F2F...

I love JEFIT! The preset workouts are great for changing things up and does a great job showing progress. Posted via Android Central App

+1 for JEFIT. Nice to be able to create the routine on the website and have access in the app. There has been a lot of recent improvement on the app side but the web interface still needs some work.

+1 for Jefit. Also, not clicking 6 times

Yeah, Jefit is what I've been using for a while now. Not the greatest UX but it does the job and I like the exercise illustrations. Posted via Android Central App

I know you're probably tired of hearing this complaint, but, as soon as I saw Part 1 of 6 parts, I decided the article wasn't even worth my time. I realize it's the same length whether it's on one page or six pages, but you have to remember readers are lazier now more than ever (this generation). We want the info, the key points, and all of that quicker; the details later. Psychologically, reading that there are a whole bunch of "parts" to go through causes the reader to not even want to bother with it. I hope enough people complain to change AC back to how it used to be formatted. :-\
Love you guys!

+1 - Don't who decided the Slide Show Format is a good thing - it's terrible versus having a full page article you can just scroll through - please, please stop using this new format.

Guess I'll sit out this "fitness" fad. Posted via Android Central App

I didn't know being healthy was a fad. Posted via Android Central App

For some it is. Go to any gym the first of the year

Ok. Still it's not a fad, it's your actual health. Posted via Android Central App

you'll be surprised how many don't care until they start to see a decline in their ability to recover energy in comparison to a contemporary or worse, sickness fells them and their doctor tells them they have to start a fitness routine. fitness is important but many don't value it as much as they should.

I've used jefit for years love that app. It has everything you need and syncs across devices which is great. Posted via Android Central App

Why no mention of JEFIT? And more importantly, are we really falling into the trend of splitting lists into multiple pages to inflate page views at the expense of users bandwidth?

My favorite workout app is BodBot http://www.bodbot.com/. It asks you questions to build your profile and your workout interests (i.e. lose weight, gain muscle, etc.) and either creates a workout plan/schedule for you or lets you pick which days and how long you have available to work out. It provides a description of the workout (some have videos), is customizable based on access to workout equipment, has built-in timers for exercises in the app, and includes fitness tests in profile that calibrate your current level of fitness. The app is pretty new and I think still in beta, but it is like having a virtual physical trainer. There is a free version and a paid subscription for additional features. You can even track nutrition of food consumption with recommendations on how many calories, protein, etc. you should be consuming based on your goals.

I like yayog the most. Good workouts with progressions to make harder and workout plans. Bodyweight is the way to go. Posted via Android Central App

What are the odds of any of the editors besides Andrew actually use any of these apps?

Gymrat is by far the best I've ever used. Sent from my s-off'd, unlocked and rooted BAMF M8 with the viper venom.

I enjoy Endomondo. Granted, it used to get much more use out of it than it has lately. :-( Posted via Android Central App

Fitness Buddy all the way! Posted via Android Central App

Fitness Buddy has a huge library of exercices with video and very good sorting options. Probably the best app for muscle bulding .. Exercices library of Fitness buddy + Jefit core app + Tracking abillity of Runstastic + UI of Endomondo + = Best app for fitness

JEFIT ! Posted via Android Central App

Jefit is a great app that has a huge workout database as well as routines. It also allows you to create your own routines. The best part is it keeps track of your progress with plenty of data to look back on and see improvement. Hard to see a fitness app better if your main intention is lifting weights.

I use strava to track my cardio as it had pebble support and the Bodyspace app for taking my weights workouts. Posted via Android Central App

Stronglifts Posted from the ONE

Bodyspace app by bodybuilding.com is by far my favorite. Much less crashy than fitocracy for me and super easy to add exercises to your workout. Posted via Android Central App

#doyouevenliftBRO ? for actual weight lifting I like Jefit, it's got tons of exercises and you can sort by type (eg, barbell, dumbess, bodyweight, etc) I'm surprised it wasn't mentioned it seems better for weight training than any of the apps listed here.

StrongLifts 5x5! Just do it! And stay committed.

Try this app, Body building & Fitness
Me and my friends tried it.Its working pretty well.Im using it for more than 2 months.Its almost like a trainer for me.It has everything.What to eat,how to do,How to increase our strength slowly etc.I can say easily im the boy having best physic among all my friends,all credits to this app.You can try it.It dont need internet also. :-) https://www.androidcentral.com/e?link=https2F2F...

Stop. Putting. Up. Multiple. Page. Articles. Please! This is the second time I've seen one in the last week or so.

I use Lift Plus since it has a pretty sweet bar calculator.

Jefit all the way. There is a paid and free version. I have used the paid paid version for at least three years now. Posted via Android Central App

"Progression, Gym & Fitness" - https://www.androidcentral.com/e?link=https2F2F... . Follows holo design standards and functions perfectly. Gym Hero comes in second. Jefit is ugly. BodySpace is clunky

I like the new format of the articles! I did not have to scroll through the whole article to post a comment.

If you people lare like me and need doing everything efficiently you should go with - FitNotes - this app is straight forward, to the point.

Do any of the AC editors actually go to the gym and seriously lift weights? They don't look like they do, and the fact that a bunch of cardio-oriented apps feature in article about weightlifting apps doesn't help convince. Snarky, hopefully humorous, remarks aside, JeFit for me for a few years now.

Try this app, Body building & Fitness
Me and my friends tried it.Its working pretty well.Im using it for more than 2 months.Its almost like a trainer for me.It has everything.What to eat,how to do,How to increase our strength slowly etc.I can say easily im the boy having best physic among all my friends,all credits to this app.You can try it.It dont need internet also. :-) https://www.androidcentral.com/e?link=https2F2F...

Thanks to share such a nice and helpful list of best fitness apps. I have downloaded the Workout Trainer app and really I got some improvement.

I'm using "Ultimate Progress". It is free and does not need any permissions or registration like so many other apps.
https://www.androidcentral.com/e?link=https2F2F...

There are also Apps to improve your technique by video analysis. My opinion is that video analysis certainly help to enhance the corrective action process and I think that video can serve as a value-added assistant in many cases. As a coach, I very much like the O'See Sports Video Delay app: (iOS) https://itunes.apple.com/us/app/osee-pro/id588954556?mt=8&at=10l3Vy , (Android) https://www.androidcentral.com/e?link=https2F2F... It gives faster and more easy video feedback during training, especially when I have no time for doing analysis during training.

Try this app, Body building & Fitness
Me and my friends tried it.Its working pretty well.Im using it for more than 2 months.Its almost like a trainer for me.It has everything.What to eat,how to do,How to increase our strength slowly etc.I can say easily im the boy having best physic among all my friends,all credits to this app.You can try it.It dont need internet also. :-) https://www.androidcentral.com/e?link=https2F2F...

I used to be a big fan of Map My Fitness. Notice the word "used to". It's now absolutely useless for tracking gym activity. The UI lets you enter reps and weight, but it's not saved anywhere. Think I'm kidding? Look up MMF support request #982481. Quoting from support: "The reason your reps and weight information isn't syncing between the the mobile app and the website (and potentially the workout summary on mobile) is because we had to remove the option to enter reps and weights on our website. We do not have weights and reps built into our API at the moment, so as soon as we do build this we should be able to enter in reps and weights for your activities again. Our apologies for any inconvenience this may cause!" To translate, "we're going to let you think we're doing our job when we're actually not. Apologies! [/sarcasm]"

You should definitely check out Hercules! It's the most customizable and simple workout tracker for Android, see here: https://www.androidcentral.com/e?link=https2F2F... It supports supersets, countdown exercises, pyramid sets and draw your progression through charts, it's awesome, try it, it's free for 7 days with full features.