The best Android apps to help you hit the gym and lift weights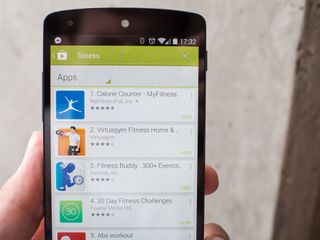 You don't need a fancy gym membership or a personal trainer, but using these apps to manage your fitness and do the correct exercises will certainly help
The hardest part about getting to the gym and hitting the elliptical or weights for a solid workout is building up a routine and having a set of goals to strive for. Once you make it there, making sure you're getting the most out of your gym time with the right weights and exercises is the next step.
With the extremely powerful mobile devices we each have access to, that motivation is a bit more attainable than before, and there are dozens of fantastic apps that can help you get started and (more importantly) keep going to the gym. Getting a personal trainer and a fancy gym membership isn't a requirement for getting in shape and losing a few pounds, and that holds true even more today with the wealth of knowledge contained in just a few apps — many of which are free or a simple one-time purchase.
We've rounded up some of the best apps for your Android that will help you get a routine, hit the gym and do the best exercises to help you meet your fitness goals. Whether you're looking to simply cut a few pounds or you want to completely change your physique, these Android apps can help you get to where you want to be. Read along and see which meet your needs.
Virtuagym Fitness
If you're looking for a solid and simple app to get yourself motivated and ready for the gym, Virtuagym Fitness is a great starting point. It offers hundreds of different exercises and workout routines for you to try, no matter your fitness level or available gym materials. The workouts range from a morning fitness routine that simply gets your heart rate up before you head off to work, all the way up to advanced weight lifting routines that take an hour to complete.
In any case, each workout follows a proper progression of lifts and exercises to maximize your time spent at the gym, with each step giving you a time or number of sets and reps to complete before you move on. All of the exercises have a moving diagram showing the proper form for the exercise, as well as further information on the moves if you need even more help. After you get into a routine of going week after week, you can track your progress and receive achievements for what you've accomplished.
Whether you're a long-term gym-goer or a first-timer, Virtuagym Fitness seems to have all of the pieces you need to get the most out of your exercise time.
Download: Virtuagym Fitness (Free)
Endomondo
While Endomondo is more focused on distance-based workouts like biking or running, it can be a great tool for tracking and setting goals when you're at the gym lifting or using stationary machines. You can select several different gym workouts such as elliptical training, gymnastics, indoor cycling, yoga and weight training, while tracking your calories, heart rate and more. If you want to get even more involved, Endomondo offers paid training plans, as well as a News Feed to keep up with your friends and let them offer you motivation.
Endomondo offers a free level of its app with ads and reduced features, but a full-featured (and ad-free) version is available for just $4.99.
Download: Endomondo (Free); Pro version ($4.99)
Workout Trainer
Skimble's Workout Trainer is a powerful app that focuses on creating guided workout routines to give you as little reason as possible to skip the gym. In contrast to apps like Virtuagym Fitness, Workout Trainer asks you a few simple questions about your goals and what you find difficult about working out, then comes up with a tailored workout routine to help you meet those goals.
When you select a workout routine, you'll get audio prompts — played alongside your own music — and an on-screen diagram showing how to do each exercise and for how long. Simply follow the prompts and you'll be on your way. You can choose your workout intensity and number of days per week, making it easy to get started.
The free version of the app is pretty simple and has ads, but you can jump up to its "Pro" level for $7 per month (or get a discount for going a full year) to remove ads, get HD video workout tutorials from real trainers and get access to even more content. This is one of the pricier options, but it could be worth it if you need the extra guidance.
Download: Workout Trainer (Free, subscription optional)
Map My Fitness Workout Trainer
Map My Fitness has a seriously great set of apps to help you track all kinds of exercise — from dog walking to long-distance cycling — but the best one of the bunch when it comes to hitting the gym is the Workout Trainer version. While MapMyRun focuses on... well, running, Workout Trainer will cover dozens of different activities such as running on a treadmill, using an elliptical, doing sit ups or push ups, swimming, wrestling, yoga, volleyball, skiing and interval training.
The goal here is to simply map any activity you do, whether it's a hard session at the gym for an hour or a casual walk through the park. Workout Trainer will pull together everything you do in terms of exercise as well as your eating habits if you choose to enter those. You can share and get encouragement from social media if you choose also. The app is free with ads, or $2.99 without, and you can get even more features if you upgrade to an "MVP" subscription for $5.99 per month or $29.99 per year.
Download: Map My Fitness Workout Trainer (Free, subscription optional); Ad-free version ($2.99)
Gym Workout Log (GymFrame)
This app isn't as big-budget and fancy, but it gives a great platform for people of any fitness level to get going with the proper lifts at the gym. Just as the name suggests, Gym Workout Log is first and foremost a place to keep track of your workouts as you go through them each week. You can go through and build workouts and routines in the order you want, then build a schedule for yourself and finally choose the workouts and log them once they're complete.
You get simple tutorials for the unfamiliar lifts, but there's a little less hand-holding here than in some of the more guided apps. If you want to get the feeling that you're managing your own workout and have more issues with form than motivation, this may be a good choice for you.
The app is powerful and ad-free in its free form, but you can unlock new log features, unlimited workout plans, alerts, themes and analysis with an upgrade to the full version for $4.89.
Download: Gym Workout Log (GymFrame) (Free, $4.89 in-app purchase)
Let us know which one is your favorite
These are the best apps we've tested out, but with so many out there, it's hard to cover all of the bases. If you looked at this selection and found one that worked for you, we want to know which one was your favorite.
Chances are we missed one that's been working for you, though. If you use an app other than the ones listed here, be sure to shout out in the comments and let us know what's working for you.
Sign up for Black Friday email alerts!
Get the hottest deals available in your inbox plus news, reviews, opinion, analysis and more from the Android Central team.
Andrew was an Executive Editor, U.S. at Android Central between 2012 and 2020.