Best Android games of the week: Surgeon Simulator, Unpossible, and more!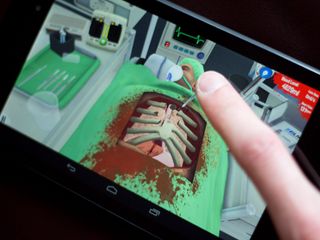 It was a great week for Android games with lots solid ports from iOS. We've got some strategy releases, a twitchy action title, and a little something for the casual gamers out there.
If you're looking for something other than games, be sure to take a look at our favorite new Android app releases this week. Otherwise, forge on to our top five new Android games.
Unpossible
Unpossible is a fast as hell racing game where players have to steer around a stark tube and avoid incoming obstacles as long as possible. The fluid gameplay and sharp, slight Tron style to the game's visuals are both immediately impressive. The challenge ramps up to Super Hexagon (opens in new tab) levels very quickly. You can also try your hand at new daily challenges, or take it easy in zen mode.
Gluttons for punishment should most definitely pick up Unpossible.
Sumico
Sumico is a light and fast puzzle game about lining up tiles as a basic math equation to reach a target number. Final answers condense into tiles worth extra points when used in subsequent matches. There's a campaign mode to chew on as well as endless play if you want to keep going indefinitely.
Sumico is a decidedly original puzzle game with plenty of polish.
Ascension
Ascension is a well-established fantasy card game. Players dynamically build their deck over the course of gameplay, and attempt to acquire the most victory points from a limited pool. When the pool is empty, the points are tallied up. Gathering these honor points is done by building a force with sword and sorcery, acquiring constructs, slaying a constantly-shifting selection of monsters on the board, and recruiting new heroes to your cause. There are expansions and promo packs which introduce new cards to the set as well.
Ascension's fast and fluid gameplay are bound to catch the attention of even occasional board gamers.
Ninja Up!
Ninja Up! is a simple endless jumper from Gameloft where players have to create trampolines for their airborne companion before he drops off the edge of the screen. Shorter trampolines will provide extra speed, and angling to one side or the other will have you bounce off the edges of the screen. You'll encounter other furious ninjas and other obstacles in the sky which you must avoid in order to continue your ascent. There's no currency or unlockables, or in-app purchases, only optional social leaderboards. The simple, straightforward gameplay is highly addictive, and the ads in the game are easy enough to deal with. Grab Ninja Up! for bite-sized, no-nonsense action and its cute, blocky graphics.
Surgeon Simulator
Surgeon Simulator is a morbidly hilarious game where players have to perform life-saving operations with all the ineptitude that touch input has to offer. Would-be doctors hold their tools with one finger, then tap at the target location with the other. At first it might just seem like there's a lot of random flailing and blood everywhere, but every procedure has a process which you can review in your retro iZap PDA. There's an unhealthy array of surgical tools to learn and master over the course of a lengthy single-player campaign. Surgeon Simulator is available on tablets running Android 4.0.0 and up. No ART support, unfortunately. All in all, Surgeon Simulator is a bloody good time.
Your favorite new Android games?
Those are the best out of the brand-spanking-new Android games we've found, but like some kind of eternally-hungering beast, we always want more. Hit us up in the comments with your favorite new Android game releases and let us know what you think of the ones above.
Simon has been covering mobile since before the first iPhone came out. After producing news articles, podcasts, review videos, and everything in between, he's now helping industry partners get the word about their latest products. Get in touch with him at simon@futurenet.com.
Going to give Unpossible, Sumico, and Ninja Up a go!

Going to try out Sumico and Ninja Up. They look fun.

Surgeon simulator is hilarious Posted via Android Central App

Unpossible seems cool. You should also take a look at our new Android Game "Let's Fall" released this week (adorable kittens inside) : https://www.androidcentral.com/e?link=https2F2F...

Thx! Pinball fantasy HD is good HTC Desire S»HTC Desire HD»HTC One S»HTC M8 (Naked)

wish Unpossible had an option to play in "Google Cardboard mode"

Haha, oh god, that would be amazing and awful.
Android Central Newsletter
Get the best of Android Central in in your inbox, every day!
Thank you for signing up to Android Central. You will receive a verification email shortly.
There was a problem. Please refresh the page and try again.