Best Android games of July 2014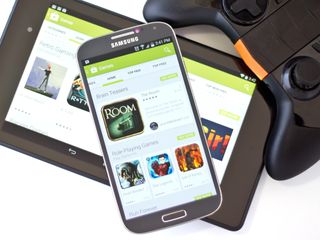 We've been keeping a close eye on the Google Play Store for the best Android games released in the last month and we've come up with our top five, plus a few honorable mentions to boot. You'll find some particularly well-known action games in our list, plus a bit of strategy gaming, and something for the casual crowd.
If you've been hankering for the best new games out there for Android, you've come to the right spot.
Fish Out of Water
In Fish Out of Water, players pick from six different fish to skip across the sea as far as possible by precisely timing limited boost. Okay, fine, the whale and dolphin are technically mammals, but they each have their own unique properties: one explodes into a school of multiple fish, another has smooth scales to maximize skippability, the whale is light (for some reason) and bounces particularly high, while the dolphin can dive beneath the waves and come out the other side with plenty of velocity. Just to mix things up a bit, the game's weather changes hourly, so during one match, you may have perfectly calm waters, while the next day you may be wrestling against massive waves.
Fish Out of Water is a light, simple, and casual game with lots of charm.
Thomas Was Alone
Thomas Was Alone is a critically acclaimed minimalist platforming game. Despite the game's simple graphics, Thomas Was Alone has rich narrative whereby all of the shapes you play as have their own insecurities and personalities. Seeing that much emotion in a little artificially intelligent rectangle is pretty interesting. There aren't any real textures, but the game's shadow and lighting effects are quite well done.
Even if you're not that big on platforming games, Thomas Was Alone is worth it for the story.
Batman Arkham Origins
Batman Arkham Origins is a fast and touch-friendly brawler. The badass caped crusader unloads well-trained fists and feet on loads of goons, upgrades his gear, and once in awhile switches costumes just to appease the diehard fans. The minigames throughout each fight will require pinpoint precision to succeed, even for the little guys. Are you bat enough to take on the likes of Deathstroke?
If you're looking for a beautiful comic-themed beat-em-up game, you've found it.
Modern Combat 5
The world's premiere mobile first-person shooter has finally ditched in-app purchases. The graphics are great, there's excellent multiplayer, and there are tons of unlockable weapons and skills. The usual tropes like killstreak rewards and achivements are baked into multiplayer, while the single-player campaign missions are peppered with gesture-based quick-time events at the particularly cinematic bits. Dig into our full Modern Combat 5 review for a look at live gameplay and get a feel for what's new.
Modern Combat 5 is easily the best first-person shooter available on mobile.
Magic 2015
The 2015 edition of Magic: Duels of the Planeswalkers launched this month on Android. The biggest addition to this iteration of the classic fantasy card game is that now you can custom build your decks card-for-card. Previously, you would be given a core deck and would unlock additional cards to swap in through gameplay. As usual, players put on their robe and wizard's hat in the role of an elementally-attuned planeswalker. They duel one-on-one against other interdimensional mages by summoning powerful allies, hurling spells, and wielding ancient artifacts. Five colors of spells represent different elements, each with their own play style and themes. Magic 2015 spans five planes, each with their own series of challenges, and of course online multiplayer. You can sample gameplay for free, and upgrade to the full game for $1.99, with additional purchases available for early access to other planes and getting extra cards.
Magic is a highly polished card game that has stood the test of time, and its latest version doesn't disappoint.
Honorable Mentions
Your favorite Android games from July?
As always, we're eager to hear which Android games you guys have found let us know in the comments if you've found something not on the list! If you're looking for more new stuff, be sure to check out the best Android games released in June.
Simon has been covering mobile since before the first iPhone came out. After producing news articles, podcasts, review videos, and everything in between, he's now helping industry partners get the word about their latest products. Get in touch with him at simon@futurenet.com.
I am really, really digging Devious Dungeon. It's very simple controls make it easy to play on the phone without a controller. It continually gets more challenging but adds more and more benefits, and while there are IAPs, you definitely don't need to buy them to enjoy the game for all it is.

I think I need to try Thomas was Alone. Seems like a winner to me. ಠ益ಠ

When the controls aren't lagging or simply not responding Dungeon Defenders Eternity is a pretty excellent game if you own a Shield Portable or Tablet. Posted via Android Central App

Magic is just an endless money grab. It's pretty expensive to unlock everything and you'll have to pay for both pc and mobile versions if you want to cross platform.
Plus you'll have to pay for it all again next year. Posted via Android Central App

Played Thomas was Alone on my PSVita in one playthrough it was that good, got it on xperia tablet z yesterday holds up really well. Amazing game, highly recommended.

How does Leo's Fortune only get an honorable mention? It looks incredible. Posted via Android Central App

You look like Pat Barry! Is that you?

You hit the nail... Definitely Pat Barry-ish. Posted via Android Central App

Leo's Fortune IS incredible. I played through it in a few days and am now going back to get all three stars per level. Such a beautifully rendered game.

Why is Kritika: Chaos Unleashed not included?! Posted via Android Central App

Can gta vc run on samsung s duos 2 s7582 plz tell me and give me solution for this Posted via Android Central App

Seriously? Just go to the Play Store and see if you can install it- there is no "solution" as such
Android Central Newsletter
Get the best of Android Central in in your inbox, every day!
Thank you for signing up to Android Central. You will receive a verification email shortly.
There was a problem. Please refresh the page and try again.