BBM update will bring Message Retraction, Timed Messages and more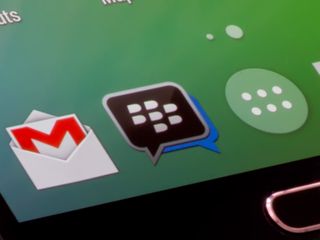 BlackBerry's instant messaging service BBM will be seeing an update across all OS platforms in the next few days. It has been available through BlackBerry Beta Zone for some users from a few weeks now and it now ready for everyone. The most notable new feature is Timed Messages which allows users to send a 'secret' message to a contact for a pre-set duration of time. You will also be able to retract any accidentally sent messages. We've all been there, so that may be a handy addition.
New BBM features include:
Timed Messages: Set how long contacts have access to messages and pictures shared in a chat*
Message Retraction: 'Retract' a message to remove it from your BBM chat*
A quicker sticker picker: Adding stickers to your BBM chats is now even quicker with a new picker
HD Picture Transfer: It's easier than ever to get a high quality version of the pictures you receive in BBM
Discover Music: See what music your contacts are listening to in BBM Feeds.
It may take up to 24 hours to propagate through the servers, depending on your region.
One note to take from the Press Release is that it states the Timed Messages and Message Retraction features will be a premium paid feature in the future. It will be free for everyone over the next three months, after which "unrestricted access to these features will become part of a broader bundle of features that will be offered as part of a BBM subscription".
The update isn't quite showing for me yet but do keep checking over the next 24 hours.
Press Release
BBM Introduces New Privacy and Control Features Offering Creative Ways to Chat and Share
WATERLOO, ONTARIO--(Marketwired - Oct. 31, 2014) - BlackBerry Limited (NASDAQ:BBRY) (TSX:BB), a global leader in mobile communications, today announced that it has released several new features for BBM™, offering users new ways to chat and share with more privacy and control over their communications.
At the core of the BBM experience is privacy and control. These two notions are more important today than ever before as people are looking for simple ways to help guard against their messages getting into the wrong hands or being seen by anyone other than the intended recipient. New features for BBM introduced today enable users to communicate with more discretion and freedom. Features introduced today include:
Timed Messages(i): By setting a timer you can control how long messages and pictures you share with contacts can be viewed within BBM. The message is hidden until the recipient touches and holds on the chat. Then, once the timer has expired (or if the recipient takes their finger off the screen), the message is no longer visible. The user also receives a notification if BBM detects that the recipient has taken a screenshot of the image or message.
Message Retraction(ii): Users can now retract their message to remove it from their BBM chat before it has been read by the recipient or after it has been read so that it is no longer visible within the BBM chat.
High Quality Image Transfer: When a user receives a picture in BBM, they can quickly request an HD version to enjoy the image in full detail.
Faster Sticker Selection: It is now easier for users to browse BBM Stickers and quickly add them to their chats.
Discover New Music: See what music BBM contacts are listening to and show others what songs you're playing. iPhone users can tap the song and be taken to iTunes for a quick and seamless purchase.
"These new enhancements to BBM were highly requested so we're excited to be delivering them to users today," said John Sims, President Global Enterprise Services at BlackBerry. "These capabilities will allow our users to be more creative in how they deliver their messages while also being confident that their content is kept private and seen only by its intended recipient."
Timed Messages and Message Retraction are premium features that will be available free and without restriction to BBM users over the next three months. After this time, unrestricted access to these features will become part of a broader bundle of features that will be offered as part of a BBM subscription.
Today's announcement underscores the commitment to making BBM a world class privacy-focused instant messaging application. New features are available for download over the next couple of days for BlackBerry 10 smartphones, iPhones and Android smartphones by installing the latest BBM update in BlackBerry World, Apple App Store and Google Play. For more information, visit the Inside BlackBerry Blog and check out new BBM videos on the BlackBerry Youtube Channel.
About BBM
Introduced in 2005, BBM set the standard for mobile messaging and continues to drive innovation in messaging and private social networking. Today, BBM is one of the largest private social mobile networks, driving real, active conversations. Customers love BBM for its privacy, controls and immediacy with Delivered and Read statuses and message-in-progress notices.
About BlackBerry
A global leader in mobile communications, BlackBerry® revolutionized the mobile industry when it was introduced in 1999. Today, BlackBerry aims to inspire the success of our millions of customers around the world by continuously pushing the boundaries of mobile experiences. Founded in 1984 and based in Waterloo, Ontario, BlackBerry operates offices in North America, Europe, Middle East and Africa, Asia Pacific and Latin America. The Company trades under the ticker symbols "BB" on the Toronto Stock Exchange and "BBRY" on the NASDAQ. For more information, visit www.BlackBerry.com.
(i) While the timed message feature is designed to remove the message or picture from the recipient's BBM chat view, it does not prevent recipients from capturing an image of the content by taking a screenshot or using an image capture device. (ii) Retracting a message after it has been read by the recipient will remove the message from the BBM chat view, but will not affect copies of the message that the recipient may have made prior to the message being retracted.
Android Central Newsletter
Get instant access to breaking news, the hottest reviews, great deals and helpful tips
who cares, there are like 3 people that use bbm at the moment

Obviously you or you wouldn't take the time to comment. Posted via the Android Central App

He just happened to "Wander" through this thread. "Not all who Wander are lost" Posted via Android Central App

Troll! Lawyers and government use the hell out of bbm. My lawyer still has a bold and says it's because it's still the most secure os to use. My stepfather uses the z 10 and bbm to communicate to his family abroad. BlackBerry is still very popular in other countries. And bbm is far more secure than hangouts, imessage or what's app.
Just because you don't use bbm or a blackberry doesn't mean a billion others don't. :-) get over yourself. Posted via Android Central App

so you're saying a billion people use blackberry? is that why blackberry has only 0.6% of mobile market share? unless you wanna boast about its success in republic of Congo or villages of Zambia.

Well, if those folks in Congo or Zambia are buying BlackBerries and paying wireless bills, then they count. After all, money is money, no matter where it's coming from.

You know the dumbest thing about your comment, is it has nothing to do with BBM. Using a Blackberry has zero to do with using BBM. I believe they are actually up to about 100 million monthly users. It might not be your thing and that is fine, but I actually far prefer it to KIK! - I don't user WhatsAPP or know anyone who does. I know more people on BBM. I understand WhatAPP is far more popular but an app is only beneficial to people if they see value in it. As bad as a situation as Blackberry may be in as a company, it's still alive and kicking for now.

you just said "a billion", lol you just made my day.

The last time I checked, BBM had close to 75 million active users... It's not a lot like WhatsApp or something but it's still a fair distance away from "only 3 people". Quit hating on BBM. Use it if you want to otherwise be happy with whatever you're using. Let us not forget that Blackberry were the pioneers in instant messaging and push notifications once upon a time and that we all (at some point in our lives) have used a Blackberry... Posted via my de-TouchWized Samsung Galaxy S3 running SlimKat 4.4.4

My sentiments exactly! Posted via the Android Central App on my OnePlus One

Yep, I know a real estate agent who still carries one, and a friend of mine who works for a defense contractor still has one.

who cares about "billions". this app is not about making new connections and friends, its about connecting with the old ones.

Interesting that they want to monetise the service more. With free options with same features I can't see it taking off in my opinion. Posted via the Android Central App

I have no problem with them monetizing features if BBM will be a serious business-oriented app, but that image is being greatly diminished by them selling sticker packs and pushing the spam...er...sponsored invites from games and dating sites. I think they're trying to throw everything up against the wall to see what sticks, but they might want to consider creating a single, consistent image for BBM and sticking to it.

Great. Just one more service making room for the "I never said that" crowd. Just what we need. Poasted via the Anderoid Centeral App

Blackberry really are kicking the shit out of that deaf horse... Posted via Android Central App

Pretty sure you meant dead horse Posted by my soon to be retired Note 3

Yeah, sure did. Posted via Android Central App

Walking advert for message retraction, right there. Posted via Android Central App

I knw more ppl who use bbm so saying "thez only o3 ppl who use bbm" is simply being misinformed.
These features will sure work for bbm
Android Central Newsletter
Get instant access to breaking news, the hottest reviews, great deals and helpful tips
Thank you for signing up to Android Central. You will receive a verification email shortly.
There was a problem. Please refresh the page and try again.