Battery tech is going to get even better in 2021 with 125W fast charging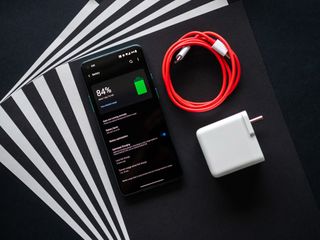 (Image credit: Apoorva Bhardwaj / Android Central)
2020 was bad for most things, but we got meaningful charging-related innovations. The best Android phones had 25W wired charging as default, but we also got 50W USB PD charging from Xiaomi on its Mi 10 Pro flagship, and OPPO introduced an insane 65W fast charging system on its Find X2 Pro.
This 65W charging tech was licensed by OnePlus for the OnePlus 8T, with Warp Charge 65 using the same dual-cell battery design to deliver 32.5W charge to each cell simultaneously. The result is that the Find X2 Pro and 8T can fully charge their batteries in under 40 minutes, going from zero to 50% in just 15 minutes.
Chinese brands have always led the way for battery innovations, and that's set to continue into 2021. Xiaomi has already introduced its 120W charging system in the Mi 10 Ultra, but that particular device is limited to China at the moment. We should see the tech make its way to the Mi 11, Xiaomi's 2021 flagship series.
Xiaomi's 120W charging tech can fully charge a 4500mAh battery in just 23 minutes and delivers a 41% charge after just five minutes. OPPO has also introduced its 125W VOOC fast charging solution, and it is slated to debut in the brand's 2021 Find X3 flagship. With 125W charging, OPPO is claiming a full charge of a 4000mAh battery in just 20 minutes.
This breakthrough in charging tech is down to the way a battery is designed. Instead of a single 4500mAh battery, OPPO uses a dual-cell design that sees two 2250mAh batteries. The charging current is then split into two, with both cells receiving the charge simultaneously. Both companies use charge pumps for efficient charging, and they're going with GaN tech to ensure the charger itself is diminutive.
The ability to get a full charge in just 20 minutes means you shouldn't have to leave your phone plugged in overnight. That's already the case with devices like the Find X2 Pro and 8T — I routinely plug the devices in for charging in the morning, and they hit a full charge in just over 30 minutes.
Of course, the other point to consider when talking about charging speeds of over 100W is safety. OPPO's 125W VOOC charging standard delivers a 20V/6.25A current over USB-C, and it uses three charge pumps in the charger to send the charge effectively to the phone. The handset itself has four charge pumps, with three used for charging and one for discharging.
The charge pumps on the phone halve the voltage and double the amperage to turn the 20V/6.25A charge into 10V/12.5A, and they each carry 42W of energy. Going this route ensures the battery doesn't get too hot while charging, and there are numerous safeguards in the charger, charging cable, and the handset itself to ensure the charger doesn't burn down your house.
That's one reason why you'll only get 125W fast charging when you use OPPO's charger along with its dedicated USB-C charging cable. Only when all three requirements are met — the right charger, cable, and handset that can handle the 125W current — will the charger switch to the 125W charging mode.
From Tasleem Arif, vice president and head of R&D at OPPO India:
I used 65W charging for most of the year — first on the Find X2 Pro, then on the 8T — and I never felt the need to be worried about the charger causing damage to the phones.
Lithium-ion batteries will continue to dominate the industry for the foreseeable future. While the battery tech itself hasn't changed all that much in a while, it's great to see manufacturers pushing the boundaries of charging innovations.
The power you need
(opens in new tab)
The new standard for performance
With a new design backed by a gorgeous 120Hz AMOLED display and blazing-fast 65W fast charging, the OnePlus 8T is packed with exciting upgrades. The phone runs Android 11 out of the box, has a ton of new software features, and delivers one of the best overall packages in this category.
Get the Android Central Newsletter
Instant access to breaking news, the hottest reviews, great deals and helpful tips.
Harish Jonnalagadda is a Senior Editor overseeing Asia at Android Central. He leads the site's coverage of Chinese phone brands, contributing to reviews, features, and buying guides. He also writes about storage servers, audio products, and the semiconductor industry. Contact him on Twitter at @chunkynerd.
It isn't really battery technology... I'm also not totally convinced it's safe.

Well it certainly isn't screen technology. I'm pretty sure that figuring out how to more quickly deliver power to your battery is directly related to battery technology. Also, manufacturers have learned from the hard lesson of the Samsung Galaxy Note 7 debacle. Far more testing goes into this to insure safety, before it is released to the public.

I have the 8T and using the supplied rapid charger works as advertised, and the phone barely gets warm. My understanding is that heat (as well as charge/discharge cycles) is what ages a battery. Since there is basically no heat while using the included charger for the 8T I hope that the batteries will last a long time...we will see. It would be nice if the batteries themselves were made of some new materials that made them hold a charge longer as well as made them last several years longer...but until that time comes, if it ever does, then I guess the next best thing is SAFE rapid charging.

Charging over night is not a pain point. I'd much rather have an efficient battery that lasts multiple days if needed. I'm still on the Pixel 3 so maybe the phone battery efficiency I want is already out there by now. But I'd like to not be able to kill my phone in a day just because it was heavily used.

I don't think this will be a long term thing. Portless iPhones may very well be a thing next year and the Android companies will follow. So the fast wired charging we see now won't be as prevalent in 2-4 years.

Charging overnight isn't an issue, cause you're obviously not using your phone... I'd much rather have a large size battery capable of a minimum two days which I can then put on my charger at home or work in spurts to charge a little at a time as possible while the battery still has more than enough power to get things done. Give me a phone with a bit of bulk any day if that bulk is gonna be a huge battery.

Minimum of 2 days is relevant to the user and how they actually use their phone. I can easily get 2 days out of a full charge on my OnePlus 8T. But then again someone else may barely get a day! It all depends on what you are doing day-to-day. Games? Movies? You're going to discharge your battery quicker. Use it like I do and you will get 2 days on a 4500 mAh battery. So????

Fast charging is bad for batteries. Why is Android Central promoting it?

My charging habits changed drastically when I bought my OP5T. Minor charging here and there rather than all night. It's far easier to charge it to 80% to protect battery life. Phone still going strong and getting me through the day. Right now I'm sitting at 27% at 10:20pm. I love the this really fast charge idea of a 5 minute charge twice a day to keep it topped up.

They need to work on increasing battery longevity. Right now you get around 500 charges before the battery takes a massive hit. They need to get that over 1000 so that batteries last at least a few years without any major degradation.

Great. Like I said before.. New Gen phones have new Gen charging systems so your old chargers aren't going to work with them (at least not up to their fast charging capabilities). Now when you buy your new 1200$ phone you will have to shell out 30$ for a compatible charger because, you know, Apple (now Samsung, maybe more) will be "protecting the environment" by not supplying in box chargers (and according to them and AC you already have a bunch of bricks laying around anyway---non campatible bricks that is).