Barclays releases Pingit, send and receive money using a phone number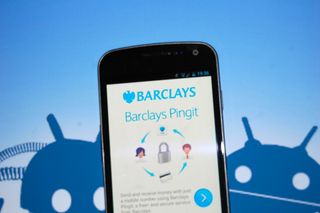 British high street bank Barclays have today pushed out their attempts at entering the mobile payment space. Their app, Pingit promises to let users transfer money upto £300 per day using nothing more than a phone number. There are no NFC capabilities in this though as you would find in Google Wallet. With the UK still trying to get up to speed with this, Barclays have opted for a much more simple approach.
The application is free to download and importantly all transfers are also free. It isn't platform exclusive either with iOS and BlackBerry apps also available. At the moment you have to have a Barclays account to be able to send money, but they have promised to open it up to other banks sometime in March. Anyone using any bank can register to recieve money though.
It works by linking your bank account to your current mobile phone number. To make a payment to someone, you can either choose them from your address book or enter their phone number manually. The secure transfer is then carried out in seconds. Everything is secured by a five digit passcode.
The usefulness of such an app is questioned when you consider that you won't be able to go into a store, and pay for items using Pingit. The use cases are more personal, and one of the examples given is that ten people go out for a meal. When it comes to paying, everyone wants to pay individually and by a different method potentially taking a decent length of time. By bringing Pingit into the equation, one person can pay on their credit card and the other 9 use Pingit to instantly send them their share of the bill. Or how about parents quickly sending money to their student son or daughter at university?
With the number of smartphones ever increasing, anything that can make something tedious like bank transfers and sending money more convienient is a step in the right direction. Some will always be cautious over using their phone to deal with their money. The emphasis here though is that using an application such as Pingit is as secure as regular online banking which we do all the time.
Hit the source link for more information, and download links can be found after the break.
Source: Barclays
Get the Android Central Newsletter
Instant access to breaking news, the hottest reviews, great deals and helpful tips.