Australian HTC Ones now seeing Android 4.4.2 update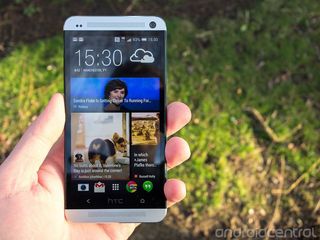 Vodafone and Optus both have the update pushing out now
Several different variants of the HTC One have been receiving their Android 4.4 updates in the last few weeks, and now it's Australia's turn. Vodafone's support pages are confirming that the update is rolling out to its devices, while we're receiving tips that HTC Ones on Optus devices are also pulling down KitKat.
The combination of Android 4.4 and Sense 5.5 on the HTC One isn't a groundbreaking change, but there are a few different features that you'll be able to look forward to in this update. If you're in Australia using an HTC One, now's the time to start checking for updates in the settings menu.
Source: Vodafone Australia (opens in new tab); Thanks, John!
Get the Android Central Newsletter
Instant access to breaking news, the hottest reviews, great deals and helpful tips.
Andrew was an Executive Editor, U.S. at Android Central between 2012 and 2020.
Have Telstra branded 4.4.2 and battery drain seems much worst and posts via LinkedIn app dont post otherwise slightly more snappier

Phone is much faster and battery drains less than it used to on 4.3. Don't like the battery icon. A good update nonetheless! Posted via Android Central App

Woooo! Posted via Android Central App

Just updated my phone to kitkat this morning. Totally regret it they said they fix the first issue of battery getting drained and phone getting hot. Issues was not fix my phone was getting hot even on standby battery getting drained when wifi or data are switched off. Is there a way to go back to Jellybean 4.3 coz Kitkat fckin suck. Anyone who hasn't updated their htc phone to kitkat please keep it that way. Just by typing now my phone is getting toast.

yes spot on - I updated 29/03/2014 - should have learned my lesson form the previous update months ago - now i confirm with you Timothy, i was wondering this morning as to why my battery has drained while on standby at 68% inside 2hrs & here i am charging & i go to pick it up & its scorching hot i could have toasted a piece of bread on it + its lagging ' HTC quitely brilliant ' i don't think so - not going to update again, eg. wrote a couple of sms's checked some e-mail 30% battery has gone, things such as these updates are not part of the agreement when getting this ph . 'bad move HTC gonna lose alot of customers & I am one of them . cheers Jack .

Jack, I sorted the issue by going to HTC itself and spoke to someone. Apparently you need to backup everything on your phone and reset your phone from settings.

It's unreal why they release these updates with these so called little bug fixes & put people through all this hassle - months ago i updated and it lagged me greatly & had this annoying battery icon appearing on the ph. everytime you would turn the screen off while on charge (annoying in the car at night at 30secs periods everytime) - but somehow it went away, never updating again kitkat, mars bar, cadbury chocolate whatever it may be lol .
appreciate the info - cheers Jack .

Australian HTC Ones now seeing Android 4.4.2 update - well well it should add it is also seeing lagging, battery drained in very quick time & turning into a hot plate for cooking quick sand - uHmmm ! quitely Brilliant ! OH YEAH ! - i don't think so . I'm scared to put it in my pocket .

Totally agree with you. Ever since the update, my batter hardly lasts a day even when I'm not using it much. Before, I could use my phone for 2 whole days with normal use. Wish I could just revert back to the previous version. Also noticed that when my phone is connected to my car's bluetooth and Im using the phone gps and also streaming music, you can barely hear the gps voice sound. Whereas in the previous version it was perfect, even if you were streaming music and using GPS, your music volume would dim and GPS voice kick, which was great.

Hi, I updated my HTC one, and the vibration feedback is not working when typing, how can I fix it? Thank you!

Hi have telstra branded HTC ONE and since this latest android update i have had a major issue where my phone randomly at times will not let me make 1 single text message without a error coming up or a call without it auto ending as soon as i press call PLEASE HELP!!!!!!