Audiobooks.com launches new Android app, offers all you can eat for a small fee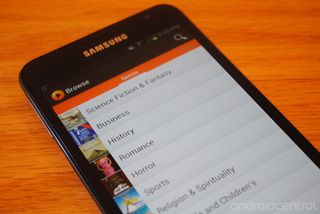 If you dig audio books over their other physical and digital counterparts, then you might be interested to know audiobooks.com has now launched a new app for their customers. The app is available as a free download from the Google Play Store but in order to make full use of it, you'll need to sign up for a subscription.
Luckily, Audiobooks gives you a free trial to start off with offering an 'all you can eat' selection of audio books for 7 days wherein after that time, you'll be liable to pay $25/mnth. You can stream audio books from the app, your computer and more importantly there is a no hassle cancelation policy that goes along with it. Don't like it, cancel any time.
Learn more about Audiobooks.com (opens in new tab)
Android Central Newsletter
Get instant access to breaking news, the hottest reviews, great deals and helpful tips
$25 month is a small fee? netflix is cheaper. I guess, ill just wait till the book hits a movie screen

That's exactly what I was thinking.

I was like, 5 or 10 I'd be pretty interested with it. bring on the books, but um.. its just talking no picture, and its more then netflix. your better off getting amazon prime, with movie and books. for just one fee the whole year

Amazon owns Audible. I have been waiting for them to throw in the subscription with my prime membership or at least reduce what I pay for Audible already.

how much is audiobooks.com paying you?

I have the audible app and bought the lite subscription for $10 a year. You don't get any free books but you get all the discounts. I only use then for long drives do it is worth it. $25 a month is way too much.

Hand_O_Death, How does this app "audible" work? Do you stream the books? Can you stop it and play it again and it starts it where you left off? Can you download audio books from the list the Internet and import them into the app? Thanks in advance.

Audible is a subsidiary of Amazon. You can subscribe for $14 dollars a month to receive one credit a month for any audiobook in the store, in addition you receive a flat 30% discount on all other audiobooks, and access to various sales, buy one get one, one day $5 dollar sales and other things. The app is set up for download, however you can listen to a file while downloading so in essence you can stream. Yes you when you stop it it remembers where you left off, in addition you can add as many bookmarks as you want to a book should you want to mark specific portions of the book for whatever reason. You can download them to multiple devices yes. Most books, are broken up into 3-5 hour segments so most have multiple download files, to make the downloads and file space more manageable. Audible also produces many original audiobook recordings. I've been working through their Neil Gaimen presents series. Neil Gaimen loves audiobooks and has produced a series pairing his favorite novels that have never been recorded with some of his favorite narrators, he also records forwards to each of them.

What hell are you all smoking I mean these posters? First I have audible I pay $23 for 2 credits. That's 2 books a month and there my books I can burn them to CD etc. I've had audible for 7 years and have over 200 books in my library. Most audio books CD cost $30 that's insane that's why I do audible. And listing to audio books are awesome a movie in your mind. Now we have this new one which is $25 a month if it is unlimited or say 3 books a month like a lease program this could b interesting to try. I'm already impressed with the app so far. And if your two cheap to do audio book subscriptions go to your local library.

Whoa...calm down. Why are you ranting? There doesn't have to be a right or wrong here. I think it's perfectly reasonable for someone to balk at $25 and "small fee" being used in the same sentence. It could be that most people are coming at this with music services as their frame of reference. With that, you're talking about Spotify or Rdio at $10 a month for unlimited music streaming. I pay $3 a month for Pandora, but get far less than the other services offer. Quite honestly, just how many audio books can someone squeeze into a month to make $25 feel reasonable? It's worth noting that movies available through Netflix probably cost $20+ a piece, yet member ship is only $8 for streaming and a touch more for physical DVDs. For what it's worth, you don't have to be cheap to go to the library. I use my library quite a bit and save a good amount of money not buying books, audiobooks, and DVDs that I will only read or listen to once. If I want to read or hear it again, I'll go back. If I really like the book or disc, I'll buy it. That's being penny wise, not pound foolish.

$5 a month is too much, but $25 is outrageous.

So we can sell a 3 minute song for 99 cents, but $5 is too much for a 10 hour audio book? Go on, your economics theories intrigue me.

Interesting concept. I also am a member of audible.com. (2 credits a month) sometimes 2 books lasts a whole month, sometimes not so much. If this Audiobooks.com deal is $25 for unlimited steaming books, I could really see myself switching over/or doing both. Few things to consider first. is the selection of books as large as Audible? Being on sprint (rotten data speeds sometimes) will streaming be a problem? I often listen in short periods of time. will bookmarking my places in the book be a problem? Is actually owning the book like with Audible, better than renting/leasing? Hopefully I can answer those questions within the 7 day trial. not that $25 is a huge amount, but its enough to expect a decent well run service. Having choices though, is always a good thing. dschoenike

Meh... I'll stick with Audible $15/Month... Can download my books. I Get a Free Credit each month for a book... And trust me I don't read/listen that fast Lol. So it works perfectly for me... I've never had to actually buy a book from Audible.

I'm an Audible ($22 a month) subscriber. Love it. WOuld love audiobooks.com for $25 a month, with all you can eat (2 books isn't enough for me). However, the price isn't what's the real problem here. It's the selection, they have only a small portion of the books that Audible is able to offer.

Hahaha, I don't think so! I've been using Audible for years paying 22 bucks for 2 books. And I can choose from 100000+ books. These guys charge $25 and offer 15000 books! I know after reading that fact I'm not interested!

Yeah, kinda bummed out Audiobooks.com has a pretty limited selection compared to Audible. But if they continue to expand their library, it'll be a pretty nice alternative to Audible.

ok, audiobooks.com is quite good, but i prefere these ones: http://www.downloadsource.net/best-audiobook-apps-for-android/n/4562/
Android Central Newsletter
Get instant access to breaking news, the hottest reviews, great deals and helpful tips
Thank you for signing up to Android Central. You will receive a verification email shortly.
There was a problem. Please refresh the page and try again.