AT&T's Sony Ericsson Xperia Play available Sept. 18 for $49.99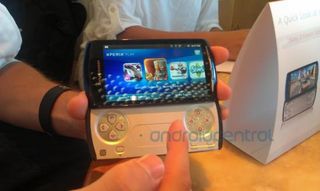 AT&T this morning announced that its version of the Sony Ericsson Xperia Play (see our hands-on) will be available Sept. 18 for a mere $49.99 with two-year contract. The Xperia Play, as you'll recall from our review, is the so-called Playstation phone, with a slide-out gamepad and Playstation-optimized games. It's rocking Android 2.3.3 with a 4-inch screen.
Games included with AT&T's Xperia Play at launch are:
Dungeon Defenders™ Second Wave by Trendy Entertainment
Asphalt™ 6 Adrenaline by Gameloft
Star Battalion by Gameloft
Madden NFL™ 11 by Electronic Arts
The Sims™ 3 by Electronic Arts
Tower Bloxx™: My City by Digital Chocolate
Crash Bandicoot® by SCEA/Naughty Dog/Universal
As if a $49 Xperia Play isn't a good enough deal, AT&T's also sweetening things by throwing in the DK300 Multimedida Dock (check out our review of the dock) and MC100 music cable.
Android Central Newsletter
Get instant access to breaking news, the hottest reviews, great deals and helpful tips
Will be heading to best buy to return nexus s 4g
To get this phone.

Hey, I've been rocking the Xperia PLAY ("PlayStation phone") and its dock since the day they were released in Australia (about two months ago) and I love it... High quality graphics and audio, great gaming and a brilliant gamepad. My only complaint is the lack of PlayStation/PSOne games- since launch, there's been just nine PlayStation/PSOne games made available, and Sony Ericsson has not announced that any new titles are coming (where's my Final Fantasy VII?). It is also a little disappointing that Sony Ericsson are not using this device to its full potential- internally, they have successfully tested the PSP (PlayStation Portable) versions of LittleBigPlanet, God of War and Invizimals on the Xperia PLAY, however there is nothing to suggest that the public will see these titles made available thus far. The Xperia PLAY has awesome usage times too- I've been able to get up to four hours of HEAVY gameplay before the battery is flat, and even with heavy usage of the Xperia PLAY as a smartphone (i.e. most functionality except the gaming), I can manage a pretty solid day before I need to stick the device on charge...

Anyone knows, if this phone is coming to sprint?.

That's what I'm saying. I'd love to have this as an addtiom to my evo 3d. The game aspect would be awesome and I'd love to be able to play games on it.

When this phone debuted on VZW it was $199. Now AT&T is offering it for $50 and you get a dock. IS it me or is VZW screwing everyone on their newly released devices? Droid Charge and Bionic are/were both $299. Are either of these phones better than the SGII. I know we have to pay for LTE, but damn and extra $100 per phone and there is no mail in rebate. That is robbery. Rule of thumb: Never buy devices within the 1st 3 months of being offered by VZW. If you wait they will drop the price of a certified sales company (Bestbuy, Wirefly or Amazon) will always sell it for less.

Actually Best Buy is offering the VZW Xperia Play for $49.99 as a special now.

Another win for AT&T. Not necessarily a device I'd go for, but it's pretty cool for non-power users who are into gaming. And with a dock? Geeze, wish my Inspire had a dock they'd throw in. :-P Other than cheesy dumb names (HTC Holiday), AT&T is doing great on phones this year. iPhone who???

Does the AT&T version run Vanilla Android like Verizon's or is it running the SE UI like the other GSM versions are? Plus it's running on HSPA+ "4G" so it's data will be faster than the CDMA model.
Android Central Newsletter
Get instant access to breaking news, the hottest reviews, great deals and helpful tips
Thank you for signing up to Android Central. You will receive a verification email shortly.
There was a problem. Please refresh the page and try again.