AT&T will also sell the Moto 360 soon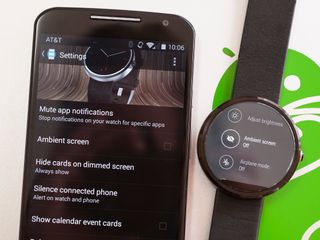 In addition to Verizon Wireless, AT&T announced that it will also be offering the Moto 360 Android Wear smartwatch for sale. The carrier announced that the watch will join its portfolio of smart products, though it did not give specifics for pricing or availability at this time. The Moto 360 will be AT&T's second Android Wear device that it is offering for sale after the LG G Watch.
Both AT&T and Verizon join Best Buy in offering the Moto 360 for sale at retail locations. The highly anticipated smartwatch has sold out in many retail channels, including on Motorola's website, Google Play, and Best Buy online and in stores. Motorola advises that supplies will be tight for a while and that interested customers should expect limited availability.
Will you be picking up a Moto 360? In addition to the Moto 360, AT&T will also be carrying Motorola's latest 2014 edition of the Moto X.
Source: AT&T (opens in new tab)
Get the Android Central Newsletter
Instant access to breaking news, the hottest reviews, great deals and helpful tips.
I was going to buy it but the lack of availability and reports of really short battery life have scared me off. I'll wait until they are widely available and maybe by then prices will come down too since there will be worthy competitors. My Gear Fit and SW2 will hold me over until then. Posted via the Android Central App

I'm going for GWaR, the black crescent is an eyesore Posted via Android Central App

*snork* that's like complaining that the Moto X is too big and getting a Note 4 instead. The G-R is the ugliest smart watch since the first warty Gear.

Battery is not as bad as the reviews say. There's a guy testing it on XDA and his battery is getting better and better as the days go on. Apparently like all smart devices it takes some time for the battery to stabilize. Posted via Android Central App

If you're interested in the 360, read the review in Ars T. Then you'll know the battery life is crap because of the Texas Instruments 4 year old SOC powering it. Great outside, crap inside... Posted via the Android Central App

The ArsTechnica review was useful, but it's more indicative of a worst case scenario than anything, to extrapolate that the 360 would still get half the battery life of other watches when it spends more time idle isn't a foregone conclusion. Not trying to say it isn't the Wear device with the worst battery life, it surely is, I'm just saying actual real world usage may reveal it's really enough battery life to get thru the day for some (at least a couple commenters with 360s have indicated as much).

Yeah, AT does a good job of a lot of things, but the reviews I really care about are the ones that focus on real-world use. Mobile Nations and Marques Brownlee are the really useful reviews, in my book. Posted from my Nexus 5, behind seven proxies

The Ambient Screen setting makes a HUGE difference. Goes from about 12 hours to about 20.
http://www.droid-life.com/2014/09/08/thoughts-on-moto-360-battery-life/ To me this is a good solution to a major issue.

Just read Ars T review. I do not understand how their experience can be so drastically different from other reviews. Every other review mentions about 12 hour battery life with normal use. There's no mention of lag in any review I've read and every single video shows a very smooth OS. Makes you wonder if they got a faulty unit or simply have an "agenda"

Well, their review focused heavily on reportable tests... It's possible the very objective performance benchmark they ran actually started influencing their subjective opinion and made them more sensitive or wary of any little UI hitch. Once you start reviewing things like watches it's kinda like the audio world, balancing the subjective nature of the experience with objective tests that aren't necessarily perfect becomes a real chore, specially when things like appearance and ergonomics play a bigger role.

Will they disable QI charging since they are PMA? that would be utter shit.

LOL Nexus 5, Android L Preview

I came to comment the same thing lolol Posted via Android Central App

This is a bad idea for Motorola. I went to an AT&T store to check out the G Watch. It was in demo mode and the people in the store had no idea what it did. Even told me they had the Gear Live, which turned out to be a different model. Posted via the Android Central App

They don't pair them with phones either so functionality is pretty limited, even for a demo.

I can already see the pre-branded at&t logos on the bands.... >< at&t. Posted via Android Central App

AS long as AT&T leaves it unmolested, I'll pick one up. Their system always has a loophole with the 25% off 3 accessories or more. Just pick up a couple Nokia Qi chargers for $5 if they still have them, and you're looking at $195 before tax.

Yeah, makes me think about picking up my BB order... Also wonder if they'll have a bundle with a phone, I need to renew my contract anyways.

When did they ever brand an accessory? I work at an AT&T store, and although the PHONES get a simple, minimal AT&T globe on the back, none of the accessories ever got a branding label. This includes all the horrible samsung gear watches, the horrible lg g watch as well.

I suppose Verizon and AT&T will try to bundle both the 360 and the Moto X together as one. Either way, I hope the metal band comes soonm Posted via Android Central App

So it seems that the next shipment will be some time in November, which is simply ridiculous. I could understand if a company didn't know the hype and feedback and under produced but Motorola KNEW that Moto 360 was going to be in high demand and they haven't adjusted the production.
If they are limiting it on purpose, I will lose all respect towards Motorola. I really wanted to pick one up but I have no idea if I'll feel the same way in 2 months.

Please stamp a carrier logo somewhere on the watch, your customers need to know that they bought from you.

If it was Verizon, they would etch it in the center of the screen...

To be honest the LG watch that is supposed to be going to come out looks better. At this point only reviewers and tech Journalist seem to be the only ones to get the 360. Very disappointing Posted via Android Central App

I'm still getting the 360. Posted via Android Central App

I was able to skeez in the moto site and purchase one...will ship sept 19. Can wait. Will be picking up the moto x aswell. Posted via Android Central App

I was going to get the 360 first because it came out first. Then probably get the lg g r to go to work in. I work out side and it just like more casual. If the g r become available first because of Motorola supply problems I might only get the g r. Hell of this turns into an issue I might end up getting a g3 also instead of a moto x. Posted via Android Central App

The LG G3 is a good option...I have it and is my fav phone...No more iphone. Posted via Android Central App

"How soon is now?" - I'm sorry, I couldn't resist. I just want this thing immediately. Posted via the Android Central App

Just to add to what some others have said. It seems like real world usage the battery is just fine. Most people are reporting after an entire day (with the ambient screen off) they still have 40% battery left.