AT&T Samsung Infuse 4G Gingerbread update finally available again, confirmed to work this time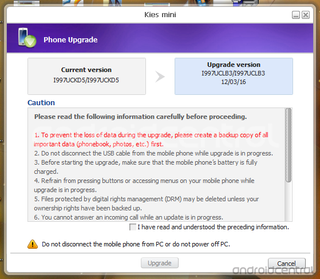 It's been about two months since the AT&T Samsung Infuse 4G first saw its Android 2.3 Gingerbread made available, only to be yanked back due to some bugs. On Thursday, the download was finally revived via the Samsung Kies Mini application. Yes, folks. It's finally happening. (Again.)
Here's a reminder of what you'll be getting in the Android 2.3.6 update, which takes the software version up to UCLB3:
Improved Copy and Paste functionality
Redesigned Multi Touch Software Keyboard
Download manager for long running HTTP downloads
Improved power management and application control
Notification Shade: "Flight Mode" added ("Silent" removed)
New Fonts options added include Choco Cooky, Cool Jazz, Rosemary
Keyboard Changes: Android Keyboard with Wider Spaced keys and Quick Keys at the top
New Widgets: The name of the content provider will be listed on the widget list along with the widget name. Previously only the widget name was provided.
New Widget: Traffic (Android) added to list of available widgets
Menu Changes/New Apps: Downloads and Google Books added new, Promotional pre-load of Angry Birds removed.
A slightly odd development: AT&T in its forum post says that this update will hard-reset your phone -- as in wipe anything that was previously on it. But that wasn't the case with our update. Regardless, be sure to back up your contacts and e-mails and pictures and the like, just in case. Then be sure to download Kies, and get to updating. Should take about 5 minutes or so once it gets going.
Download: Kies Mini for the Infuse 4G (opens in new tab); More: Update instructions (opens in new tab)
Damnit, need a Fn full battery.. If this doesn't work, I am DONE, DONE I tell you with Samdung.

Been waiting for this but almost afraid to do it. Esp with the hard reset warning. My phone has been acting up so it probably needs one anyway but still....oh well, guess I will look into it in the morning.

Gingerbread...? It's 2012! What the hell was Sammy smoking the whole time?! I guess it's better late than never.

Damn ... Gingerbread !!! Please don't tell me it was stuck on FroYo the whole time !!! & people thought Motorola was late with the Gingerbread update 6 months ago for the European Atrix & kept talking about jumping to Samsung !!! That's F@#$&# up Samsung

Samsung forgot to include Touchwiz 4.0 yet again treating Infuse owners like the stepbrother to the galaxy family. They didn't even upgrade the camera software.

"AT&T in its forum post says that this update will hard-reset your phone -- as in wipe anything that was previously on it." They said the same thing about the gingerbread update for the captivate. It didn't cause a hard reset either. Only problem is that after the update you would constantly get a forced close pop up window for the tethering manager every time you plugged/unplugged the phone and the only way to fix it was to do the hard reset.

Just loaded it to my wife's Infuse, no Touchwiz 4.0! Thanks for leaving us hanging Sammy, it feels good to know that no real attention went into the development of this update. I do have a theory as to why this phone was neglected.... The phone was going to get Gingerbread right around the time the Galaxy S2 debuted, think about it, Sansung would have had two phones on AT&T that were offering Android 2.3, similar in size and the Super AMOLED plus on both with the infuse still having the bigger screen... I think that AT&T and Samsung were afraid of the Infuse looking like a better "cheaper" alternative with the exception of the Dual Core processor, hence the Infuse may have cut into Galaxy S2 sales, if it still looked like an attractive option. I truly believe that this is really the reason why the Infuse did not get Gingerbread. That would also perfectly explain why Touchwiz has not been updated either. They want to keep the Infuse looking like more of an inferior phone compared to the S2. It's sad because the Infuse. although having only a single core, had the potential to be a really great phone...

Any word if this also means the Rogers Wireless Infuse is good to go as well? Thx

Well this bricked my phone. Told me it could not upgrade my phone. Said to pull battery and reboot. It didn't. One out of about 50 attempts I got a field of red and green plus symbols aligned diagonally. every other time its been solid black. Plugged into USB I get a constant usb connect / usb disconnect sound. I think it is constantly rebooting every second or two.

finally got the emergency recovery to take... but it'll probably wipe my phone. I have a titanium backup copy though so hopefully all will be fine. I'm just biding my time on this phone till the 2 years are up.

Why bother with Samsung Service...when you can head over to the XDA Community for Infuse...where they have some many awesome ROMs and even some stock ROMs that have been fixed...and the service can't be beat with the great Developers that take care of their ROMs.
IMHO

This thing is full of bugs, my home screen background stopped working and will not longer move, so now I just have a static image now for a background, yay SamSUCK!

This isn't Samsung problem, but AT&T Samsung released the Infuse in Canada a year ago with gingerbread 2.3.3 on the Rogers network

Gingerbread upgrade went smoothly with no issues or lost data. Good news Skype is no longer upside down when calling my Apple contacts. It sucks that Infuse doesn't have Touchwiz like Galaxy! Wake up Samsung ...

My 2nd infuse failed to be recognized by Kies. Tried rebooting and reinstalling Kies but no good. Tried turning on USB debug as suggested and this worked. All booted up and everything seems normal and all media working.

Navigation crashes regularly, nearly unusable.

I updated my infuse and all went smoothly. All settings and apps remained in place. I had rooted the phone and, as expected, after the update it was no longer rooted so apps like Titanium Backup would not function. When I tried to re-root the phone I discovered that SuperOneClick does not currently work with Gingerbread 2.3.6. Ultimately I had to flash a new rooted ROM from xda-developers. (wiping the entire phone in the process.) It took a whole lot more time and effort than I was expecting but my phone is now functioning well with 2.3.6. Positives are that GPS lock is now lightning fast whereas before it used to take sometimes as long as 10 or 15 minutes to lock. Home screens now scroll continuously which is handy (as a result, background image does not scroll the way it used to). Built in browser seems stable - old one kept freezing. Some nice new options with built in mail client. Menu changes, etc. Still finding things that are different. I can now use the front facing camera for video chat. On the downside, the phone and touch screen often seem sluggish, as if processes are running and bogging down the cpu. This affects unlocking the phone using a pattern. It is more finicky and the touch screen is sometimes very slow to respond. Have not notice changes to battery life or call quality. Overall I am happy I have upgraded my Infuse.

I just updated my infuse, was looking to see if the ICS would be available any time soon but no word yet. Just updated to gingerbread and it seems to be working just fine. Hope nothing goes wrong. Good luck to those who encountered issues. sucks that angry birds was deleted! but i like the overall interface much better than the froyo crap that was on there!

just upgraded my infuse. works good. like the new fonts.dont like the airplane mode though since my but stays on the ground. would rather have the silent option back.all in all its about time. i did not lose any data which is good. angry birds stayed on since i had the paid version. also battery life seems better

just received replacement from at&t warranty that has been upgraded to this new version. i don't like it. backgroung image on home screen doesn't scroll when you swipe it like my original phone did. it is just a static image. the phone seems to still give you the option to set it up,but nothing happens once it is set as home screen wallpaper.icons at the top for fb notification, voice mail, downloads, etc look cheap & dumbed down. old phone had a slicker look to it. only 2 live wallpapers left of originals, angry birds gone. now if you want it for free you must download it from play store...with adds. just doesn't look as good. feeling kinda cheated out of the phone i bought. not happy. not much apology from at&t, either.
Android Central Newsletter
Thank you for signing up to Android Central. You will receive a verification email shortly.
There was a problem. Please refresh the page and try again.