AT&T posts Q1 2015 earnings: $32.6 billion in revenue, 1.2 million net wireless adds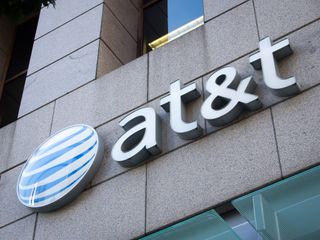 AT&T's combined revenue for its wireless and wireline businesses in the first quarter was $32.6 billion, which marks a year-over-year bump of 0.3 percent. Additionally, earnings per share were 61 cents—down from 70 cents a year ago.
On the wireless side of things, specifically, AT&T notes that it had 1.2 million net wireless adds, and the quarter represented the company's best first-quarter postpaid churn—clocking in at just 1.02 percent. Additionally, the company's total wireless revenues were up 1.8 percent over the same period last year. Here are some highlights from the report:
$18.2 billion in total wireless revenues, up 1.8 percent year-over-year
$14.8 billion in wireless service revenues, down 3.7 percent year-over-year
$13.7 billion in wireless operating expenses, up 7.2 percent year-over-year
$4.4 billion in operating income, down 12 percent year-over-year
441,000 postpaid subscribers added in the quarter
More: Best AT&T Phones of 2015
Source: AT&T (opens in new tab)
Yeah! I love att! Best gsm carrier in the states! I will never switch to CDMA.
Tmobile has good prices but network still sucks Posted via Android Central App on 1+1

+1 T-Mobile Galaxy Exhibit 4G -> AT&T Galaxy S III -> AT&T/T-Mobile Nexus 4 -> T-Mobile HTC One Mini -> AT&T Nexus 5 Android 5.1

+2 Posted via the ACA on NEXUS 6

Agreed, i had sprint for 6 years, the switch to ATT was like night and day. I tried tmobile for 10 days, it sucked and was on edge most of the time. I have a verizon work phone and the battery life is worse and has data deadspots.

Att has been rock solid for me. 15 gigs but doubled to 30. With rollover and a 15 percent discount. And comparable coverage to Verizon for my area. Posted via the Android Central App

Their retail prices are expensive compared to the rest and their contract prices are more expensive too. But their service is almost as good as it gets. Their quality control definitely has high standards Posted via the Note 4 or Tab S 10.5

Get what you pay for Posted via the Android Central App

Just switch to Cricket? It's the same network, but at a lower price.

13 years loyal. Posted via the Android Central App

att sucks i was paying 400$ now i pay 200$ with t-mobile network solid in new york
i m glad i switch

I pay $120 unlimited talk /text, 15GB w/rollover , & insurance for my wife and I. Unlocked Nexus 5 & Moto X 2013 Nexus 5 (AT&T)

ATT ripping off customers with premium price gouging data tiers and paying ZERO taxes like Verizon year after year. While producing no new jobs. These companies make $120 billion a year, it's ridiculous. All their money is not even used in reinforcing their networks. Another reason there needs to be heavier regulations in this industry as they make up the rules and change them as they see fit to keep prices high as possible.

Big money for the best out there. Been with them for 10 years and I'm never leaving them. Solid network :) Posted via the Android Central App

I have great service with AT& T switched from T Mobile 3 years ago. My wife and i purchased a home and we have a AT&T tower outside are yard. Posted via the Android Central App

After over 10 years I have switched from AT&T to Sprint and so far cannot tell the difference except now I am saving $45 bucks a month and have unlimited data. No more worrying about overages or scolding the kids!

Where do you live? I switch from Sprint to AT&T after 10+ years, 2+ years ago... It's like night and day. Sprint used to be great, after it got iPhone and more Androids it went to shit Nexus 5 (AT&T)

I have been with AT&T for over 10 years and couldn't be happier with their cell phone service. I don't even remember the last time I didn't have a signal even in rural areas. They also did a great job with the Lollipop update. Posted via the AT&T Note 4

Hands down the best overall network, customer service - in store and care. Great innovations, and an obvious industry leader. 8 years strong and counting. Posted via the Android Central App

I think AT&T has overtaken Verizon in subscribers?? Posted via the Android Central App

Att is hands down the best service, been with them since 2005 but Just make sure you have an employee or corporate discount lol. you save pretty good amount of money on your bill Posted via the Android Central App

Been with At&t since the early 2000's. Awesome service. Working in IT I need reliable service and they provide it. Was able to do video when troubleshooting in server rooms where some other signals fail. Posted via the ACA on NEXUS 6

Still can't believe I'm getting 30gb for 4 phones for $160. Nobody can begin to touch that. And I don't care that their contract phone prices are high... I bring my own phones (Swappa) and go no-contract.

Wait I thought that T-Mobile was hurting everybody else' business. But it looks like its not affecting AT&T at all.

I've had run-ins with their service departments before, but the phone service itself is pretty good. We get 5 phones with 30 gigs for $180 a month, and I get coverage where Sprint, Verizon, and others do not. My work phone is Verizon, my son's phone is Sprint, my daughter's phone is Metro PCS, and my friend's phone is T-Mobile. So, I get a pretty good test base when we are in remote areas, and everyone uses my phone because it's the only one working.
However, things were not always rosy: We used to pay almost $500 a month and had a contract to switch to Sprint that was waiting for only my signature. What gave me pause was that Sprint could not deliver the concurrent data and voice that I needed for work. So, I took the Sprint paperwork with me to the AT&T store and asked them if they were the least bit interested in keeping a 17 year customer. We had a girl that "got it", and she threw out everything and gave us a new plan (no contract) and brand new phones for way less than the old plan. Aside from the bill, the other thing that annoyed me was the way customer service in their repair center "mis-informed" customers and blamed them for things which were defects. Number one item? Batteries. "Oh you must have left it plugged in too long and overcharged the battery, so this is not covered under warranty". BS. All lithium ion and lithium polymer batteries are considered potentially dangerous and are required by law to have charge controllers to prevent overcharging and explosion or fire. Are you lying to the customer, or are you selling illegal phones? Another way of blaming the customer is saying they dropped it. Sometimes it has been dropped, but sometimes not and they still get blamed, or the problem is unrelated. I had an HTC One Mini, which was famous for cracking due to the aluminium back expanding and cracking the plastic sides. The girl and guy inspecting my phone after it had 21 cracks said that it had been dropped. No dents or chips or damaged corners, yet they said it MUST have been dropped to crack. I finally got a girl who was honest and said she didn't see signs of dropping, and that the type of cracks would not have come from damage anyway. She replaced the phone, and I used the new one for a few months (charged it under a fan!) until the first hairline cracks began to show up. Then I traded up to the M8 and have been a happy camper since. If it was not for that one girl, I would have dumped them and gone to anyone else.
Android Central Newsletter
Get the best of Android Central in in your inbox, every day!
Thank you for signing up to Android Central. You will receive a verification email shortly.
There was a problem. Please refresh the page and try again.