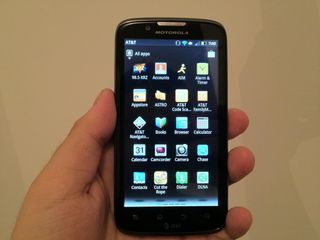 Remember when the Atrix 4G was released just over eight months ago? Do you remember what car you were driving, or how your hair looked? How old were your kids? Sad but true, eight months is the new eight years in the smartphone industry, and that measly old Atrix already has a successor. Whereas the Atrix 4G was a major step for AT&T in terms of both Android and network strength, the Atrix 2 is less of a trailblazer. And this type of incremental update seems like the business model that Motorola is building for itself (see Droid X/X2, Droid line). But for the consumer, how can you tell when an incremental update is enough to fork over more money? And in the Atrix 2's case, is an incremental update enough to compete with some heavy hitters during this holiday season, perhaps the most exciting time for Android since its birth in 2008? Let's see.
Swipe to scroll horizontally

Super fast and powerful processor. Beautiful, clear display. AT&T's HSPA 21+ speeds are respectable if you're in good coverage.

Cheap build quality. Specs don't match other recent releases. Webtop software is abysmal.

Row 1 - Cell 0



The Atrix 2 isn't the biggest or best smartphone on the market, but for $99 on contract, the sacrificies Motorola made are justifiable and can be overlooked.
Hardware
Whereas Motorola has focused on thin and light for its phones on Verizon, it seems to have less of a body image issue with its Atrix line on AT&T. The Atrix 2 is a large phone, in terms of both footprint and girth. Make no mistake about it: the Atrix 2 won't have any "world's __est" titles under its belt.
The Atrix 2 feels hefty in the hand, even for those like myself who have large hands. I've used some of the biggest smartphones on the block, yet the Atrix 2 managed to surprise me. It's not necessarily bigger that say, the HTC Thunderbolt, but the size, combined with curved edges and relatively thick profile, sure make the Atrix 2 noticeable. It's thinner than the original Atrix but that's not saying much: It's still 10 mm thick, something that Samsung's Galaxy S II would cringe at.
Another thing that you'll notice about the Atrix 2 is the less-than-top-notch build quality. The Atrix 2 is entirely too plasticky. The back cover, a rubberized sheet that prys off without much cooperation, is extremely flimsy, and even the bezel that surrounds the Atrix 2's screen feels cheap and breakable. When I first held the Atrix 2 I felt like it was a phone that I might be able to win out of a claw machine. One upside to this build quality: weight. Despite its heft, the Atrix 2 is relatively lightweight. A brick it is not.
The Atrix 2's physical saving grace is the beautiful display. A 4.3-inch qHD screen with 960 x 540 resolution coated with Gorilla Glass, the Atrix 2's display is a beauty. Colors are vivid and text is crisp and sharp. And no, it's not Pentile! And yes, you'll notice! The Atrix 2 looks much better than the Bionic and as we see with the Droid RAZR, Motorola is improving its screen technology every day.
Other hardware odds and ends: the microSD card doesn't require battery removal to install, which is such a treat. And the rear speaker suffices but I've heard much, much better. Don't throw away your stereo.
Under the Hood
The reason behind the Atrix 2's girth might come from all that Motorola has managed to pack inside. Departing from its commitment to Tegra 2, Motorola has switched its processor-of-choice to Texas Instruments, and the dual-core OMAP 4430 in the Atrix 2 is the beautiful result of that decision. Clocked at 1 GHz, it might not be the fastest on the market, but I couldn't tell. It's fast. Really fast. I noticed nary a slowdown, and was never left wanting more. The processor handled anything I threw at it, whether it be HD video or some severe multitasking. Simply effortless. And combined with 1 GB of DDR2 RAM, the Atrix 2 is a powerhouse.
Also under the hood is a radio capable of handling AT&T's HSPA 21+. Aside from sheer processing power, the Atrix 2 screams thanks to the network's "true 4G" speeds. Let me preface this by saying that AT&T needs to get its act together. This 4G falls somewhere between the measly speeds we saw on the Atrix 4G and the mind-blowing speed we see on AT&T's LTE network. Technically what we've got here isn't the fastest out there, but it certainly gets the job done. It's noticeably snappier than AT&T's 3G speeds but if you're looking for broadband replacement ala Verizon, you're out of luck, especially so if you're in a less-than-stellar coverage zone. Here in New York City I saw average speeds of 3 Mbps down and 1.5 Mbps up, with the high end topping out at around 6 Mbps down and 1.56 Mbps up. When I visited family back home in Northeastern Pennsylania, I managed to crack 8.5 Mbps down and 1.7 Mbps up. Depending on what you're looking for, you might want to give it a spin in your local AT&T store to see if your area supports the speeds you need.
Supplying power to all these hungry components is a 1,785 mAh battery that produced pretty respectable wake times. I never found myself frantically looking for a plug, which is really refreshing lately. It's not the best in the biz, and you're going to want to keep a spare/charger handy if you'll be away for more than about 10 or 12 hours. But with careful use, I easily got through the majority of the day on a single charge.
Some other odds and ends:
UMTS 850/1900/2100
GSM 850/900/1800/1900
Internal memory: 8 GB ROM, 1 GB RAM, 2 GB microSD™ card (expandable to 32GB)
8 MP camera and LED flash
Front-facing camera
1080p HD video capture, 30 frames per second playback
On Device Encryption (ODE) and Enhanced Exchange ActiveSync® (EAS)
IPsec VPN

Software and Performance
If you're contemplating ditching your first gen Atrix 4G simply for a new user experience, don't make that mistake. The Atrix 2 is running Android 2.3.5 Gingerbread underneath Motorola's evolving and, dare I say usable, custom skin. What can I say? Have you ever used Android? Then you know what using the Atrix 2 is like. It's great to see that Motorola managed to ship with the absolute latest version of Gingerbread, but you know what's not so great? No Ice Cream Sandwich. I would imagine that the Atrix 2 is lined up for the upgrade in due time, but just be aware that if you commit to two years for an Atrix 2, some of your friends might get ICS before you. Bummer.
And about that custom skin: it's a work in progress, and gets better with each new device. It is absolutely identical to what we saw on the Bionic and the Droid X2, but performance is noticeably better than the latter. Things are snappy: apps open without hesitation, and multitasking is a breeze. Bootup time is notceably quick, too. Is this due to the Atrix's heavy-duty processor? Maybe. But I'm willing to bet that Motorola has been working dilligently on improving performance. Whereas the X2 lagged even when being pushing along by its dual-core processor, the Atrix 2 chews through tasks. Not a coincidence. Motorola is doing some heavy duty tinkering.
Preinstalled are all of AT&T's usual suspects, including its Live TV, Music Store, and Yellow Pages, among others. And let us not forget ZumoCast, Motorola's file-sharing software that is just tops. It really works great. You'll need to create an account, and download ZumoCast to your PC or Mac. Once set up, you cans stream photos, videos, and music from your home computer to your Atrix 2. Cool. And even cooler is that Motorola seems to be committed to ZumoCast and including it in many if not all new devices.
And one more thing about those 4G speeds: they are certainly high enough to handle the challenges of using Mobile Hotspot. I saw little latency when running my computer, Wii, and tablet all off of the Atrix 2. Not saying that's something you would want to due (AT&T's data prices might make you think twice about it), but it's good to know that it's possible.
Cameras
One thing that Motorola is severly lagging behind the competition with is its camera. 8 MP and 1080p recording. Big whoop. A camera is only as good as how quickly and easily you can capture the subject. In the past Motorola cameras have been slow to focus, slow to shoot, and downright aggrevating in terms of quality. The Atrix 2 is a step in the right direction, but Motorola isn't quite there yet. I'd like to dispute Motorola's claims of having shutter and start up speeds equal to real digital cameras. Doubtful. They're faster than what we've seen on the Droid line and even the Bionic, but the Atrix 2's camera is not my favorite. I've seen much better photo quality both Samsung and HTC hardware, and those cameras have faster start-up times and more user-friendly interfaces.
The 1080p video is captured at 30 fps and the results aren't terrible. It gets the job done, but again, it certainly lags behind its Samsung and HTC competition.

LapDock
From what I can tell, Motorola is looking to create a niche for itself in the smartphone market with its Webtop capabilities. My advice to Motorola: big mistake. Let me try to put this as concisely and nicely as I can: the LapDock that Motorola wants you to shell over $200 for is a abysmal. It's slow, it's awkard, and the software is still so far from primetime. At this point I doubt that the hardware Motorlola is including inside its smartphones is enough to handle the demands of the LapDock. Web browing is crazy slow, and don't even bother trying to do much else with it. Sure, it's good for taking notes or writing up the occasional word doc, but its frustratingly slow. It can't replace your laptop, or your tablet, or even your pen and paper at this point, so I really don't see how you can justify the price. Sorry Motorola, but keep trying. I appreciate the effort and I truly think it's a great idea that will set Moto apart from the pack, but it really needs some more time.
Conclusion
The Motorola Atrix 2 isn't going to sweep you off your feet, but that doesn't mean its not likable. For $99 on contract you have to be willing to make some concessions. No, the Atrix 2 doesn't have the fastest processor or the highest-res screen or the next-gen version of Android. But what it does have is respectable specs for an attractive price. You're getting a solid device, one that benefits from a super fast processor and a close-to-optimized manufacturer skin. You're getting a gorgeous display atop a lightweight (albeit plasiticky) frame. Sure, I wish the camera was on par with the rest of the industry, and I wish that Motorola would stop placing all of its bets on the LapDock, but for $99, the Atrix 2 is hard to beat. If you've got a slightly higher budget you'd be a fool to pass up the Galaxy S II or any of the next-gen HTC devices (or even Moto's next batch, including the RAZR). But let your wallet make this decision.
Get the Android Central Newsletter
Instant access to breaking news, the hottest reviews, great deals and helpful tips.