The Asus Zenwatch liveblog from Berlin, 6.30 a.m. EDT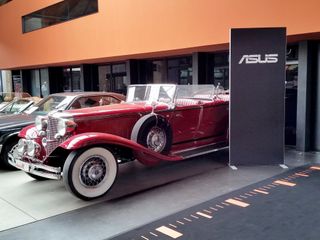 Join us for a first look at Asus' Android Wear smartwatch
Today is a pretty busy day in Berlin as the IFA 2014 press conferences kick off. We're going to be live with Asus at the Classic Remise – an incredible venue for the car fanatics – to see what we're already aware is the grand debut of the Zenwatch, Asus' first foray into the world of Android Wear
Asus press conferences are always an entertaining affair, and we love watching the Chairman, Jonney Shih, take to the stage. We know the Zenwatch is coming but beyond that it could be anything and everything. Asus is known for some pretty wild products so we could still see some new phones, that dock into tablets, that dock into laptops. It'll be a fun ride, for sure.
The event kicks off at 12:30 p.m. local time here in Berlin which is 11:30 a.m. UTC, 6.30 a.m. EDT and 3.30 a.m. PDT. So if you're stateside it's going to be a really, really early one. But grab a hot beverage, pull up your favorite chair and join us in the liveblog below.
Get the Android Central Newsletter
Instant access to breaking news, the hottest reviews, great deals and helpful tips.
"so we could still see some new phones, that dock into tablets, that dock into laptops" Haha ^^^

actually I'm sure ASUS is taking a step forward this time.
We'll have an watch, that docks in a phone, that docks in a tablet, that docks in a laptop, that docks in a desktop, that docks in a web-server.

Looking forward to this. Moto 360 is too expensive.

My best shot is for Sony this afternoon... I hope the Smartwatch 3 runs Android wear, I own the Smartwatch 2 and it's very good... but no wear (it's pre-wear)

I want a watch that docks into a phone that docks into a tablet that docks into a liquor cabinet. ASUS can do it.

I just want a cheap AW watch that I can play with and use occasionally, may get this or see how cheap the lg g watch gets. Posted with my Nexus 4 running L

I would wait until G Watch R and 360 come out. Something tells me you'll find exactly what you need in the for sale forums or Swappa.

Will keep an eye out! Posted with my Nexus 4 running L

Agreed. If their watch is cheap enough and looks decent it might be something to test the waters while waiting for the next generation to drop. Or I could be completely blown away by the Moto 360, but right now I am cautiously optimistic about it. Posted via Android Central App

I want it!! It's wonderful!!

Not buying any watch without an ambient light brightness sensor. Would be nice if this has one, as I like the looks of it so far.

And 00:30 Hawaiian Pacific time for those of us living on the Hawaiian island's. From my Note 2 to you

... and a theater that docks in to your town... oh... wait... Posted via Android Central App- Via HTC One

Livestream is here, for anyone interested: http://press.asus.com/events/

WHY ASUS ??? Give me this 199 notebook in Chromebook version that I'll buy one now. But Windows??? =( damn you!

Nah... Keep searching... Asus. Posted via Android Central App- Via HTC One

Done already. Posted with my Nexus 7 2012 or Moto X via the Android Central App

Certainly appears to be the best and most impressive attempt at a swartwatch yet by any manufacturer.
8/10 for Looks & Appeal and being able to get away with wearing it: More wearable than a beret.
7/10 for Function: plenty of room for more things and capabilities, nothing new or special was seen here, and there's always room for improvement.
8.5/10 Price: e199 is great for a manufacturer's first attempt at a new line of product. All smartwatches should have at least 1 button though, because you need CONTROL, instead of being confined to fairy touch and not being able to force it to do something when you need it to (going back to home screen for example when everything goes bad).
There may have been a button but I didn't spy one in the video stream.

€199 = ?US$; current exchange is $262 but are they pricing it at $200 or $250???

The LG G watch is also priced at £199. So this will either cost $199, $229 or a high $249. Posted via Android Central App