Asus ZenFone teaser shows off dual camera setup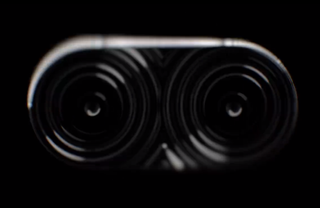 CES is right around the corner, folks, and that means we're sure to see some fancy new offerings from our favorite brands relatively soon. Jumping ahead of the action today was Asus, which ran a teaser on its Facebook page for a new ZenFone that appears to be sporting dual rear cameras.
At ten seconds long, the teaser is pretty short. However, we're treated to a quick flash of what appear to be two camera lenses early on in the video (pictured above). Asus then finishes things off with the statement "see what others can't see."
What does Asus have up its sleeve? It's hard to tell right now, but you can judge for yourself at the source link below. Also be sure to follow our CES coverage starting January 6th, where we'll be sure to let you know what Asus is cooking up, along with much, much more.
Source: Asus
Are you sure it's not a dual LED setup? "See what others can't see": IR LED?

It's probably some kind of 3D imaging system, or maybe a sub-IR camera, to aid in certain image enhancement functions. That's the feeling I get from current phone camera trends. They've been trying various unique ways of enhancing image quality or providing functions of larger cameras in smaller form factors. Posted via Android Central App

Exactly my thought when I read the article headline (3D).

I don't see two camera lenses. I see an owl wearing sweet shades.

lol I'm sure you're 100% correct ;) Posted via HTC One on Sprint

Night vision? That would be awesome! Posted via a beautiful Ebony backed Moto X on Verizon or the amazing Nexus 10 using the Android Central App

If they use IR for night shots they will have to remove IR filter from the lens, which is no good. So only thing to do is have one camera with filter for day shots , one without and 2 flashes. Posted via Android Central App

Ecto-vision. You will be able to photograph ghosts.

This is the only possible meaning, surely?! Posted via the Android Central App

But can it see why kids love Cinnamon Toast Crunch? "I'm da Blur boys!" - Me with 1200 ping. Yes. My Internet got worse.

Cinnamon Toast Crunch was the best. Posted from my TARDIS!

My immediate thought was 3D video or photos. Posted via the Android Central App

A Posted via the Android Central App

I'm calling it, optical zoom. Posted via Android Central App

Glad to see what looks like another dual camera setup. Hopefully they are using large sensors as well... http://forums.androidcentral.com/android-concepts-dream-devices/456528-d...

So not a good time to buy new smartphone? Waiting for a price drop on the note 4. Posted via Android Central App
Android Central Newsletter
Get the best of Android Central in in your inbox, every day!
Thank you for signing up to Android Central. You will receive a verification email shortly.
There was a problem. Please refresh the page and try again.