ASUS commits to Android O, less bloat for the Zenfone 3 and 4 series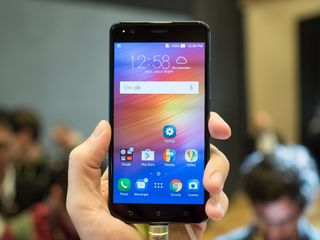 There's no nice way to say this, ASUS has a history bloated software and taking too much time with updates. I imported and owned the monstrous (and glorious) Zenfone 3 Ultra and my only real complaints with the device were the amount of pre-installed garbage and how slowly it got the Nougat update. It took me a full hour when I was setting up the device to turn off all the duplicate features and applications.
According to Android Police, ASUS will be rectifying that. With its ZenUI 4.0 — launching with the Zenfone 4 series and coming later to the Zenfone 3 series — Asus will be cutting down on pre-installed applications significantly. ZenUI 3.5 currently includes 35 pre-installed applications, while ZenUI 4.0 will only include 13. The company also states (opens in new tab) certain apps will get some percentage faster but did not quantify those measurements.
ASUS also confirmed the entire Zenfone 3 and Zenfone 4 series would be upgraded to Android 8.0, though the company states its goal is to have all devices upgraded by the second half of 2018. That's about the time Android P will be launching, so ASUS isn't going to break any speed records with these updates.
As for Zenfone 4 itself, the device is supposed to feature a dual camera system common on most late 2017 flagships. Asus has not hinted at availability for the Zenfone 4. Sadly, it also appears for now there won't be a Zenfone 4 Ultra.
Is ASUS making the right moves here, or do we need to wait and see? Shout out in the comments!
"though the company states its goal is to have all devices upgraded by the second half of 2018. That's about the time Android N will be launching" We're so used to talking about Nougat and Oatmeal Cookie but you probably meant Android P

O comes out the 21st not sure what planet you are from

Been on this rodeo with them before.

Yeah, can they run the vacuum cleaner through the ZenPad series, too? Not holding my breath for it, though.

Finally. Another phone with wide angle lens feature

Ikr, so sick of using dual cameras for a stupid bokeh effect

I don't use that either. But wide angle needs to be more common than optical zoom.

That is true, but if they include it and keep pricing the same and quality of camera then it's not so bad.

Take this with a grain of salt. The Zenfone 2 upgrade date Asus promised was missed by like a full year.

Considering I presently have the Zenfone Selfie which last saw a security update in March after an even longer wait, I don't believe anything ASUS says anymore...

So does this mean that Asus committed to their phone longer than one plus?

https://youtu.be/jWEw1l986dE
List of the phones which will get android O
Android Central Newsletter
Get the best of Android Central in in your inbox, every day!
Thank you for signing up to Android Central. You will receive a verification email shortly.
There was a problem. Please refresh the page and try again.