ASUS Chromebook Flip specs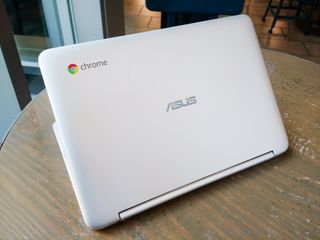 The ASUS Chromebook Flip is the first 10-inch convertible Chromebook, which means it can work as a traditional laptop but also fold into multiple positions, including a tablet-like mode that leverages its touchscreen capabilities. The external hardware is neat, but the specs running the show under the hood are also important. Check 'em out here.
Swipe to scroll horizontally
Category
Features
Display
10.1-inch 1280x800 resolution
Wide View Angle LED Backlight Glare panel
10 point multitouch
Processor
Rockchip 1.8GHz Quad-core RK3288C
Memory
2 or 4GB LPDDR3 RAM
Storage
16 or 32GB
Connectivity
802.11a/b/g/n/ac Wifi
Bluetooth 4.1
Ports
2x USB 3.0, Micro HDMI, headphone/mic, Micro SD card (SDXC)
Camera
HD Web Camera
Battery
31 Wh
9 hours average use
Charger
Output 12V DC at 2A
Input 100-240V AC, 50/60 Hz universal
Proprietary connector
Dimensions
262.8 x 182.4 x 15.6 mm
Weight
1.96 lb / 0.89 kg
Buy the ASUS Chromebook Flip on Amazon (opens in new tab)
Android Central Newsletter
Get instant access to breaking news, the hottest reviews, great deals and helpful tips
Andrew was an Executive Editor, U.S. at Android Central between 2012 and 2020.
Looking at this again, I think the bezel is way too big. Also, I won't buy anything less then 1080HD

If you think about having to hold a tablet that's almost 2 lbs, you need big bezels to grasp the thing.

That's what she said Posted via the Android Central App

I have the new dell xps 13 and the bezel is probably the thinnest I've seen on a laptop ... I don't see why larger bezels are needed. for my son, yes, but not for most adults. Posted via the Android Central App

When you need to hold it in tablet mode, the bezels are extremely helpful. Posted via the Android Central App

Didn't read past the first line, the screen resolution makes it a no no Posted via the Android Central App

At laptop use distance, the resolution is a non-issue at 10-inches. When you're holding it up closer in "tablet" mode it's a bit more noticeable, but really I have no problem with 1280x800 here. What really matters is that it's a nice and bright IPS display. Then again I'm also fine with 1366x768 on my 11.6-inch Chromebook.

Suddenly I'm interested on a Chromebook. Posted via the Android Central App

A Used Windows laptop is the most underrated value in PCs. Posted via the Android Central App

A used Win7 laptop you mean Posted via the Android Central App

Win 10 upgrade next week! Not sure whether I'm excited or terrified, or both. Wubba lubba dub dub!

And it is soon worth it. Have my tablet and notebook running it. The tablet has taken a battery hit though... Sent from a phone, an awesome phone, my phone.

How did you feel about 8? I couldn't stand it... It's probably OK on a touchscreen but I don't have one of those that runs windows. From what I've heard 10 will have a dark theme though, so that's nice. Wubba lubba dub dub!

I like 8 but I don't use the start menu just pin the apps I need to the task bar. But rumor is the September update will add one back to windows 8.1 update 3 I believe. The app side of the metro start menu is bad even on a tablet but hope the competition from all sides keeps up, so nice new devices keep coming our way. Posted via the Android Central App

You can just download a launcher that brings back the functionality like start8. I recently upgraded from Windows 7 to 8.1 and love it! Really excited for windows 10. Posted via the Android Central App

Unless Google nails ARC support to the point of natively supporting things like 3D graphics and custom engines in order to play games like Asphalt 8, Real Racing 3 or even games like Implosion, with all and Google Play Games and physical gamepad support. When that point comes, devices like this one will become one of the best buys one can make.

Hmm, 250 quid on Amazon for 4GB RAM and 16GB storage... Not sure how good a deal that is to be honest... Wubba lubba dub dub!

$279 in the US isn't bad.

For what you get it probably is worth the cash, but 16GB just seems so tiny. Although never having used it I don't know how chrome OS handles SD cards and flash drives, so the tiny storage may be of little importance. Wubba lubba dub dub!

SD cards can be used semi-permanently and accessed just like the local storage. Thing is Chrome OS just doesn't need much storage. Even with 16GB it's plenty to store a few offline movies for a flight or something, in addition to all of your documents etc. Posted via the Android Central App

What the heck is a rockchip? --- This message brought to you via the sarcasm keyboard available for download at the Google Play Store.
LG-G2 on Lollipop.

Popular low cost ARM processor maker. Powers many recent Chromebooks and various other Android devices. Posted via the Android Central App

Does anybody used convertible laptops as a tablet? They seem way too bulky to use like a tablet. Posted via the Android Central App

I hate the combo cause I prefer a matte finish on my laptop. Maybe if I was a student, but they're two totally different devices and should be kept as such IMO ... also, say you have a combo and some bad ass tablet comes out, or vice versa?

Well laptop manufacturers sure are trying to push the idea. I can say Chrome OS is merely acceptable when it comes to an all-touch experience. Problem is the device is physically awkward to hold in tablet mode, and at 1.9 lbs is just too heavy unless you're propping it up on something. Posted via the Android Central App

1.9 lbs is too heavy? That is like the weight of a couple of sandwiches.

I would like to hear more about the Asus C201, their new 11 inch chromebook with the same chip.

I bought one for my daughter to use at school and she loves it. The keyboard is a bit cramped for me, but for her hands, it's just fine. The size and weight were the most important features for this purchase. The performance more than adequate for web browsing or using google docs or Microsoft word online. Another nice feature is that it has a micro SD slot instead of a standard SD slot, and the micro SD card fits all the way in and flush. On my Acer C720, the SD card sticks out 1/2 inch, which is ridiculous.

I'm surprised all the tech news sites are writing about the Chromebook Flip like it just became available yesterday. I ordered mine from Amazon on June 24th and received it on June 26th. That's almost a full month ago.

Error In the specs; the USB ports are 2.0, not 3.0.
Amazon price on the 4GB model has dropped to $259..
Touch works surprisingly well on the Flip. I sit it at the front of my desk or counter and put my fingers behind the screen and use my thumbs.. It's the size that makes this work well.
The Flip is now my go-to machine if I leave the house. It's a perfect road warrior device and the best computer of the year.
Android Central Newsletter
Get instant access to breaking news, the hottest reviews, great deals and helpful tips
Thank you for signing up to Android Central. You will receive a verification email shortly.
There was a problem. Please refresh the page and try again.