ASUS C300 Chromebook review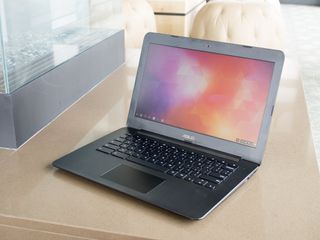 The first Chromebook out of ASUS offers solid hardware and a fantastic price, but is set back by performance shortcomings
Chromebooks have used a variety of processors over the years, but there's no doubt that the most powerful and successful models have always packed Intel inside. ARM Chromebooks just aren't quite "there" yet in terms of balancing power and battery efficiency, often coming up short of the latest Intel Haswell devices in both categories.
Intel has the high end of the Chromebook market locked down, and now with its Bay Trail line of processors its trying to take care of the rest of the market, too. Bay Trail aims to provide the same features that make ARM devices so popular — including power efficiency and no need for fans — while still offering the power that folks expect when they see the Intel sticker on the palmrest of their laptop.
ASUS is one of the first manufacturers to ship a Chromebook with the new Intel Bay Trail processor inside, trotting out the C200 (11-inch) and C300 (13-inch) models back in May, eventually shipping in late June. While it has a long history of making great laptops, and has even made a Chromebox before, this is its first shot at a Chromebook.
Read along for our complete review of the ASUS C300 Chromebook and see whether it hits the mark.
Hardware and internals
The C300 Chromebook isn't much of a barn burner when it comes to internal specs. You get a very pedestrian 13.3-inch 1366x768 display, backed up by 2GB of RAM, 16GB of storage and the new Intel Bay Trail Celeron dual-core processor clocked at 2.16GHz. The processor is the only real thing worth focusing on here, as the rest of the specs are pretty standard for a cheap Chromebook these days. And at a retail price of $249, you can't find much fault in the internals here.
ASUS offers an apparently education-focused C300 with 4GB of RAM, 32GB of storage, faster quad-core processor and optional cellular connectivity, but those models don't seem to be on sale at this point. The same goes for the other colors — red, yellow and blue — that ASUS advertises.
It should also be mentioned that there is a smaller 11-inch version of this Chromebook, the C200, that packs much the same specs and design but bumps the battery life up by one hour. It even has the same price, $249, as the C300.
| Category | Features |
| --- | --- |
| Display | 13.3-inch 1366x768 118 ppi, LED |
| Processor | Intel Bay Trail-M N2830 dual-core at 2.16 GHz (turbo up to 2.41 GHz) |
| Memory | 2GB |
| Storage | 16GB internal, SD card expandable |
| Connectivity | 802.11b/g/n/ac Wifi, Bluetooth 4.0 |
| Ports | 1x USB 2.0, 1x USB 3.0, HDMI, headphone/mic |
| Battery | 48Wh Lithium-Polymer |
| Dimensions | 13.3 x 9 x 0.78-inches |
| Weight | 3.08 lb |
Image 1 of 18
Image 2 of 18
Image 3 of 18
Image 4 of 18
Image 5 of 18
Image 6 of 18
Image 7 of 18
Image 8 of 18
Image 9 of 18
Image 10 of 18
Image 11 of 18
Image 12 of 18
Image 13 of 18
Image 14 of 18
Image 15 of 18
Image 16 of 18
Image 17 of 18
Image 18 of 18
The port layout is pretty basic on the C300, with power, HDMI, USB, SD card and headphone ports on one side, and just a single USB and lock slot on the other. It should also be noted that the SD card slot is a push-push style that takes the SD card into the body completely, giving you more options for using that card as a more permanent storage solution.
ASUS does a great job with its press images to make the C300 look as thin, light and premium as possible, and I'm happy to say that most of that feeling comes across when you actually have the laptop in front of you. The entire lid and inside of the laptop is black plastic made to look like brushed metal, complemented by standard matte plastic around the display and on the bottom of the machine with small bits of shiny black plastic around various edges.
The faux metal plastic looks quite nice and feels like it belongs on a higher-end machine, but picks up finger smudges at a pretty high rate. Grabbing the lid to open and close the laptop and keeping your wrists rested on the inside leaves visible smudges that look bad and are tough to clean off. The overall build quality is just as good as it looks, with no flaws in the construction or creaks in the body when you move it around. Everything is tight and solid here.
The C300 still feels a bit bigger and heavier than the spec sheet indicates, leaving you wondering why there isn't much of a weight savings considering that there are no fans inside, nor is there glass or metal in the chassis build. I look at 3 lbs as the line for a 13-inch laptop where it starts to feel heavier than it should, and the C300 is walking that line pretty finely.
Display and speakers
Another inexpensive Chromebook, another inexpensive display. The C300 ships with a very basic 13.3-inch display at just 1366x768 resolution, and is also the dramatically inferior TN display type that offers poor viewing angles and vibrancy. The display works, and that's about it. Colors are washed out, viewing angles are bad and brightness is just average — par for the course for most modern Chromebooks, sadly.
I have a bigger problem with the fact that this is a TN panel than the resolution, honestly, as you're far more likely to notice poor viewing angles and washed out colors than you are to be spotting individual pixels holding the computer as far from your eyes as you often do. Chrome OS also does a bad job scaling its interface to higher-density displays, meaning the best resolution for a 13-inch laptop at this point is likely just 1600x900.
One thing (and only one thing, honestly) that HP got right on its Chromebook 11 was its 400 nit brightness IPS display, and I wish more Chromebook manufacturers would up their game on the display front like HP did there.
If you flip the C300 over you'll notice a pair of speakers just underneath the left and right edges near the front of the laptop, which offer pretty good sound considering their size. Bass is understandably limited, but the speakers get quite loud without distorting, which is perfect for some impromptu music listening when you don't have any headphones. This pair of speakers outperforms the completely internal speakers found on some other laptops, and in that respect they're more than acceptable.
Keyboard and trackpad
ASUS has done a pretty good job with the C300's keyboard, and I haven't really found a single complaint with it. The keys have a good amount of texture, are spaced nicely, and while the keyboard is relatively shallow the keys have lots of spring to them giving you good tactile response to keystrokes. Naturally with a laptop at this price point you're not getting a backlit keyboard, so I can't mark it down much for lacking that feature.
The trackpad is adequately sized, though by looking at it in relation to the size of the entire computer I think ASUS could have gone a tad larger. In any case the trackpad has just the right amount of drag to it, making both regular navigation and multi-finger gestures easy to accomplish. The trackpad is a bit on the shallow side for clicking, but it was never so shallow that I found myself unable to make selections consistently.
Battery life
ASUS claims a full 10 hours of battery life on the C300 (11 hours on the C200), and for once I found that it can actually hold up to those claims even under my regular use. Whereas the Samsung Chromebook 2 promised 8.5 hours and came up short around 5 or 6, the C300 actually easily made it to the 9 or 10 hour mark in my time with it. I still don't think this is going to be an "all day" computer for someone who has a lot of work to do and will be taxing the C300 for hours a day, but then again it really isn't powerful enough to be a primary work computer, either.
Though it isn't needed all that often, ASUS also includes a very nice power brick to charge up your C300. It's a self-contained wall plug with a single cable that comes out, and while it isn't as compact as your standard tablet USB charger, it's getting pretty darn close. I had no problem tossing this in a bag when I wasn't sure if I need a charger without fear of it getting in the way or weighing me down.
Performance and real world use
I had high hopes for the Intel Bay Trail processor inside the C300 ever since Google set pretty lofty expectations of it when it first unveiled the new generation of fanless and power-efficient Chromebooks. The processor powering this C300 just isn't quite up to par, unfortunately, for all but basic uses. Much like the ARM chips that it's directly competing against, Bay Trail (at least in this current dual-core configuration) seems to sacrifice performance too much in order to stay within heat and battery life constraints.
Using more than a handful of tabs concurrently, or trying to quickly multitask can get frustrating if you're expecting this machine to run at all as fast as the more powerful Haswell Celeron Chromebooks out there (to say nothing of what you'd expect from a high-end laptop). When you drop the number of tabs down or focus on just a couple tasks, the C300 is quite responsive, and I rarely experienced typing or scrolling slowdowns in those cases. I got the feeling that the C300 was more responsive and capable with a dual-core Intel Bay Trail processor and 2GB of RAM than even the latest Samsung Chromebook 2 with a quad-core Exynos 5800 and 4GB of RAM.
I like the improved design that not having fans allows manufacturers, and the 10 hours of battery life is absolutely fantastic, but as someone who uses computers harder than the average user out there, I'd be willing to give up both of those things in order to have a more powerful processor. Let's hope that the upcoming Broadwell or higher-end Bay Trail chips can bridge the gap.
Bottom line
This is actually one of the nicest looking and feeling Chromebooks available today, that also offers a great keyboard and battery life, which is extremely surprising considering that it's also one of the cheapest options out there. Corners were cut to hit that $249 price point, with ASUS putting only 2GB of RAM a subpar display in the C300, but the only real detractor to daily use is the underpowered processor.
The ASUS C300 Chromebook is probably still best relegated to being a second computer for more casual usage considering its limited processing capabilities, but for $249 you really can't go wrong with this machine if that simpler use case is exactly what you're looking for. Power users will have to look elsewhere, but that doesn't mean that ASUS doesn't have a good thing going with the C300.
Andrew was an Executive Editor, U.S. at Android Central between 2012 and 2020.
I just want a Lenovo Yogapad 2pro with chrome OS. For about $600. Or anyone, please make a good quality Chromebook. Sticking with my G3 Pavilion Chromebook till then. Posted via Android Central App

Can get a refurbished yoga 11s for 600 on tigerdirect - I did Nexus 4 - CM10.1.3

Why is everyone going TN? To basically sell it cheap and to unknowing customers? Ugh. Posted via Android Central App

To sell it cheap, yes, but I don't think there's any deception going on here. If you buy a laptop for $250 and sometimes less, you can't expect a high-end display.

Yup, it's a cost cutting measure. I think many people would gladly pay another $100 for an IPS display, but probably not enough to make it worth it for ASUS.

Yea. I understand both points but I forget if there's an in between. Only reason why TN sucks is the viewing angels imo and most consumers would notice that. Posted via Android Central App

I would happily pay 150$ more for IPS 2560x1440 screen. The time high DPI Chromebook with fast arm processor emerges I'm buying two of these.

"Chrome OS also does a bad job scaling its interface to higher-density displays" - You're either joking or innexcuseably ignorant... Have you seen the Chromebook Pixel? It scales better than Linux and Windows hands down. In windows and Linux you'll find a ton of apps that just don't like the resolution. Macs are on even footing.

I'll say it again no 4gb of ram= no buy it's such a a tease to have a higher end model and have it not available to consumers Posted via Nexus 7 2013 or Galaxy S5

Yeah its really odd. ASUS only lists it in its spec sheets that there are other models, but I haven't found a single retailer listing them, let alone actually selling them. I'd be very interested to see performance on the 4GB + quad-core processor model.

Me too Posted via Nexus 7 2013 or Galaxy S5

i purchased mine over a month ago from rakuten (old buy.com). they were available direct from them and from several third-party sellers on the site, but now it seems it is down to third party sellers alone. they were also cheaper (329 and they had a few good promos going on at the time)...but here you go https://www.androidcentral.com/e?link=https%3A%2F%2Fclick.linksynergy.co...

I wouldn't recommend to anyone buying a Chromebook with such a processor, it's slow Atom like to old netbooks all over again. Try open Feedly in Magazine mode and see how the machine crawls..
I would love, however, to see a benchmark of Hawell Celeron vs. Acer new Tegra K1 based Chromebook.

I have a feeling Haswell is winning that particular battle. But I'll wait until I have enough time with the Acer Chromebook 13 to know for sure. Posted via Android Central App

Actually nVidia showed Haswell vs. K1 in a youtube video and the K1 beats the Hawell Celeron. Video here: https://www.youtube.com/watch?v=xDWyyP8UAac

I've actually used the Acer Chromebook 13 though :) They're actually comparing it to a Bay Trail Celeron device in that video there as well. Posted via Android Central App

The K1? too bad you didn't perform some benchmarks :/

Benchmarks mean nothing. How it works when you're using it daily matters. Posted via Android Central App

I suspect this is really about optimizations. If the apps on the Acer are optimized to do move the work in the Kepler GPU, the work will likely blow the x86 CPU's out of the water. If the process leans completely on the A15 Cores it would be pretty close. Also depends on how well the app uses the extra cpu's. I have a Dell Venue 8 Pro with the Intel Atom z3740D CPU. It kicks the crap out of my ARM based systems with Cortex a15 cpu's running seti@home. but at the same time one of the contributors there has a Jetson TK1 board, and it is awesome at churning through Work units with the app optimized for Cuda and the Kepler GPU. The Kepler GPU really is awesome to augment the CPU performance if the apps are setup to use it.

+1 Posted via Nexus 7 2013 or Galaxy S5

Actually they're comparing it to "Celeron", the N2830 is not in Celeron family, it's in the Atom Family.

As far as I'm aware the Bay Trail chip in this machine is indeed a Celeron.

Intel® Bay Trail-M Dual Core Celeron N2830 Processor

Also, that's a C200 (11" version of the C300) in that video. Again, I've seen that done in person side-by-side :)

That's what I'm waiting for. Ridiculous battery life. Acer 13 looks awesome I'm holding my money for that Posted via Android Central App

Great review! "ARM Chromebooks just aren't quite "there" yet in terms of balancing power and battery efficiency". Are you referring to the acer Tegra k1 chromebook as well?

Full review on that one to come later. Can't group it in with the others until I've used and reviewed it fully. Posted via Android Central App

Thanks, I was hoping their is more to come.

The Exynous that is found on the Samsung Chromebook really sucks for Chromebook usage. I wouldn't be quick to dismiss the K1.

I bought the Acer last week on sale from Amazon after reading Andrew's review on the machine and have it with me this week on a work trip to SFO. I left my laptop at home and have had no problem using the Chromebook for work. I am not doing heavy work while on the road mostly it is email with a few other light task thrown in. I have used it for surfing and watching some movies. All and all I give the Chromebook a thumbs up. One great feature is the ability to remote connect to my desk top. I have retrieved and edited a few docs that way and it worked perfectly. As soon as you turn it on go and get the ad block plus extension for chrome. That baby works!!! No more intrusive ads anywhere. Sorry AC

Nice review!
I've got the Dell Chromebook with 4gb RAM - I love it. Have you used the Dell Andrew? Posted via Android Central App

The Dell is one of the few I haven't yet used.

Why!? Make a decent chromebook already! Mediocre isn't enough to make me part ways with any amount of money.

You would scoff at the price.

They are based around value for money. It seems every single one of them has a flaw somewhere which makes you really think before buying it and the ones that don't are too expensive for what they are. I wouldn't pay too much attention to the specs. You don't really need like 6gb of ram or higher. I'm just saying this because I think that's what your problem is with these chromebooks Posted via Android Central App

I went to best buy to check out Chromebooks. I went to ask for help with some questions and the guy referred to them as boomerangs. People buy them and they always come back. Posted with my MotoX, no case needed.

Because he doesn't make as much selling a Chromebook lol. And he can't sell you an antivirus or all the other bells and whistles on a Chromebook.

Ding ding ding! That and, if Amazon reviews are to be believed, some people buy them without doing any research whatsoever ("ooh, $250 laptop"), then end up returning it when they find out it can't run iTunes or Minecraft. I end up doing a half hour of research before buying a damn phone charger, I don't know how people throw down hundreds of dollars on something without doing even cursory research on what it is.

Yep. Stupid people. I spend over a week researching phones before I even think about buying a new one. I usually just end up thinking "I don't need a new one". I'm like that with money. I spent the last 3 months looking at laptops and chromebooks and still havnt both a new one. Like literally a half hour on the Web will let you know what a Chromebook is. Simple. Chromebooks arnt laptops. Don't buy one to replace your laptop. How hard was that? Posted via Android Central App

I love my T-moble Haswell hp 14 but my next and 3rd Chromebook will have to be fan less. So, I hope they come out with something that compares with the haswell without a fan. From my Note 2 to you

These reviews complaining about under performance would be a lot more useful if you would actually put some examples of use cases to give readers some perspective of what you see. In short, everybody claims they're power users that demand more of their devices than the "average" user.

If the Chrome OS interface can only support a screen with a 1600 X 900 display as the author said then how does the Pixel have 2560 X 1700 display resolution? The best screen that I have seen on any laptop. Jim Lloyd

"Chrome OS also does a bad job scaling its interface to higher-density displays, meaning the best resolution for a 13-inch laptop at this point is likely just 1600x900."

Chrome OS just does a bad job scaling to larger displays by default. Never said anything about 1600x900 being a maximum resolution for Chrome OS.

Pixel only has 12.85" display and does 2560 X 1700 display. Jim Lloyd

I ordered a refurb Asus C720 for now. I'll wait until Chromebooks mature. Posted via Android Central App

I want that 4 GB RAM C300. Posted via the OnePlus One

copy-pasted from above: i purchased mine over a month ago from rakuten (old buy.com). they were available direct from them and from several third-party sellers on the site, but now it seems it is down to third party sellers alone. they were also cheaper (329 and they had a few good promos going on at the time)...but here you go https://www.androidcentral.com/e?link=https%3A%2F%2Fclick.linksynergy.co...

I have the EDU (4/32GB) version and have had a *completely* different experience. AC should really try to do a review of the EDU version. Zero performance issues. I can have 20 tabs open streaming google play music, and still have another 5 tabs running in crouton, and I switch back and forth instantly with no lag or stuttering. Battery life is amazing. I work it decently hard, and it lasts me all work day with usually a couple hours left at the end. I don't think it's a quad core chip though. I thought the only difference was the RAM and HD space. My system info says N2830@2.16ghz. At this point you might want to wait for the K1 reviews, especially if they make a touch model (with ported android apps coming soon), but IMO a smudged 'brushed black' laptop still looks cooler than a white one. Anyway, I'd whole-heartedly recommend the EDU version. I got mine from Provantage for $323 shipped. You can see my review here http://www.amazon.com/32G-4G-DDR3-13-3IN-BLK/dp/B00JI9HISQ/ref=sr_1_1?ie...

I have the same one and feel the same about it as you do. Top notch in my opinion.

Hi gwest1000, I simply wonder if you can offer me some help on how to install ubuntu and crouton on a C300. I used a guide for the c200 but ran into some problems in crosh when typing the sudo sh ~/Downloads/crouton -t xfce command.
It simply says it can't open it. How did you do to install it on your Asus C300. Thank you for your help!
Lucas

Lucas, I mainly used this lifehacker guide:
http://lifehacker.com/how-to-install-linux-on-a-chromebook-and-unlock-it...
and the crouton github page
https://github.com/dnschneid/crouton
to figure out the install steps.
Things to check:
1) Is your chromebook in developer mode? (you should be getting a big red exclamation point whenever you restart your computer)
2) Have you downloaded crouton and is it in your Downloads folder?
The lifehacker guide tells you how to do both of those steps. Good luck!

I'm just a little annoyed that Chromebooks tend to cost considerably more here in Canada. I get the Canadian Dollar isn't the greatest, there's no reason this one should cost upwards of $350 up here. Posted via Android Central App

Same problem in Ireland. In America a Chromebook costs say for example 280 us dollars then in Ireland it will cost 320 euros sometimes more. How does that work? Posted via Android Central App

Give us 13 inch Chromebook with snapdragon 805 or tegra K1 with 2560x1440 high DPI and IPS screen PLEASE!

Once again we learn that we can't have it all. If we want power we have to sacrifice battery. If we want battery we have to sacrifice power. If we want cheap we have to sacrifice screen. If we want screen we have to sacrifice cheap. If we want power, battery, and cheap we have to sacrifice weight. Welcome to laptops. Changing the OS doesn't change these paradigms. People seem to think that Chrome OS is somehow going to allow laptops to weigh nothing, have amazing battery life, glorious IPS displays, perfect keyboards, fast processors, and cost practically nothing. It baffles me.

I'll be plugging it into a large desktop screen most of the time, and can live with the somewhat inferior screen on the road, where I'll be the only one staring directly at it. It will also stay relatively clean on my desktop. I'll partition and use Crouton and Ubuntu, a possibility that I think reviewers should be obliged to mention. And I will use it to view Netflix movies on TV. I would be curious whether other readers think that with such uses in mind and such a setup one is losing very much. Constantly juggling to make Windows work for me has just started to make me too crazy.

Nice review. I have the 4gb version and don't appear to have tab limitations or slowdowns. I run a lot of extensions so the extra 2gb apparently makes a big difference.

Nice review Andrew, I have the acer C720. The shortcomings are pretty much the same as the C300. I know mine is a low end Chromebook.
But for the time I have had it, it serves my needs. I really enjoy using it, and would consider another Chromebook.

My Asus C300 battery is spoilt and i have to plug it in before i can use it and am asking if the battery can be replaced
Android Central Newsletter
Get the best of Android Central in in your inbox, every day!
Thank you for signing up to Android Central. You will receive a verification email shortly.
There was a problem. Please refresh the page and try again.