ASUS C300 Chromebook review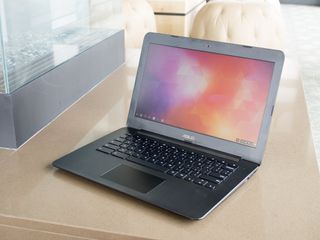 The first Chromebook out of ASUS offers solid hardware and a fantastic price, but is set back by performance shortcomings
Chromebooks have used a variety of processors over the years, but there's no doubt that the most powerful and successful models have always packed Intel inside. ARM Chromebooks just aren't quite "there" yet in terms of balancing power and battery efficiency, often coming up short of the latest Intel Haswell devices in both categories.
Intel has the high end of the Chromebook market locked down, and now with its Bay Trail line of processors its trying to take care of the rest of the market, too. Bay Trail aims to provide the same features that make ARM devices so popular — including power efficiency and no need for fans — while still offering the power that folks expect when they see the Intel sticker on the palmrest of their laptop.
ASUS is one of the first manufacturers to ship a Chromebook with the new Intel Bay Trail processor inside, trotting out the C200 (11-inch) and C300 (13-inch) models back in May, eventually shipping in late June. While it has a long history of making great laptops, and has even made a Chromebox before, this is its first shot at a Chromebook.
Read along for our complete review of the ASUS C300 Chromebook and see whether it hits the mark.
Hardware and internals
The C300 Chromebook isn't much of a barn burner when it comes to internal specs. You get a very pedestrian 13.3-inch 1366x768 display, backed up by 2GB of RAM, 16GB of storage and the new Intel Bay Trail Celeron dual-core processor clocked at 2.16GHz. The processor is the only real thing worth focusing on here, as the rest of the specs are pretty standard for a cheap Chromebook these days. And at a retail price of $249, you can't find much fault in the internals here.
ASUS offers an apparently education-focused C300 with 4GB of RAM, 32GB of storage, faster quad-core processor and optional cellular connectivity, but those models don't seem to be on sale at this point. The same goes for the other colors — red, yellow and blue — that ASUS advertises.
It should also be mentioned that there is a smaller 11-inch version of this Chromebook, the C200, that packs much the same specs and design but bumps the battery life up by one hour. It even has the same price, $249, as the C300.
Swipe to scroll horizontally
| Category | Features |
| --- | --- |
| Display | 13.3-inch 1366x768 118 ppi, LED |
| Processor | Intel Bay Trail-M N2830 dual-core at 2.16 GHz (turbo up to 2.41 GHz) |
| Memory | 2GB |
| Storage | 16GB internal, SD card expandable |
| Connectivity | 802.11b/g/n/ac Wifi, Bluetooth 4.0 |
| Ports | 1x USB 2.0, 1x USB 3.0, HDMI, headphone/mic |
| Battery | 48Wh Lithium-Polymer |
| Dimensions | 13.3 x 9 x 0.78-inches |
| Weight | 3.08 lb |
Image 1 of 18
The port layout is pretty basic on the C300, with power, HDMI, USB, SD card and headphone ports on one side, and just a single USB and lock slot on the other. It should also be noted that the SD card slot is a push-push style that takes the SD card into the body completely, giving you more options for using that card as a more permanent storage solution.
ASUS does a great job with its press images to make the C300 look as thin, light and premium as possible, and I'm happy to say that most of that feeling comes across when you actually have the laptop in front of you. The entire lid and inside of the laptop is black plastic made to look like brushed metal, complemented by standard matte plastic around the display and on the bottom of the machine with small bits of shiny black plastic around various edges.
The faux metal plastic looks quite nice and feels like it belongs on a higher-end machine, but picks up finger smudges at a pretty high rate. Grabbing the lid to open and close the laptop and keeping your wrists rested on the inside leaves visible smudges that look bad and are tough to clean off. The overall build quality is just as good as it looks, with no flaws in the construction or creaks in the body when you move it around. Everything is tight and solid here.
The C300 still feels a bit bigger and heavier than the spec sheet indicates, leaving you wondering why there isn't much of a weight savings considering that there are no fans inside, nor is there glass or metal in the chassis build. I look at 3 lbs as the line for a 13-inch laptop where it starts to feel heavier than it should, and the C300 is walking that line pretty finely.
Display and speakers
Another inexpensive Chromebook, another inexpensive display. The C300 ships with a very basic 13.3-inch display at just 1366x768 resolution, and is also the dramatically inferior TN display type that offers poor viewing angles and vibrancy. The display works, and that's about it. Colors are washed out, viewing angles are bad and brightness is just average — par for the course for most modern Chromebooks, sadly.
I have a bigger problem with the fact that this is a TN panel than the resolution, honestly, as you're far more likely to notice poor viewing angles and washed out colors than you are to be spotting individual pixels holding the computer as far from your eyes as you often do. Chrome OS also does a bad job scaling its interface to higher-density displays, meaning the best resolution for a 13-inch laptop at this point is likely just 1600x900.
One thing (and only one thing, honestly) that HP got right on its Chromebook 11 was its 400 nit brightness IPS display, and I wish more Chromebook manufacturers would up their game on the display front like HP did there.
If you flip the C300 over you'll notice a pair of speakers just underneath the left and right edges near the front of the laptop, which offer pretty good sound considering their size. Bass is understandably limited, but the speakers get quite loud without distorting, which is perfect for some impromptu music listening when you don't have any headphones. This pair of speakers outperforms the completely internal speakers found on some other laptops, and in that respect they're more than acceptable.
Keyboard and trackpad
ASUS has done a pretty good job with the C300's keyboard, and I haven't really found a single complaint with it. The keys have a good amount of texture, are spaced nicely, and while the keyboard is relatively shallow the keys have lots of spring to them giving you good tactile response to keystrokes. Naturally with a laptop at this price point you're not getting a backlit keyboard, so I can't mark it down much for lacking that feature.
The trackpad is adequately sized, though by looking at it in relation to the size of the entire computer I think ASUS could have gone a tad larger. In any case the trackpad has just the right amount of drag to it, making both regular navigation and multi-finger gestures easy to accomplish. The trackpad is a bit on the shallow side for clicking, but it was never so shallow that I found myself unable to make selections consistently.
Battery life
ASUS claims a full 10 hours of battery life on the C300 (11 hours on the C200), and for once I found that it can actually hold up to those claims even under my regular use. Whereas the Samsung Chromebook 2 promised 8.5 hours and came up short around 5 or 6, the C300 actually easily made it to the 9 or 10 hour mark in my time with it. I still don't think this is going to be an "all day" computer for someone who has a lot of work to do and will be taxing the C300 for hours a day, but then again it really isn't powerful enough to be a primary work computer, either.
Though it isn't needed all that often, ASUS also includes a very nice power brick to charge up your C300. It's a self-contained wall plug with a single cable that comes out, and while it isn't as compact as your standard tablet USB charger, it's getting pretty darn close. I had no problem tossing this in a bag when I wasn't sure if I need a charger without fear of it getting in the way or weighing me down.
Performance and real world use
I had high hopes for the Intel Bay Trail processor inside the C300 ever since Google set pretty lofty expectations of it when it first unveiled the new generation of fanless and power-efficient Chromebooks. The processor powering this C300 just isn't quite up to par, unfortunately, for all but basic uses. Much like the ARM chips that it's directly competing against, Bay Trail (at least in this current dual-core configuration) seems to sacrifice performance too much in order to stay within heat and battery life constraints.
Using more than a handful of tabs concurrently, or trying to quickly multitask can get frustrating if you're expecting this machine to run at all as fast as the more powerful Haswell Celeron Chromebooks out there (to say nothing of what you'd expect from a high-end laptop). When you drop the number of tabs down or focus on just a couple tasks, the C300 is quite responsive, and I rarely experienced typing or scrolling slowdowns in those cases. I got the feeling that the C300 was more responsive and capable with a dual-core Intel Bay Trail processor and 2GB of RAM than even the latest Samsung Chromebook 2 with a quad-core Exynos 5800 and 4GB of RAM.
I like the improved design that not having fans allows manufacturers, and the 10 hours of battery life is absolutely fantastic, but as someone who uses computers harder than the average user out there, I'd be willing to give up both of those things in order to have a more powerful processor. Let's hope that the upcoming Broadwell or higher-end Bay Trail chips can bridge the gap.
Bottom line
This is actually one of the nicest looking and feeling Chromebooks available today, that also offers a great keyboard and battery life, which is extremely surprising considering that it's also one of the cheapest options out there. Corners were cut to hit that $249 price point, with ASUS putting only 2GB of RAM a subpar display in the C300, but the only real detractor to daily use is the underpowered processor.
The ASUS C300 Chromebook is probably still best relegated to being a second computer for more casual usage considering its limited processing capabilities, but for $249 you really can't go wrong with this machine if that simpler use case is exactly what you're looking for. Power users will have to look elsewhere, but that doesn't mean that ASUS doesn't have a good thing going with the C300.
Get the Android Central Newsletter
Instant access to breaking news, the hottest reviews, great deals and helpful tips.
Andrew was an Executive Editor, U.S. at Android Central between 2012 and 2020.