Are you going to spend $2000 on the Galaxy Fold?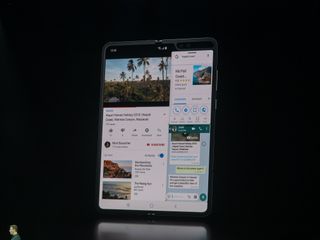 Samsung gave us a pretty nice surprise on Wednesday at its Unpacked event by kicking things off with the announcement of the Galaxy Fold — the company's foldable phone that we've been waiting years for.
The tech used to make the Galaxy Fold a reality is beyond impressive, but its price tag of $1,980 has caused for a lot of sticker shock.
Here's how some of our AC forum members have responded:
What do you think? Are you going to spend $2000 on the Galaxy Fold?
Joe Maring was a Senior Editor for Android Central between 2017 and 2021. You can reach him on Twitter at @JoeMaring1.
Absolutely would never spend 2 grand on a phone. 650$ is ridiculous and I cringe when I do that

I don't know man, think about how much time you spend on the thing. Especially if you have sworn off tablets...

Never, never, never ever. £350 is the most I will shell out. These days there are many GOOD phones on the market for under this figure and they give me all I need in a device. But then, if you want to chuck your money down the drain, that's your prerogative.

Absolutely not. I still don't understand the use case for a foldable phone. When folded, the screen is too small and phone is too bulky. When unfolded it's too big and awkwardly shaped to comfortably handle as a phone, yet it's too small and awkwardly shaped to be a tablet. What am I missing here that has other people excited for this device?

People made this same argument years ago about how 5" phones were to big and ridiculous. Now everybody is using larger phones. Don't dismiss advancements of this type until you have had a chance to use them and judge their value. The price point is a completely different topic.

Your spot on. I got the HTC HD2 and eveyone said it was to big I then got the HTC Titan and agaen eveyone told me it was to big yet we now have the note and other devices with big screens. I'm not sold on foldable phones but they may well be the next big thing.

In early 2000 I was using Motorola A925. Back then it was HUGE, people would laugh. Phones had tiny screens then. Anyway, that phone is tiny now compared to today's phones (my V30, iPhones etc), I still have it :)

I have to have a lot of 2Ks in my bank account to spend that amount of money on a phone. At some point it has to be irresponsible for someone to pay that much money. There's a lot of doors and sink and paint, etc 2K can get me to touch up my house.

Maybe not now, because it's the first of its type and too early in the tech world for something like this. Maybe in 2 or 3 years, until then I'll just stick with my cheaper Note 9 and big sized Tab S4 for tablet size :)

@Lexi
Same here, I'm quite happy with Note 9 and a tablet.

I remember the 1st plasma tv's they cost thousands, the 1st bluray players cost £1000. You can buy them now for next to nothing. Its the price you pay for new tech.

One of the dumbest and most useless inventions in recent memory... So no, I will not be dumb enough to jump on this ridiculous bandwagon. Hey Samsung - how about you improve the tech you currently have on the market instead of inventing things nobody ever asked for. Just a thought.

Nobody asked for bigger phones either. Henry Ford has a good quote on this: He says if he asked people what they wanted, they would have said they wanted a faster horse. People don't know what they want all the time, so it isn't a good idea to only release things people ask for. Risks are worth taking.

Excellent reply. I agree 100%. That being said, I will never pay more than 1k for a phone. Even that is pushing it as I rather stay below $700. There is many great phones at that price point.

Not interested at any price

I think I'll use one of my credit cards that has the highest interest rate on this one.

I was considering until I saw the 'no S-pen support'. It would've been the perfect device for writing or drawing on given it's dimensions. Annotating papers, writing proofs, signing documents would've been great uses for that device. It would've given it a purpose. As of now, it looks like it's more of a toy than a tool.

It's a plastic screen and the pen would likely have damaged it.

2000.00 on a phone?!!! Jajajajaja jajajajaja jajajajaja jajajajaja jajajajaja jajajajaja jajajajaja jajajajaja jajajajaja... Yes.

Yo Verizon is selling 128 gig S10 for $100 a month.....so at the minimum, u'll be paying $180 a month lol....man good luck with that one

I wonder how much a replacement screen will be for this big, heavy, unwieldy foneblet? Yes, that's we'll call them. Foneblet.

Holy crap, no I would not. I had two grand of purely disposable cash, I would be upgrading my GPU, CPU and audio stuff.

I love the idea. I hate the execution at this point with the screen being so small when in phone mode. If that was a full size screen when in phone mode, I would think about it. For me so thing like this makes more sense running Windows than Android but still very cool. Just not paying 2k for a gimped screen in the mode the device will spend the majority of its time in.

Two words: "Fat" and "chance".

I have no use for such a device.

No. The idea is neat but I would imagine in actual use it will feel a lot more unrefined than it looks so far. Also, I don't like glossy plastic displays. They never feel as nice to use and they scratch easily. What is the resolution of the display? Are apps optimized for that resolution and trigger a sort of tablet mode or is it just going to stretch the white space? I look forward to reviews and the future of such devices.

If they had said $1299.99, maybe I might have thought about considering it! I like the idea, and the execution was better than I thought it was going to be. I'd like them to continue to develop this tech. But at $2000, Heck NO! I'll check back in a couple of years.

Yes, definitely want to try something new

I'd prefer an outward fold myself. That tiny front screen and all those cameras are a waste.

Probable. Possible deal breakers: no spen, small folded screen, how well the the screen fold? Software support. Other than that, I am very interested. There really is no rush on this, will get my hands on a demo unit before I will decide to buy one.

I absolutely love the concept, but that price is pretty steep!!! I think I'm going to have to hold on to my Note 9 for a little while longer. As soon as the price drops then it may become a possiblility!

Not interested at any price.

99.9% of the readers will not buy this device. Its out of our price range or
should I say what we will spend on a phone.
The few amounts they made will sell out guarantee. Is Samsung banking on
making any profit on this Fold Phone absolutely not. This is more advertising then
anything and its working. .01% of People are going to buy it, but 99% are talking about it.

Ha ha ha... No! Would rather buy a Razer Blade or Surface Book 2...

I find any smartphone expensive if its price goes over $400, don't need to say anything else....
Android Central Newsletter
Get the best of Android Central in in your inbox, every day!
Thank you for signing up to Android Central. You will receive a verification email shortly.
There was a problem. Please refresh the page and try again.