Are you getting used to Android 10's gestures?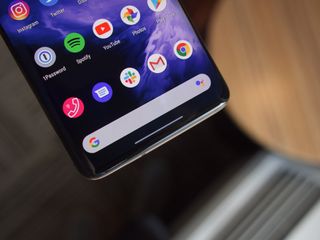 (Image credit: Joe Maring / Android Central)
When Android 10 was released to the public on September 3, 2019, it brought a ton of new features with it. Google added a long-awaited dark mode, revamped settings for app permissions, and brand-new fully gestural navigation.
That last point has caused a lot of annoyance, with many users not at all pleased with Google's take on gesture-based navigation for the OS. It was certainly a learning curve at first, but now that a few months have passed, are folks finally getting used to it?
Here's what some of them have to say.
What about you? Are you getting used to Android 10's gestures?
Joe Maring was a Senior Editor for Android Central between 2017 and 2021. You can reach him on Twitter at @JoeMaring1.
Yes and prefer it now. When I use any of my other Android Devices that are not on 10, it drives me crazy that I can't swipe from the side to back up.

I'm thoroughly enjoying them on my galaxy M20. The three button navigation seems odd now tbh lol.

Zero interest in this feature

I've been using the gestures since I got the 4 XL. I think I like it now.

Been using them so much, I tried to use the same gestures on the iPhone...

Yes I prefer it over the half pill from Android 9

I was on my OnePlus 7 Pro but for some reason the swipe up from the middle to go home gesture just stopped working altogether for some reason so I went back to the navigation buttons and I'm fine with that for now.

That happened to me yesterday on my OG Pixel XL. I restarted the phone and it was back to normal. (Swiping up to return home worked)

Still prefer oneplus gestures by a mile

I actually don't like the new gestures in Android 10. It's very annoying especially when in YouTube or watching a video because it doesn't work right. I went back to the way it was before in Android 9. Not a fan at all

It works ok. It's no BB10.
As long as I'm not using the AC app and have to scramble to swipe back out of yet another ad it works as supposed to.

Tried them, went back to the 3 button navigation.

No they suck. Samsung's gestures are a lot simpler.

Didn't think I would like gestures at all. But after trying them for just a couple days I love them! It really surprised me how easy they are to use, and how easy they are to get used to. The couple times I have gone back to my last phone to look up an old memo or something, it was really hard to use the three buttons LOL.

Can't stand the gestures on my Pixel, always use 3 button. Love the gestures on my Moto though, they did it right.

Funny how this works. I had some concerns given all the negative stuff I kept reading about the gestures. Guess what? I got used to it pretty quickly and I like them.

Was a palm pre user back in the day. Adapted to them immediately, love them!

I was never a fan of gestures because all the early versions were terrible. But when I had my Note 9, I tried Samsung gestures and found they worked surprisingly well, even with Nova Launcher. Paired with One Hand Operation+ to swipe back, this setup is very intuitive and fluid. My Note 10 is setup the same way and it works beautifully. Never thought I'd ditch the navigation bar, but using any device with a nav bar is clunky now.

Not using them because I use Nova Launcher and the Google gestures won't work with third party launchers. I'm using Samsung gestures and kvor them. I do kind of want to try out the Google gestures for a while to see if I like them but I'm too attached to Nova. I can't bring myself to use the stock Samsung One UI. I did switch to it just to try out the gestures for a few minutes but that's all I could handle of the stock launcher.

I tried it and it annoyed me. I'm still using the buttons on my S10+

I'm getting used to it, and I enjoy the animations, but it's still not better than always-there button navigation. There's still zero benefit to the added screen real estate since we still don't look at that part of the screen. The inability to use with third-party launchers is also a huge negative.

They are pernamently blocked as I use Microsoft launcher so I will never use them. Idiotic idea. I'm happy with Samsung gestures.
Android Central Newsletter
Get the best of Android Central in in your inbox, every day!
Thank you for signing up to Android Central. You will receive a verification email shortly.
There was a problem. Please refresh the page and try again.