Flip phones are making a comeback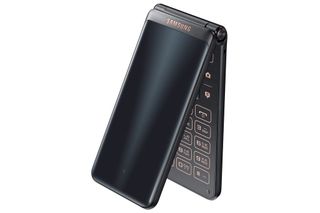 I can't believe I'm writing about a flip phone in 2017, but lo and behold, here we are.
What you see here is Samsung's Galaxy Folder 2, a flip phone with a 3.8-inch display that's sandwiched in between a large keypad and an outward-facing metal shell. There are also separate shortcut buttons for quickly accessing contacts, text messages, social channels, and the camera app — just like on the flip phones or yore — in addition to physical Android navigation buttons.
Inside, the Galaxy Folder 2 is a 1.4GHz quad-core processor with 2GB of RAM and 16GB of storage. Fret not about the limited storage space, however, as there's an additional expansion slot along with a 1950mah battery powering the entire thing.
Unfortunately, even if you wanted to buy this thing for a giggle, you'd have to contend with its year-old, outdated software. The Galaxy Folder 2 runs on Android 6.0 Marshmallow, which is so old. It's also equipped with 15 special ringtones that, according to a translation of the Korean-written press release, "focus on the audible spectrum of the middle-aged people."
The Galaxy Folder 2 is only available in South Korea at present. However, it got us thinking: is what's happening overseas an indication of what's coming to the mainstream phone market? Are we due for a resurgence of cellphones past? Has nostalgia officially caught up enough that it's affecting technology, too? What do you think?
Get the Android Central Newsletter
Instant access to breaking news, the hottest reviews, great deals and helpful tips.
Florence Ion was formerly an editor and columnist at Android Central. She writes about Android-powered devices of all types and explores their usefulness in her everyday life. You can follow her on Twitter or watch her Tuesday nights on All About Android.