Are cellular smartwatches worth the extra subscription?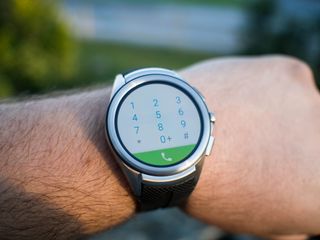 While most of the connected world looks at smartwatches in general and tries to figure out if they're worth the investment, a subcategory of these watches is emerging. A watch that's connected to your phone has some uses for sure, but what about a watch that offers most of the same connected features without needing that Bluetooth connection? Perhaps more important, what if the reason you didn't need Bluetooth was because that watch had its own cellular radio built in, adding the ability to make phone calls to the list of things it can do?
Cellular smartwatches have only just started to become available, and on top of the cost of the hardware you have to pay for a separate mobile subscription to use the cellular radios. Asking folks who aren't sure about the value of the hardware itself to pay a monthly fee as well is a big ask, but first it requires a better understanding of what you actually get with that cellular connection.
No strings attached
The big benefit of these connected watches is the ability to not have your phone on you but still be able to wander off without missing anything. This is most commonly demonstrated through some sort of workout, meaning you can go for a run without missing something important. While the fitness aspect of this is significant, and those armbands that hold your phone really do look absurd on everyone, the primary purpose here is to keep the act of checking your phone from completely halting whatever you are doing. You can listen to music, and not just music stored on your never large enough watch storage. Streaming music services that support the watch naively — of which there are not many yet — work great, especially with Bluetooth headphones connected to the watch. Just having your phone sitting inside while you are working on a project outdoors or playing with your kids is remarkably freeing.
For the most part, having a cellular radio in your watch is peace of mind for those who need to be connected. If you don't use a land line in your home and don't want to keep your phone on you at all times, a cellular watch ensures keeps you from being tethered to your WiFi. It's a small thing that clearly doesn't apply to everyone, but having the option is a lot nicer than it may seem on paper.
Remote notifications
An idea that started in Android Wear over WiFi and is now also available in cellular form with cellular Android Wear watches and the Samsung Gear S2 is remote notifications. You can leave your phone somewhere, wander far away with your watch, and still get every notification the phone would normally pass to the watch over Bluetooth. This means you still get text messages, emails, Hangouts, everything. As long as you have the feature enabled before you are disconnected from your phone, your watch will receive notifications from your phone in the exact same way it does when connected via Bluetooth.
Interacting with those notifications is nearly as functional as it would be if you were connected via Bluetooth, on both Android Wear and the Gear S2. You can reply to Hangouts, triage email, and in most cases access all of the same data you'd normally be able to access from your phone if you were connected via Bluetooth. The biggest difference you'll see is speech to text translation, which is noticeably slower when relying on just the watch to do translation on Android Wear. On the Gear S2 the experience is slow no matter what, so it's not quite as noticeable.
Still early days
Having a cellular connected watch connected to your cellular connected phone means things can get kind of weird when it comes to making calls and sending text messages. Your watch has its own phone number, and depending on how you set it up on Android Wear or Tizen can make calls from either your phone number or your watch number. Same goes for text messages, which as you can imagine gets super confusing for the people you're sending messages to. This can be fixed with appropriate forwarding configurations, most of which will be set up for you if you're buying your cellular watch from your carrier, but out of the box it can be a little confusing.
There's also a significant difference in call quality over your watch. It's not quite as bad as talking via speakerphone on your phone when it's a couple of feet away, but your watch microphone is incredibly sensitive. There's not a lot of tech there to isolate your voice, so even something as simple as having an air conditioning vent in your car pointed at your wrist can have an effect on call quality. If you're sitting in a room alone and everything is quiet, the call quality is often good enough to be passable on both sides of the conversation. If you're outside on a jog and you get a phone call, you're probably going to wish you had something like Bluetooth headphones connected to your watch.
Worth the monthly cost?
Ultimately you're going to be spending anywhere from $10 to $15 extra every month for the privilege of accessing your phone without actually touching your phone. That adds up quickly for something that is a largely unnecessary convenience for most people, but it's also highly functional for what it is right now. Over the next year, as Android Wear and Samsung's Gear line continue to draw in developers, these connected platforms will create experiences that justify themselves for more people.
It won't ever be everyone, there will always be people who can't possibly fathom why you'd spend that money on something so frivolous, but convenience will always drive adoption for some people. If you're one of those people, you may consider taking a closer look at a cellular connected smartwatch.
Get the Android Central Newsletter
Instant access to breaking news, the hottest reviews, great deals and helpful tips.