Archos reveals new budget-friendly Cobalt and Power Android smartphones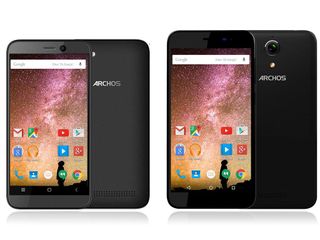 Budget-based smartphone and tablet maker Archos is using CES 2016 to reveal two new device families. One is Cobalt, which goes on sale in April, while the other is called Power, which will be available sometime in May.
Here's what Archos has to say about the two new Power smartphones:
When they do go on sale the Archos 40 Power will be priced at €49,99, while the Archos 50 Power will cost €129,99.
Here's a quick look at the Archos Cobalt smartphones:
The Archos 50 Cobalt will cost €99 when it is release while the Archos 55 Cobalt will have a price of €149.
Source: Archos
Agreed. Between these two the Cobalt is the better deal but I'd choose a Moto G 2015 over either.

When I saw the Cobalt name, I initially thought the ghosts of Palm and PalmOne had resurrected themselves.

Other companies like Blu are making even cheaper and better smartphones.

Wow, cobalt blue and dark grey... What an exciting range of colours they have, it easy to see why they're making a big deal out of it. Posted via the Android Central App

Wow Archos is still around.

Ugh. The buttons. Seriously, Archos? You're seriously still doing this? At least on one of them you gave it on-screen buttons, but you couldn't even maintain consistency between the two, reversing the button layout on the one with capacitive buttons AND making one of them clearly a menu key? In 2016? And you made the home key a square, when square on your other model, and in Android's standards, is the multi-task key?

There are only so many ways you can get navigation keys wrong, and Archos seem to have hit them all. Congratulations, I'm not even mad, that's impressive. Posted via the Android Central App

Ew and is that still a menu button I see Posted via the Android Central App on my Frost Nexus 6P

8gb phones are a joke. I don't know how they still are an option these days. Posted via the Android Central App

I agree 100% even 16 32 and 64 are a joke, my 6p is 128gb.

My 16Gb phone disagrees with you, I currently have 6.2Gb free.
Android Central Newsletter
Thank you for signing up to Android Central. You will receive a verification email shortly.
There was a problem. Please refresh the page and try again.