Apple's Grammy ads were all about Apple. Google's was about the rest of us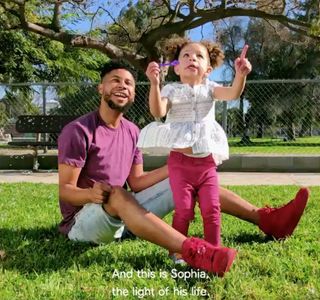 I admit, I still have no idea what a Despacito is. I can't tell if Khalid is a DJ or just a regular dude. The line blurs between SZA and Sia (though they both kick some serious ass) and Pink looked exceptionally blonde to me. (Those high notes, though.)
I'm a nearly 40-year-old white guy. The Grammys maybe aren't for me anymore. (My pre-teen daughter loved it though, and that's more than good enough.)
So I sort of approach it like a casual football fan on Super Bowl Sunday. While I can (and do) appreciate the music that isn't part of my daily playlist (if you haven't spun the Childish Gambino record yet, though, you need to Rich Purnell your ass to Mars and get out of my orbit), I also sort of pay more attention to the commercials than I might otherwise.
Apple had a couple of Animoji spots that were downright fun. An alien head Animojiing to Gambino was perfect. The unicorns gave it just the right amount of tripped out WTF. It was the perfect contrast to the otherwise buttoned-down Apple.
The Migos spot was messier. Maybe I'm just biased against the poop emoji in general, or that I think their "Middle Fingers" song was bad enough to make my suburban middle-class 14-year-old self wince a little at the forced rebellion. But whatever. Animoji are fun.
I was disappointed to read the fine print that the commercials were "professionally animated" — I very much wanted to picture some very serious Apple folks lip-syncing not-so-seriously into an iPhone X over and over and over, to get the faux-facial ticks just right. Alas, not the case.
But it was Google's spot that really stood out to me.
I missed the very beginning. Didn't even know it was Google's doing, though I started to wonder once I saw all the bokeh in the photos. (Portrait mode in effect.) And then the phone number on the Google Play Music-style screen gave it away.
But it was the people who stood out. The stories. And, of course, the kicker.
It was reminiscent of the excellent "Be Together. Not the Same." campaign from a few years ago.
The more cynical among us might think that Google only did a suicide prevention spot because of the Logan Paul backlash. And that's probably not wrong. But it's also the right message at the right time, given the suicides in the music industry over the past year, to say nothing of the 100-plus people in the U.S. who take their own lives every day. And with the popularity of the "1-800-273-8255" suicide prevention song, which also was performed live Sunday night with Best New Artist nominee Khalid and eventual winner Alessia Cara.
So I'll forgive Google for maybe being opportunistic. Worse would have been to have ignored the opportunity altogether and instead focus only on itself. One tech company had already done that Sunday evening.
It's not complete redemption for the black hole of decency that is Logan Paul and his ilk. But it's a start. And it was the right thing to do.
But now, Google, we need to talk about Linus.
Get the Android Central Newsletter
Instant access to breaking news, the hottest reviews, great deals and helpful tips.