Apple extends lead over Samsung in the premium segment — and it's all down to 5G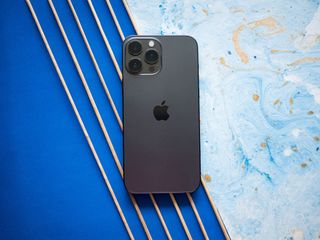 (Image credit: Apoorva Bhardwaj / Android Central)
Apple rounded off a resurgent 2021 by becoming the number one handset manufacturer globally in Q4 2021. Although the overall market witnessed a marginal decline of 3.2% from 2020 — accounting for 362.4 million shipments in total, according to IDC — Apple led the way with 84.9 million shipments.
While those figures are less than the 87.5 million units it managed during the same period in 2020, there are a lot of positives. For one thing, a bulk of Apple's sales in this segment were in the iPhone 13 series, with IDC noting a corresponding increase in the average selling price of iPhones. The numbers bear that out: Apple just posted an all-time quarterly revenue record of $123.9 billion, an 11% year-on-year increase.
There are a lot of factors for this surge in growth. Apple usually tends to do well in the holiday season because its latest phones are introduced in the fall and go on sale in Q4, and the mainstream adoption of 5G acted as a catalyst. IDC's Research Director for Worldwide Device Trackers Nabila Popal said that Apple managed to successfully position the iPhone 13 series as the "next wave" in the upgrade cycle, enticing users of older iPhones to make the switch to 5G.
Furthermore, Apple wasn't as hamstrung by chip shortages as Samsung and Xiaomi. Popal noted that Apple's focus on 5G played a key role here; phones with 5G modems weren't as affected as their 4G counterparts, and with 5G devices accounting for 70% of Apple's global sales volume, it was able to meet the demand. By contrast, over 60% of Samsung and Xiaomi devices sold in the same period were 4G-only devices, and the Android manufacturers were hit badly by the continuing shortages.
Of course, generous iPhone 13 carriers trade-in offers sweetened the deal, and the end result was that the U.S. market accounted for 31% of Apple's overall sales figures. Another important factor was China; Apple saw heady gains in China on the back of the iPhone 13 series, recording its strongest figures in over six years. It managed to achieve that by being more aggressive with the pricing of its latest flagship.
IDC's data shows China accounting for 21% of Apple's global sales volume, a year-over-year increase of a staggering 40%. Popal noted that a lot of this growth had to do with the decline of Huawei over the last two years; Huawei was a huge player in China's premium segment, and with the homegrown brand's efforts significantly curtailed by trade bans, customers switched over to Apple.
In fact, Apple managed to extend its lead in the premium segment (over $800) in most global markets. In 2020, Samsung used to have a 29% market share in this category, but that figure now stands at 18% — and it doesn't take a genius to figure out who captured that share. Apple went from 63% to 79% in the same period; the brand utterly dominates this category. It's no wonder that it saw a record-breaking quarter in Q4 2021.
Apple also had its best year in India, recording 2.3 million units, an increase of 34% from 2020. As noted by Bloomberg, Apple netted $2.09 billion in revenue from the country, outmatching second-place Samsung in this area despite the Korean brand selling over three times as many phones in the same window.
While the country isn't a major market for Apple just yet, it holds a lot of potential, particularly in the mid-tier segment. Sales of older iPhone models continue to be brisk during seasonal e-commerce sales, and Apple heavily discounted the iPhone 12 to incentivize buyers to pick up the year-old flagship.
As a result of all these efforts, Apple recorded a 15.9% growth globally in 2021, with 235.7 million shipments. Apple aims to build on that momentum in 2022 and is likely to introduce a 5G-enabled iPhone SE in the coming quarter. Popal notes that the company will be able to hold on to its position in the premium category in 2022 thanks to its "extremely loyal userbase."
For its part, Samsung has pivoted to foldables like the Galaxy Z Fold 3 to spur sales in the high-end category, and the upcoming Galaxy S22 is set to challenge for the title of the best Android phone of the year. Most of Samsung's sales momentum over the last two years has been on the back of the mid-range Galaxy A series, and while it has seen some uptick for foldables — particularly in North America — it is still a nascent category, and it is unlikely to close the gap to Apple on the back of foldables.
Android Central Newsletter
Get instant access to breaking news, the hottest reviews, great deals and helpful tips
Harish Jonnalagadda is a Senior Editor overseeing Asia at Android Central. He leads the site's coverage of Chinese phone brands, contributing to reviews, features, and buying guides. He also writes about storage servers, audio products, and the semiconductor industry. Contact him on Twitter at @chunkynerd.
Last I checked ... You write for Android Central ... So I'll let you in on a secret ... No one who subscribes to this page cares about ANYTHING Apple. We leave that to the sheep.

Stop lying, it's embarrassing. I care for everything in tech. Im not stuck under one platform

Here's another secret, it's a competition out there, one manufacturer keeps tabs on the other which forces change, Apple is as relevant as any in this marketplace even though I don't get the draw to their phones, and I come from an Apple household.

You are also a sheep 🐑 just for Google bah

To quote one Michael Corleone, "Keep your friends close, and your enemies closer" ;).

Sorry, not true. A lot of people live 2-platform lives. I have both and read both sites. Tech is interesting regardless of your preferred platform.

That statistics site has always tailored their service for Apple. Premium used to be that new premium priced phone. Then it became discounted last-year's models and eventually it included 400 buck phones made from scrap, Apple manage to source from Chinese discount manufacturers. I agree this doesn't belong on an Android site as it is pure Apple fan base/investor confirmation bias.

Look at you all high and mighty claiming Apple source from Chinese discount manufacturers. Where do you think bulk of Android phones comes from?

Look at you, deflecting from the point that services like IDC sells confirmation bias. Good job, Tim.

Well done Apple, Samsung are still making money with their premium phones and people tied into eco systems are unlikely to switch... I have a Fold 3 and Surface Duo and would never switch to Apple because I am a Windows user and Android integrates better... Could never use Apple products as I don't like the image they project too... People that drive Audi and BMW's have iPhones... I have an Arbarth 695 Biposto and I have a Fold 3... :-)

LOL...,my wife has a BMW and a Note10. I have Apple computers and they work fine with my S10e with the exception of some messaging and face to face issues, but I could really care less about that stuff. But I too don't like the "exclusivity" image they project and the closed ecosystem they have although I understand it from a business perspective. I was close to being awarded a huge building contract with a big Hollywood celebrity but the assistant to that person was outraged that I didn't have an iPhone (true story), I didn't get the job and was probably better off for it. That one instance will keep me away from iPhones forever.

I switched from iPhone to a Samsung many years ago, then OnePlus, currently on a Pixel 4. I've had so many software issues with my Pixel and news of the 6 isn't encouraging, Samsung build excellent phones, but they bundle too much with their software for my liking, OnePlus isn't as distinctive from other Oppo brands since they ousted Carl Pei, so i'm planning on getting an iPhone 14 Pro or Pro Max in September, far from perfect, i don't like the closed system or lightening, but apple are heading in the right direction generally.

Sounds like whilst chastising Apple users for being a particular way you have shown yourself as just the same thing

I have an iPhone 13 Pro Max and I drive a Chevy

"I am a Windows user and Android integrates better." What does that mean? I'm a Windows and iPhone user, and I don't see much of a difference, as I have a Pixel 6P as well. Android certainly has the advantage of YourPhone, but that is really best only with Samsung, and I find it marginally compelling. With my Pixel, only parts work, and those are spotty at best. I can 'Windowsify' my iPhone as much as my Pixel, with Outlook, Office, other MS services. About the only thing I can't do is use the MS Launcher, which I don't do with my Pixel either. Most everything of note is cloud based, or at least syncs in the cloud, so it really is irrelevent if I have an Android or iPhone in regards to my major computing platform.

The fact remains that Samsung still holds the lead in overall worldwide smartphone sales. According to this, just not in the 'premium market', over $800. The thought that 5G is the catalyst doesn't hold water. They say over 60% of Samsung and Xiaomi devices sold in the same period were 4G-only devices. Maybe, but I bet those weren't 'premium' phones. It is not even accurate that Apple likely got a boost from supporting 5G, they did that a year ago. (Across the board, not piecemeal like Android OEMs). I'd chalk it up to good advertising in new markets. Apple has always been good at marketing.

Selling buttload of cheap phones at minimal profit is not winning. You win the "marketshare" but lose the war.

I don't think either Samsung or Apple are losing anything.

I don't care who has larger sales or makes more money. All I'm interested in is buying products(BOTH APPLE AND ANDROID) that meet my needs and please me. I have a Galaxy Note 10 Plus and will get the Galaxy S22 Ultra later this year. I also have an iPhone 11 Pro Max and Apple Watch 6 which I intend to replace next year with the iPhone 15 Pro Max and Apple Watch 9. I still have a Galaxy Watch Active 2 which no longer gets any love. BUY what you need and pleases YOU.

i don't know if Sundar Pichai is doing such a great job heading Google. They launched 13 messaging apps abandoning them and now complaining about iMessage dominance or Whatsapp, now arguing apple adopt dated RCS which locks people into carriers, ridiculous, they are abandoning Stadia their cloud gaming service just when Microsoft is going big on game streaming, they made a lot of their hires for their internal game studio then months later quietly shut it down, and the mess with Pixels is just unacceptable, i say that as a long suffering Pixel 4 user, i didn't care about the smaller battery, i loved the Google software, when it's good it's fantastic, but so many things break, and stay broken with even minor updates it's been a nightmare. Android is a lot more closed then it used to be, 3rd party launchers are less seamless for example. What's their overall strategy for the platform? Is there one?

For how brilliant of an organization they're supposed to be, they sure drop the ball in the most prominent of areas, let's throw YTM along with that messaging cluster.

So, what exactly is dated about RCS, and how does it lock you into a carrier?

TLDR. How North American centric is this? Cos. iPhones don't have the hold elsewhere they do in North America, Even if they did, doubt Samsung would care. Overall sales Apple doesn't even come close.

iOS has around 57 percent market share in Australia. But in overall sales Samsung sells a lot of different phones. Apple does not. Everybody seems so hung up on market share. Fact is their are hundreds of Android OEM's and one Apple.

Marketshare argument is worthless. Look at 3rd parties…who do they cater to? Look at developers…who do they bring the best games to?

You've missed the point of the article. This isnt about overall sales. When it comes to premium flagship phones, people buy apple. That's the power of their brand. No one wants to experience buyer's remorse over a $900 purchase. Android's problem in my opinion? Too many choices.

I've owned both...Android (mostly Samsungs until I moved over to OnePlus) and I can say unequivocally, when it comes down to what's important... iPhones rule. It is what it is. I think I'll always keep an Android phone as a secondary, but my daily driver will be an iPhone from here on out.

Rule what? The most inflexible platform I've ever seen.

I think Apple watch has a big factor in phone choices these days. Watch TV and you will see almost every single host and guest wearing an apple watch. Apple watch makes android watches look like toys. it's light years ahead of android watches. Apple watch needs an Apple phone. Win: Apple.

I don't know a single person who wears a watch. Win Android

That's a fascinating stretch of logic.

Apple outsells the entire watch market. Not just smart watches. Who you know is irrelevant. I don't personally know anyone with a Ferrari. That doesn't mean they are aren't striving in the luxury sports car segment.

If Samsung had kept up the momentum and attention it had got with the Galaxy S10 series, its sales would be MUCH MUCH better right now. I don't know what happened, but somehow after the success of the Galaxy S10 series, Samsung got too cocky thinking that customers will always like and buy its phones. AND THAT's when the fiasco began. The Galaxy S20 series was a disaster. Extremely Ugly design. Very expensive pricing. The Exynos 990 nightmare. Poor battery life. Overheating issues. Display flickering green and white issues. Sub-par camera quality compared to Apple and Google didn't help its case either. And Samsung lost alot of loyal customers after that. The Galaxy S21 series was a major improvement from Samsung. The S21 series had a gorgeous design, good battery life, favourable pricing and good processors. And the photo quality was stunning, on par with the iPhone 12 released at that time. But IDIOTICALLY Samsung omitted some key features to entice lost customers. The vanilla S21 had a plastic back which takes away all the premium-y feeling of a smartphone. Plus the screen resolution was a serious downgrade. If you are paying more than a 1000 dollars for the S21 Plus, then you sure as hell don't want a 1080 X 2400 screen resolution. That's why customers move to Apple. Cuz iPhones remain consistent. There are no downgrades from the previous model, only improvements. Sure they may not have all the features but there are no downgrades at all unlike Samsung where one year the phone is good and then the next year it's bad.

You might as well change the name to Apple Central. Seriously, this is ridiculous.
I just can't take AC or their apple fanatic writers seriously 😂

This article is like posting on a locally owned restaurant site (with ACTUAL foodies) how well Chili's is doing.

I have always used some Android phones, until I switched to iPhone 13. I think the iOS marketshare will grow also.
Google seems to not have a much of a strategy. Maybe time to replace Sundar Pichai?
The Pixel 6 lineup is interesting. But to limited, not even sold in my country. Until it changes I probably stick with iPhones.
And Samsung have removed many features, micro sd card support. Gone for glass to plastic etc..So they have make many mistakes.

I wonder why? The only thing that Made Samsung cool was their resilience to cave into conventions. THEN around Note 10 and whatever that phone number version was, they decided to do nothing but cave into conventions; punch-hole cam, no memory expansion, no headphone jack, just compromise after compromise. To make matters worse, EVERYONE seems to be compromising. LG was the last hold-out. If the Wing had that generations top Snapdragon processor, I think it would have been fine. IF LG mentioned the Wacom AES support on the V60 which I have, that would have sold better. I think Sony still offers memory expansion and their PRO line might offer a headphone jack. I don't know. BUT you really have to search for phones that offer memory expansion. Which is only made worse since the "BRAIN-TRUST" at android arm of Alphabet, keep making it harder and harder to use expandable memory so they can sell you their constantly breached Cloud Storage. Sorry GOOGLE, I don't trust you enough with my data, even though you'll steal it anyways.
Android Central Newsletter
Get instant access to breaking news, the hottest reviews, great deals and helpful tips
Thank you for signing up to Android Central. You will receive a verification email shortly.
There was a problem. Please refresh the page and try again.