Another Epic 4G Gingerbread build leaks -- EF02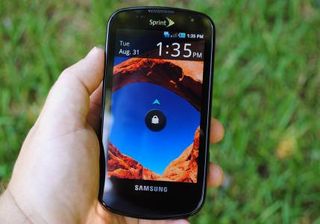 Another Gingerbread build has leaked out. This time around the Samsung Epic 4G gets updated to EF02, and the reports thus far have been looking good. The verdict on whether or not this build can be rooted or not is still out so keep that in mind before you dive in, you may wish to hold out until some more feedback is gathered.
You will also need to fire up Odin in order to load so, like always exercise caution and follow the instructions. You can hit the source link for the full details and make sure you leave some comments here and in the forums on how things are working should you decide to load this one up.
Update: You can haz root. See the Android Central forums for more details. Thanks, Paul627g!
Source: XDA; Thanks, sctwinslow!
when will they release this update the Evo 4G and Evo Shift have the upgrade available already what the hells going on.

Samsung is always slow to get updates out.

It's not Samsung, it's Sprint. The international Galaxy S got Gingerbread like two months ago. Sprint is testing to make sure that it's stuff is working fine on it Samsung has nothing to do with the delay.

It can't all be Sprint, for All Samsung Galaxy S phones are suffering from slow update mania! If Sprint isn't approving the updates, something must be wrong with them. HTC always manages to get their updates out the gate before anyone else does.

Don't forget the HTC EVO is also Sprint's flagship device. They put a lil extra into it to keep it at the top.. Plus they just recently got gingerbread it's not like it's been out for months...

Yeah, HTC just released gingerbread for the evo, but it's full of bugs and shouldn't have been released yet.

theres no way in hell its Sprint's fault look at all the Sprint phones with Gingerbread.....all of which are not made by Samsung

Awesome can't wait for this to be handled by the devs. They do such great work with this stuff

from what ive read the EF02 is a solid build only that the GPS and 3G/4G needs a lil work. EF10 is built already but still hasnt been leaked so theres a good possibility that that is the final build and the one that will be pushed OTA. Lets cross our fingers on this one.

I'm waiting on someone to root it and strip out the CIQ and other bloat but otherwise leave Touchwiz alone.

already been rooted, we're working on CIQ and bloatware. :D

they should change to title to "Another Epic 4G Gingerbread build leaks -- EF02 - UPDATE: We Have Root!"

I know this is off topic, but if sprint went ahead and announced the release date for the SGS2 Within, I wouldnt care about 2.3 on my epic! Sprint must not like money cuz I'm ready to cash out for the Within, guess this gingerbread leak will have to do for now...
Android Central Newsletter
Get the best of Android Central in in your inbox, every day!
Thank you for signing up to Android Central. You will receive a verification email shortly.
There was a problem. Please refresh the page and try again.