Announcing the winner of our 3D Printed Lloyd contest!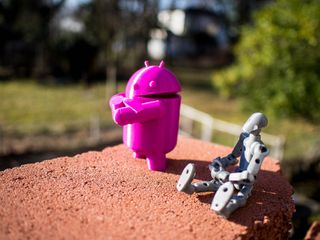 During our time exploring the enormous world of 3D Printing, we've learned quite a bit. Failure is to be expected at first, apps are somewhat hit or miss, and when you want filament in Android Green there are no guarantees that you're going to get it in a timely fashion (looking at you, Amazon). Perhaps most importantly, we learned there are some amazingly creative people out there who create things to be printed all day, every day.
It was clear from the responses we received in some of our 3D Printing articles that a few of these folks were regular readers, so a contest to get some cool 3D Lloyd gear in the world was created. Each participant brought something unique and interesting to the table, and after attempting to print all of the submissions a clear winner emerged.
Designing something for 3D Printing is complicated on several levels. While you can build something in any number of 3D modeling tools, preparing a file so it prints in a 3D Printer requires more careful planning. 3D Printers work in layers, millimeter slices of extruded plastic stacked on top of one another. If you try to print something with an abrupt angle or a protruding shape along those layers, the hot plastic will sag instead of stay in place and the print will be ruined. This gets resolved in a lot of print designs with small support structures that break away from the final print and are discarded after, but in the case of something like Lloyd there needed to be more complex support structures.
As cool as our winning design is, the bottom of the Lloyd figurine and the elbows that stick out from the torso cause significant problems while printing. In fact, when trying to print the original designs that were submitted, we ran into several problems due to lack of support structures.
Cura, the PC software that controls the Ultimaker 2 we've been using, includes a tool to add support structures to files that are added to software. The end result is a complex grid that added more than enough support to complete the print. When the job was finished, most of the extra material pulled away from the Lloyd figurine with ease.
As you can see, the complete design features a 3D Android Central Logo for Lloyd to chill out on, complete with pegs that match the holes in the bottom of the figure's legs. We'll be sending uofmike his Android Wear watch of choice as well as a print of his design. All submissions for this contest belong to the creators, so if they decide to upload to Thingiverse, YouMagine, or any other 3D Printing community site they are free to do so. If you're interested in printing this, or any of our other amazing submissions, you can check out the contest thread for links.
Get the Android Central Newsletter
Instant access to breaking news, the hottest reviews, great deals and helpful tips.