Android apps for 3D Printing — hit or miss but tons of fun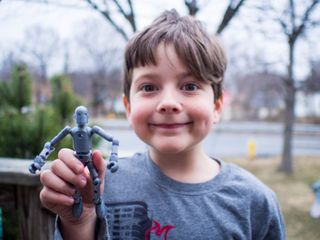 It turns out 3D Printing isn't only simultaneously incredibly cool and wildly frustrating, it's uncontrollably addictive. If you're a big fan of playing with new things, and you get a 3D Printer, you pretty much spend anything that closely resembles free time thinking about what to do next with that 3D Printer. Designing new things to print in your head, browsing forums for fun new ways to get the most out of your hardware, shopping for filament, and the list just keeps growing. You are limited by your imagination and your wallet, and really those limitations are more likely temporary road blocks.
Naturally, being Android users, it seemed only right to take a look at the apps that are out there to get the most our of your printing experience. There are a ton of apps out there that are related to the 3D Printing experience, but as is often the case with this technology the best apps are either hidden or have a bit of a learning curve.
READ MORE: Android apps for 3D Printing
Using GCodePrintr to control your printer
Your printer has a fairly basic operating system, and while each printer is different the basic setups are the same. The Ultimaker 2, for example, can exist either as a standalone machine that pulls files from an SD card or a connected device that receives instructions from a computer running Cura. While you need to use Windows or OSX if you want to run Cura, there's an alternative that relies on USB-OTG and your Android device of choice.
GCodePrintr is like mission control for your printer, and there are a lot of printers supported. There's a visualizer baked in that shows off how each layer is going to be printed, as well as real-time controls for print speed and temperature. On the Ultimaker 2, for example, GCodePrinter is much faster than the wheel interface on the front of the machine. It's also significantly more complicated than the wheel interface, and there's not really a tutorial to help you deal with the learning curve.
Capturing 3D images with 123D Catch
The number one question we've been asked when it comes to Android devices and 3D Printing is whether or not you can use the camera on your phone to print something you've taken photos of. There was some hope that the depth sensors in HTC's Duo Camera or the multi-camera solution on the back of the Dell Venue 8 tablet would offer some clever options, but the truth is there's no easy way to capture a 3D image that looks good enough to print. Most of the apps out there aren't built to capture a complete image, but the one decent exception to that rule is Autodesk 123D Catch.
While the app is not built explicitly for 3D Printing, 123D Catch is designed to let any smartphone camera capture a 3D image by stitching together a series of images that you take around an object. Think of it like a reverse photosphere, moving around the object you want to capture in rings to gain the most complete 3D image. The end result can be shared with other 123D Catch users and viewed by anyone who uses the app, but it can also be extracted and converted into a format your 3D Printer software can handle. The only downside is, much like the early days of photospheres, it is not at all easy to get a 3D image without a lot of practice.
Download: Autodesk 123D Catch (Free)
Tinkerplay app for kids
3D Printing is fascinating to users of any age, but the experience is a little complicated and not exactly child-friendly. While there's no way a youngster is capable of diagnosing print problems or play with the filament feeder. The creative aspect of the print process, on the other hand, is a little different.
Tinkerplay is an app that lets kids design their own toys from a ton of different pieces, and then provides those pieces through a local ISP for you to download. The downloaded files a zipped, but otherwise completely ready to print. If you have a zip extractor on your phone, you can go from design to print without ever using a Desktop app like Cura. Otherwise, you can have the designs made on a tablet and either accessed from a Desktop or uploaded to Google Drive for builtplate layout and printer option assembly.
Thingiverse for ideas and community
While technically owned and maintained by the Makerbot folks, Thingiverse is a community-focused service largely focused on 3D Printed everything. Users submit projects for everyone to see, share, and even modify based on their own needs. Users can interact with one another, sharing their experiences printing the projects that have been uploaded by other users.
While there are several services like Thingiverse on the web, their app is one of a kind. You can do just about anything from the web version of Thingiverse on their app, though because the system is technically built for Markebot the big friendly button that lets you download a file changes to a function for sharing to the Makerbot Mobile app. Even if you're not a Makerbot user, though, Thingiverse is well worth having just to browse through all of the amazing ideas that exist out there in the world.
Get the Android Central Newsletter
Instant access to breaking news, the hottest reviews, great deals and helpful tips.