Anki Overdrive races its way to retail stores, available now for $149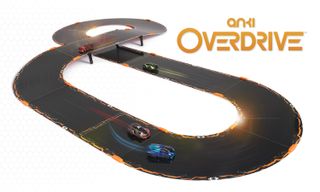 The Anki Overdrive, the company's successor to the Drive, is now available, with prices starting at $149 for the Starter Kit. Anki Overdrive is a battle-racing game, that puts the controls on your smartphone, and lets you race against friends and family. The track utilizes a magnetic modular system, in which players are able to create custom tracks in just a few minutes. Tracks can include jumps, turns, and much more.
Overdrive will bring some new racing modes, like time trial and king of the hill. Players will be able to install virtual weapons and upgrades to their vehicles, for a crazy racing experience. Anki will be selling the Overdrive not only on its own website, but in the US it will also be available from Amazon, Apple and Target, with international availability including Harrods, Selfridgets, Kaufhof and others. The Starter Kit will retail $149, with track additions ranging from $10 to $30, and Supercars running $50. You'll also need to download the new Anki Overdrive app from Google Play (opens in new tab).
Purchase the Anki Overdrive Starter Kit for $149
Press release:
ANKI OVERDRIVE RACES INTO RETAIL STORES IN PREPARATION FOR HOLIDAY RUSH
SAN FRANCISCO – September 21, 2015 – Anki, the robotics and artificial intelligence (AI) company continues its revolution in the world of play today with the release of Anki OVERDRIVE in the U.S. and Canada. Utilizing the power of robotics and AI, Anki is able to bring a previously unattainable level of intelligence and gameplay to the physical world, blending the best of toys and videogames into a one-of-a-kind entertainment experience.
"This has been an exciting journey for us as we've embarked into a new territory of consumer robotics," said Boris Sofman, Anki co-founder and CEO. "Last year, we were very fortunate to see a tremendous response to Anki DRIVE, but that was just the beginning. We've taken that original concept and improved on it in every single way to bring a new level of physical play that further blends the worlds of robotics, toys, and videogames into something truly magical. Anki OVERDRIVE means so much more to us in that it not only represents the future of how we play but how these technologies can help enhance our daily lives."
In Anki OVERDRIVE, players take control of the Supercars of the future via handheld mobile devices as they battle and race against friends, family or AI controlled commanders. The game introduces an innovative magnetic modular track system that allows gamers to custom build epic battlefields within seconds. Challenge friends in a variety of game modes, or, go head-to-head with elite AI commanders in a quest to become champion of the Anki OVERDRIVE Tournament. On the road to victory, players can kick their skills into overdrive by customizing their Supercar's speed, weapons, and defenses through in-game upgrades.
After launch, exciting new game modes and features will be available on a rolling basis at no additional cost. Anki OVERDRIVE is also backwards-compatible. Owners of the original Anki DRIVE will be able to download the Anki OVERDRIVE app for free and use Anki DRIVE cars and tracks in specific modes of Anki OVERDRIVE.
The Anki OVERDRIVE Starter Kit will retail at $149.99 and will come with two Supercars and 10 separate modular FlexTrack pieces, allowing gamers to build eight different battle courses. Players will also be able to expand their battlefield by adding expansion pieces to the starter kit to build massive megatracks with endless variations and new gameplay possibilities. Expansion track packs and accessories vary between US $10.00 – $30.00 per pack and expansion robotic Supercars retail at $49.99. For additional information on the game or to find participating retailers carrying Anki OVERDRIVE, please visit www.anki.com.
Jared started off writing about mobile phones back when BlackBerry ruled the market, and Windows Mobile was kinda cool. Now, with a family, mortgage and other responsibilities he has no choice but to look for the best deals, and he's here to share them with you.
Looks cool, my son would love this (and I would of course, have to play it also!)

What drugs are those kids on to be that excited over RC cars?

Do you have kids? My kids too would love this! It's not all about tablets, t.v., and phones with children.

I'm the unofficial step father of a 5 year old and, while I know he would totally love these toys, I highly doubt he will grow up to be a pre teen who would invite over 20 kids, including girls, to my home to party around a paper race track and some mini RC cars.

Man! You're the life of the party..... Debbie downer Posted via the Android Central App

Oh I AM the life of any party. That's why I know a party like the one shown in the video (where over 20 pre teen boys and girls are actually into a party that revolves around a paper racetrack and mini RC cars) could only exist if all those kids are high on ecstasy or meth... or on both.

Google ifmar world's offroad or onroad to see real rc cars.. I been racing those for 20+ years.. This modern day slot car track does not compare Posted via the Android Central App

Omg I need this in my life. I mean my 8 yr old would enjoy this. Posted via the Android Central App

Any user feedback on the previous model? I'm interested in getting this Posted via the Android Central App

Neighbor has it and uses it with iPhones. It is BIG in terms of footprint. Glorified slot car racing he called it. Fun for the first month and then it just gets in the way to set it up and put it away etc. Posted via the Android Central App

And you can't have an android device go up against someone w an apple device. Posted via the Android Central App

Actually with OverDrive they have updated the App (Rebuilt a whole new app actually) and it is now cross platform. IOS and Android can play together. Everyone needs to be on the same wifi.

This is going to be awesome...... I can't wait to get this. Posted via the Android Central App

It is a pretty cool setup. With the new modular track you can make it as big or small as you want. Got mine today and had a figure 8 fitting on my dining room table. Took me 10 minutes to set up and 5 minutes to take it down and put it away. My wife who shies away from anything like this enjoyed it as well. Wish I had bought the mega bundle straight from ANKI (saves you about 50 bucks over the cost of all that stuff separate) But I have my starter set so I will get the pieces as I want them now.
Android Central Newsletter
Get the best of Android Central in in your inbox, every day!
Thank you for signing up to Android Central. You will receive a verification email shortly.
There was a problem. Please refresh the page and try again.