Android winners and losers in 2018: The products, companies and features that stood out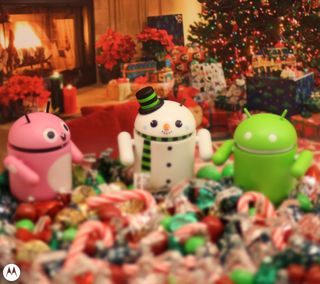 Let me start with both a cliché and an understatement: It's been a busy year in mobile tech. 2018 seems to have blown by us without any of the normal periodic lulls, as the spring launch season rolled into an unusually packed summer, and peaked with the busiest October we've ever known here at Android Central.
So as the year draws to a close, it's time to reflect on the past twelve months in Android: the hits and the misses. It's been a triumphant year for some. Not so much for others. And a truly disastrous cycle for an unlucky one or two.
Here are our Android winners and losers for 2018. Enjoy -- and don't take it too seriously.
Winner: OnePlus
The biggest thing OnePlus needed to do in 2018 was avoid any high-profile screw-ups. You know, things like breaking HD content streaming in a way that required phones to be mailed-in to be fixed, or falling victim to a high-profile data breach or making a screen out of jelly. As a relatively new player in the smartphone world, OnePlus has had its share of growing pains over the years, but in 2018 the brand finally reached maturity. Aside from an embarrassing translation snafu which briefly saw it falsely laying claim to the first Snapdragon 855 release, OnePlus has simultaneously avoided any PR blunders while keeping up the pace of its growth and maintaining the level of quality that fans expect. It produced great products, made a lot of money, and ended the year on a high in partnership with veteran racing brand McLaren.
Other important OnePlus milestones included a crucial U.S. carrier deal with T-Mobile, which saw sales of the 6T really take off in the States, and an aggressive update schedule which had the OnePlus 6 getting Android Pie not long after Google's own Pixels. All of this, combined with recent setbacks for Huawei's U.S. ambitions, set OnePlus up for a great 2019.
Loser: HTC
HTC's smartphone business has been swirling in the drain for the better part of three years, but the disastrous launch of the U12+ sealed the deal. If HTC isn't already dead and buried... well, the nails are in the coffin and the casket is being lowered. The sad thing is the U12+ itself was actually a pretty decent phone, once they fixed the buttons. But the phone was such a mess out of the box that the eventual button fix, two months later, didn't matter. Even without such glaring technical problems, the U12+ demonstrated how, outside of one or two areas, HTC is now incapable of competing with Apple, Samsung and Huawei at the high end. As such, sales have continued to plummet, and the top-level brain drain at the Taiwanese firm has continued.
HTC is now left without any major Western carrier partnerships, bereft of brand value and R&D muscle (having cashed out of smartphone R&D with the late-2017 sale of assets and engineers to Google), lacking resources for basic software updates and customer support, and unable to match the scale of its Chinese rivals. The company's answer: a blockchain phone and a 5G hotspot.
It's been coming for quite some time, but 2018 truly marked the point of no return for this once-proud Android brand.
Loser: In-screen fingerprint
We've been hearing for the past couple of years how in-display fingerprint technology would revolutionize the way we used our handsets, making biometric security simpler and all-display phones a reality. Early demos, like this from Vivo early in 2018, looked promising.
Then phones with in-screen fingerprint sensors actually started to ship, and the tech turned out to be almost universally crap. Early efforts like the Huawei Porsche Design Mate RS were so bad that that phone also included a rear-mounted capacitive scanner by way of apology. Later in the year, even some of the better offerings like the OnePlus 6T and Huawei Mate 20 Pro weren't anywhere near as fast or reliable as the traditional fingerprint scanners of their predecessors. Simply put, they were a downgrade.
Qualcomm is promising next-gen ultrasonic in-screen fingerprint tech alongside its Snapdragon 855, and rumor has it Samsung will adopt it in the Galaxy S10. Maybe 2019 will be the year in-screen fingerprint finally delivers, but you'll forgive us for being skeptical.
Winner: Weird, wacky phones
This is my catch-all for things like sliders and dual-screen phones — creative designs that have appeared as phone makers have tried to engineer their way around the need for display notches. Devices like the Oppo Find X, Vivo NEX and NEX 2, and the Honor Magic 2 have emerged to dispel the idea that smartphone designs can no longer be interesting. You can even lump gaming phones like the Razer Phone 2 and ASUS ROG Phone into this mix, weird and wonderful as they are. And I'd say the same for the triumphant return of big-ass phones like the Huawei Mate 20 X. These wacky, unusual phones have added spice to the year.
Pop-up cameras, sliders and an entire second display just for taking selfies have emerged as fresh approaches to keep the fronts of our phones as uncluttered as possible. Sure, they're mostly impractical and more expensive. A second display is a significant chunk of extra cash on your bill of materials, and phones with moving parts are harder to insulate against water and dust. But they're also proof that there's plenty of innovation left in this industry.
Loser: Aluminum
Or if you prefer, aluminium. It was a bad year to be shopping for a phone that wasn't made entirely out of glass. As Apple switched to glass-backed iPhones in 2017, and more devices started to adopt wireless charging, and as more companies figured out ways to make glass feel nicer in the hand, the once proud aluminum unibody smartphone has all but disappeared.
It's bad news for those of us who prefer heft, texture and in-hand feel of metal, as well as the extra durability it provides when dropped. But with 5G phones just around the corner, along with evermore complex radio antenna requirements, it's unlikely metal will be making a comeback anytime soon.
Winner: Huawei
Geopolitics aside, Huawei had a pretty great year. The firm shipped 200 million smartphones in 2018, and at the high end, phones like the P20 Pro and Mate 20 Pro showed that it could compete on quality with the likes of Samsung, and not just rely on its enormous scale. Of particular note is Huawei's partnership with Leica, which this year produced two of the generation's best phone camera systems in both the P20 Pro and Mate 20 Pro. And Huawei has continued to dominate on battery life and charging speeds, with new 40W Super Charging tech and consistently larger battery capacities than any of its rivals.
Its own custom Kirin-branded silicon gave it an edge in areas like LTE speeds and GPS accuracy, at least for part of the year.
There's no way Huawei's going to break into the U.S. market anytime soon, but in terms of product quality and sales for the rest of the world, it's hard to fault Huawei's 2018 performance.
Loser: Sony
Sony has spent the past four years or so putting out pretty good, pretty boring, pretty expensive phones that nobody buys. Bruised by multiple failed attempts to get into the U.S. market, the company now falls back on unlocked sales outside of its traditional strongholds. Even newer, relatively decent phones like the XZ3 show signs of a company ignorant of major trends in mobile, like multiple cameras, computational photography and high-capacity batteries.
Sony's back catalog of handsets includes some truly unique, inventive designs. Yet the company has stagnated for so long that it's now left recycling old Samsung and Nokia designs. More disappointing, despite making some of the best image sensors for other brands, Sony's own phone cameras continue to underperform.
Winner: Computational photography
In 2016 and 2017, smartphone photography appeared to be at a plateau. But more than once this year I've been blown away by the quality of images I've been able to capture on a flagship phone. Computational photography — that is, using the computing power of smartphones to make up for the tiny sensors in their cameras — has unlocked new possibilities for phone cameras.
Across the board, pretty much everyone is now using multi-frame photography for improved dynamic range and color detail. Some have even introduced AI shooting modes — to varying degrees of success.
But computational night modes from Huawei and Google have been the highlight of the year in phone photography. Huawei got there first with the P20, and a handheld long exposure mode that eliminated the need for tripods when shooting in the dark. Then later in 2018, Google took this to the next level with Night Sight, using its single camera and the Pixel Visual core to capture more detail than your eye can see using only a smartphone camera behind a tiny lens. It's no surprise that Samsung is now rumored to deliver its own version of this feature with the Galaxy S10 in 2019.
Loser: Wear OS
Despite a new name, a major redesign, new(ish) chips and the launch of some genuinely impressive watches like the Skagen Falster 2 and Casio F30, Google's Wear OS (nee Android Wear) has fallen on hard times. Wear OS's current chicken-and-egg conundrum has Qualcomm apparently unwilling to engineer any truly new silicon to power it, likely due to lackluster sales. But then the fact that the bulk of Wear OS devices run silicon based on the positively ancient Snapdragon 400, from 2013, surely hasn't helped. Even the new Wear 3100 chip leans on a new low-power core designed to improve battery consumption when Wear OS isn't in use.
Which means in day-to-day performance, even some of the newer watches can be prone to lag, and the kind of lopsided battery life you'd expect from a bunch of 28nm, Cortex-A7 cores. Until there's a firmer hand on the rudder in terms of both design and tech, don't expect a breakthrough for Google's wearable platform in 2019.
But hey, at least that Galaxy Watch is pretty neat, eh?
What are your Android winners and losers for 2018? Let us know in the comments!
Alex was with Android Central for over a decade, producing written and video content for the site, and served as global Executive Editor from 2016 to 2022.
I would love too see a stainless steel framed, flat glass, polymer backed phone. Would be super durable, easily allow wireless charging and NFC, provide good grip, and different colors would be a snap.

You're talking about the old Nokia Lumia 930/1520. Machined aluminum frame, rather than SS, but yeah...

Sony XZ2 Compact fits into this. Front glass is flat but it has small rounding at the edges to make it more durable for corner hitting the ground at the drop. Little details like that is what make Sony designs really clever but you will never know they are there until you actually use the phone. Just like with the Sony build quality, it feels like a proper tool sitting your hand cause it has thickness but it's not thick, it has weight but it's not heavy and it has that cold feeling when you grab it off the table but yet the back of it is plastic composite like it should be. And it's the fastest real life performance 5" phone you can buy if you are into normal sized phones. Pixel 3 feels like a toy compared to XZ2C but yet Sony is on the looser's list cause their marketing department has no brains.

"Winner: OnePlus" Not as long as they don't support Verizon.

Agree 100%, absolute crap when they can't get a foothold with the major player in the US.

As of the 6T, Verizon is supported.

I'm fine with glass as long as it's tough glass. I've had a dozen drops and zero damage, and in appearance, my current glass backed phone looks better after one year than my aluminum M8 or plastic iPhone 5C did. A button calibration flaw made HTC loser of the year? For one problem? Yet, the Google Pixel had multiple problems, and Android Central held it lovingly in it's arms no matter what. Android Central treated the temporary button issue as being worse than the Note 7 exploding and burning people.

Uh, the Note7 was from 2017? Maybe that's why there was no mention? I would have placed Huawei as the biggest loser. Sure, it sold $h¡t tons, but the fact that they practically not available in North America due to a sales ban is pretty bad.

I know when the Note 7 debacle was, the point was that Android Central acted like the button flaw was worse than your phone blowing up. If you remember, there were several occasions where AC defended Samsung regarding the Note 7. AC pretty much lefts the U12+ guts strewn across the highway, then came back after the fix and said "The buttons don't suck anymore". The damage done to HTC sales by Mobile Nations was huge, and some, specifically Michael Fisher took the opportunity with glee.

Your comment only applies to the US, P20. P20 Pro and Mate 20 Pro are on all carriers in Canada, almost couldn't get one from my carrier due to how in demand the Mate 20 Pro is. Huawei has been on Canadian carriers since the P1 in 2012. Huawei is on Mexican carriers as well, the only country that doesn't have its phones may be the US.

My biggest wish for 2019:
For Motorola to license or opensource their Motomods program. They actually have some really useful attachments. If the program was opened up to more companies, then we might actually see a real modular ecosystem develop and even more specific mods be developed. Or maybe Google can purchase back the mods program and build it directly into Android.

I think the real problem behind the MotoMods is the price and the fact that they said it themselves that they will only support the design for so many years. It's kinda difficult to justify paying $300 for the phone, then pay roughly $100/mod, then one day, the new device changes design just enough that the $300-$400 in mods in your drawer no longer work.

They did not say "only" 3 years. They said AT LEAST 3 years. There is a difference and they have done as they promised.

I disagree with the in-display fingerprint scanner being a loser. Quite the contrary. Even if it's not as fast or sometimes reliable as a normal one, considering almost all OEMs were putting the normal fingerprint scanners in the stupidest of places - the back of the phone - the in-display fps is a winner. Because it made fingerprint scanners actually usable again. If anything, the loser is the facial/iris scanner which is pretty much either crap or non-existent on Android. I'd also put Honor as a winner of 2018, having increased their awareness and presence in Europe, while HMD is a loser in 2018, having only presented mostly notched abortions running the sh*ttiest version of Android available, which cost them the 5th place they had achieved in 2017 in Europe and forced them to reduce the growth forecasts. They showed they're not worthy of carrying on the Nokia brand and that their phones are not much better than any cheap chinese iClone. Privacy is also a winner in 2018, with more companies starting to be made accountable for their actions and new laws being introduced to tighten what these companies can do with the data they harvest from users.
Security on the other hand is a loser, with governments continued slowness to react with a firmer grip to the Chinese threat. America is the only Western country putting up barriers to the communist spyware distributed by Chinese companies and that endangers all Western markets. Europe in 2019 needs to wake up, stop Chinese companies from getting 5G contracts and start investigating Chinese brands operating in the continent, precisely because of the wins of Huawei and Honor. They both represent a potential threat to European security and must be investigated.

Sure, the iris scanner isn't available on every phone, but the one on my Note8 works flawlessly, 98% of the time.

I think your view on the Chinese OEM situation, or Huawei specifically is somewhat skewed, as a lot of counties work with Huawei and can check any and all of Huawei's equipment to look for any possibly malicious content or wrongdoing, this prevents the situation you're talking about, though it might not be the case with some other companies, but that is why Huawei isn't banned in the US or UK and other Western countries

Chinese threat? LOL think you mean American threat the US is the biggest threat to security, China isn't Communist to begin with also Communism is an economic ideology and is not a negative thing. I suggest you search up the definition of the term first. The US, UK and Germany have all studied Huawei equipment extensively and none found anything, Germany has already deemed Huawei safe and will continue to use Huawei for 5G, think European countries are stupid? They aren't. There is zero evidence or proof to support the US' allegations and ofc just like the trade war it's all about slowing down China's high tech growth so it doesn't challenge US domination. The US did this to Japan when the Japanese GDP was about to overtake the US' in the 80s. The US is the one with actual proven spyware, cut out all the brainwashing media hogwash and see things for what they are.

There's no real threat. It's just crap the US spins so Qualcomm doesn't have any competition. Any "threat" that Trump calls a threat, you need to take with a grain of salt anyway.

I do agree to most of the pluses and minuses given in this article.
Nevertheless, I strongly disagree on the comments regarding Wear OS.
Since the last upgrade, Wear OS became quite a nice OS to use.
I can see it on a daily basis as I use a lot more my smartwatch since the last iteration went live, and it is a pleasure to use!
Of course I wish that we could use the bezel in a similar way as on Samsung's watches, for instance, but as it is Wear OS is already good.

The battery life and lag on every WearOS watch I've tried has forced me off the platform. Went back to my Pebble for a bit now trying the amazfit bip. Battery life is unrivaled, all the fitness tracking is better, sleep tracking is actually there, always on heart monitoring really works, always on display that you can see outside, and battery life goes many weeks not hours like on wear os. There is no way to reply to notifications but it takes forever on wear os to do that anyway that you mind as well pull out your phone. There dictation is still far faster on my Pebble than wear os. That's a problem in my opinion. I really want to love wear os, but I can't. I know many of these things don't matter to a lot of people and that's fine. There are a long list of choices out there for everyone and that's great. But for me, in still in search for my Pebble replacement. Wear os and the Fitbit versa neither were it for me. If the Versa had voice reply then I would probably give it another go in a future device. I don't see how wear os can get more efficient without being a terrible laggy mess, or how it can get faster and lag free without murdering battery life further. Flicked via the BlackBerry keyboard on my Pixel 2

I think budget phones win as well. The Nokia 7.1 is an amazing device and being part of the Android One program, makes it even better. With the cost of phones increasing, this segment is where Android can shine, especially with families. Reminds me of the Axon 7 which I'm still using. The 350-500 price point is where the most competition will come from IMHO.

I agree HTC is on after burners. How in the hell can you sell a phone without getting in the hands of consumers. Those fake buttons really sucked when released. Then the 3500mamp that barely gets 3hrs SOT. They as a company are an abomination.
The in display FTS, wait till Samsung releases it, I'm sure as rain it will work flawlessly, we have waited long enough for them to perfect it!

Loser: AT&T for not taking the LG G7 and letting it be a TMo thing. Actually, loser: me for being stuck with AT&T because I can't get a TMo signal at my office, hence getting a V35 instead which I don't like as well as my old G6.

I picked up the V35 for X-mas for my son & he loves it. I paid 529.00 for it on Amazon. He likes it better than the G7 & V40. I kind of agree with him especially for what I picked it up for! It's a great performer!

Huawei killed the game this year.
Android Central Newsletter
Get the best of Android Central in in your inbox, every day!
Thank you for signing up to Android Central. You will receive a verification email shortly.
There was a problem. Please refresh the page and try again.