Samsung Galaxy Watch: Everything you need to know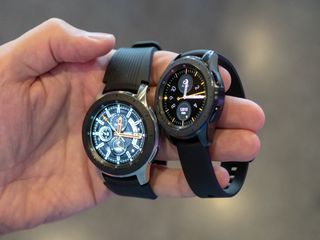 (Image credit: Android Central)
Following excellent wearables such as the Gear S3 and Gear Sport, Samsung's coming back to the smartwatch market once more with the Galaxy Watch.
The Galaxy Watch ditches the Gear branding to be more in line with Samsung's other mobile products, and while there's nothing all that revolutionary here, the Galaxy Watch is shaping up to be one heck of a gadget if you're in the market for a new wrist computer.
Here's everything you need to know!
Latest Galaxy Watch news
Galaxy Watch LTE details revealed — coming in September for $50 premium
Samsung will make LTE versions of the Galaxy Watch available in September, and they'll cost an extra $50 over the standard Bluetooth models. That means the 46mm watch will retail for $399 (opens in new tab), and the 42mm for $379 (opens in new tab). Samsung's website shows both colors of the 42mm watch, black and rose gold, to be available with LTE.
At least, that's for T-Mobile, which is the first carrier that has announced availability officially. At its Unpacked event (alongside the Galaxy Note 9), Samsung had said that all four major U.S. carriers would eventually carry the watches. Each carrier will have its own plans for the watches, which will simply be attached to your existing cellular plan as an add-on device in some way.
The T-Mobile variants of the Galaxy Watch are showing a shipment date of September 2, but Samsung has told Android Central that T-Mobile will be announcing the watch directly on August 24. Internationally, Samsung says that 30+ carriers in 15+ countries will be offering the Galaxy Watch throughout the second half of 2018. Samsung specifically listed Canada, Australia, New Zealand, China, Western Europe and the UK were among those in the early launch plans.
See at Samsung (opens in new tab)
Read our complete Galaxy Watch review
For the complete take on the new watches, you'll want to read our Galaxy Watch review. After weeks using the watch, we have a detailed take on its software, hardware, screen, rotating bezel, battery life, fitness tracking and so much more.
Once you're done with the review and ready to learn more, this page has all of the information you could ever need on the Galaxy Watch!
It's available in two sizes
For the first time, Samsung's selling the Galaxy Watch in two different sizes — including 42mm and 46mm. Seeing as how the Gear S3 was a comically large smartwatch and the Gear Sport was designed more for smaller wrists, it's nice to see that Samsung's catering to people of all wrist sizes with one product line.
No matter if you pick up the 42mm or 46mm option, you'll still get the same design, features, etc., but the 46mm model will have a much larger 472mAh battery compared to the 42mm's 270mAh unit. The screen sizes are of course different as well, at 1.3- and 1.2-inches, respectively — though they're both the same resolution, 360x360, and have the same Gorilla Glass DX+ covering.
The Galaxy Watch is packed with fitness features
Samsung's Gear products have often been focused on helping people live better lives, and although that Gear branding is no longer here, the Galaxy Watch continues that idea with a heap of fitness goodies.
You'll find all of the regular suspects here, including calorie and step tracking, reminders to move throughout the day, guided meditation sessions, and heart-rate monitoring. The Samsung Health app on the Galaxy Watch can be used to track up 40 different workouts, can automatically detect six of the most common exercises, and has a built-in GPS to keep you connected while out on a run.
Rounding all of this off, Samsung's also outfitted the Galaxy Watch with 5 ATM water resistance (including salt water), Corning Gorilla Glass DX+, and military-grade protection (specifically, MIL-STD-810G).
Tizen 4.0 is available out of the box
Despite all of the rumors claiming that the Galaxy Watch would run Wear OS, the Galaxy Watch is, in fact, powered by Samsung's own Tizen wearable platform like previous Gears. The Galaxy Watch is running Tizen OS 4.0 which is an upgrade from Tizen 3.0 that shipped on the Gear Sport last year.
The software we've seen so far looks awfully similar compared to past Tizen versions, meaning that you can control the interface using the Galaxy Watch's rotating bezel, download apps and watch faces from the Galaxy Apps Store, etc. The main difference is a slight upgrade in the fitness features, plus a few interface tweaks to make things a bit darker (saving battery) and simpler to read on a small screen.
Samsung Pay is here ... for NFC payments only
The Gear S3 did a lot of things right, one of which was its inclusion of Samsung Pay for both NFC and MST payments. Samsung Pay is making a return to the Galaxy Watch, but similar to the Gear Sport, only supports NFC transactions.
That's not uncommon for smartwatches that allow for mobile payments, but considering that MST has been such a big draw to Samsung Pay since its introduction in 2015, it is disappointing to see that it won't be coming to the Galaxy Watch.
Also, if you use the Galaxy Watch with an iOS device (aka an iPhone), you won't be able to use Samsung Pay at all.
You can get one with LTE
One feature the Galaxy Watch does keep from the Gear S3 is LTE support!
In order to get LTE on your Galaxy Watch you'll pay roughly $50 more up front, but then you'll also have to pay a monthly fee to your carrier of choice in order to keep the connection alive. Most carriers charge about $10-20 per month to add the new device, but that also includes neat features like forwarding text messages and phone calls to the watch.
You can bet that carriers will be offering discount son the watch up front in order to get you signed up for a data contract, too — so if you want to save money on the watch itself, wait a bit.
It works on Android and iOS
If you're interested in picking up the Galaxy Watch, you'll be able to use it with both Android and iOS.
As mentioned above, Samsung Pay will not work if you're using the Galaxy Watch with an iPhone.
You can buy it now!
Samsung has officially opened up sales of the Galaxy Watch! You'll pay $329 for the 42mm variant (your choice of black or rose gold) and $349 for the 46mm one (silver only). It's available from a variety of retailers, including Amazon and Samsung directly.
Update September 7, 2018: Updated with new information on the Galaxy Watch retail availability and information from our review.
Get the Android Central Newsletter
Instant access to breaking news, the hottest reviews, great deals and helpful tips.
Joe Maring was a Senior Editor for Android Central between 2017 and 2021. You can reach him on Twitter at @JoeMaring1.
I would hope that if they are branding it as a galaxy it would include Wear OS. Good to see it mentioned here.

Hopefully this watch will work for diabetics who will be getting the dexcom G6 CGM

No Wear OS, no go for me. Streamlining my digital Life so the last thing I need is an additional OS.

Are you also shifting your online paradigms? 🙄

WearOS is an additional OS. You're gaining one additional regardless.

And everywhere I read, people say Tizen is more advanced than Wear OS. Can't wait to get mine... Changing my fitbit versa for the 46mm.

As long as they continue to release Tizen based watches I will be ok.

Looks like the Gear S2 will be my last smartwatch for the foreseeable future. Cannot deal with bloated wear OS garbage

Troll? No, simply stating my opinion and comments, in the comment section

Opinions are like buttholes, we all have one 😭

It seems you are the butthole

The consensus that Wear OS is crap compared to Tizen has been widely known on here including me. I won't buy into Wear OS and it's the reason why HW is sitting catching dust.

Tough titty said the kitty.

You like looking at kitty titty?

I must have read something different. It said it was tizen OS and not bloated wear OS. What's the problem?

They just had to let everyone know that if it DID have Wear OS, they wouldn't get it.

The article states that the Galaxy Wear doesn't run Wear OS. It's Tizen 4.0. You can upgrade from the S2 if you'd like.

After owning 2 Samsung watches [the original Gear and now the Gear S3], the number one thing I know for sure about the future of Samsung watches is that I won't be spending a dime on another Samsung watch. The first 9 months to a year the watch is great. It's all downhill from there. Battery life will go from 1-2 days to my present 12 hours. Nope, back to good old Timex for me.

Don't have that issue with my Gear 3. Still ticking strong. Especially my Gear Fit 2. Never had a need to update that and currently the same for my Gear 3

Same here. My S3 is cruisin right along with 2 day life. I do have all the fitness stuff turned off though but regardless, my S3 has been awesome to use.

Battery life with on my S3 with LTE enabled was unpredictable for me. Sometimes I'd get a day other time it would last 4 hours! Also, I had a battery go bad where it would just shut off randomly. This was a warranty repair. Since I got the new battery and gave up on LTE I've been getting a couple of days! This is far better than any Android Wear watch I've tried. We'll see what they can deliver!

same my gear fit2 and gear sport are still super fast and great battery life, and the stock apps are more than enough for my needs on a tiny screen

Nothing can replace the rotating bezel. Sounds like when my S3 gives up the ghost, I'll be looking for another S3.

Why the new one has a rotating bezel

Because the Galaxy Watch doesn't have MST

I just replaced my aged Moto 360 2nd gen with a new Samsung Gear Sport, which I just love. It has great battery life, and the Tizen OS just works. No issues with missing notifications. Pairs well with my LG G6. Hope the new gear watch continues to use Tizen.

I have two Android watches in the drawer because the notifications don't work. They're there, but hidden one level down, i.e., useless. No fix after numerous reports, no bug reporting system. I bought a classic Casio and am learning to live without notifications.

Here's to hoping it run Tizen. My Gear 3 is still a solid watch and will have to weigh the options to see if worth updating. This G3 still has ALOT of life left in it.

I agree with you as to the S3's legs.

I have the S2 and it's as the day I got it

It had better be chunky and not look like any of this article's illustrations.

I am still pulling for the WearOS version. I have always liked Samsungs Gear S3 harware, but I want that with WearOS! I'll give the Galaxy Watch a look, but, it will have to WOW the hell out of me to get me to buy - which I probably won't do. I'll wait and take a look at the Pixel Watch and whatever LG has planned.

YES! I couldn't be more happy about this. Tizen is so perfect for watches

Seriously? It's major app selection is beyond pathetic.

I got what I need. I control Spotify or keep up with Uber...with their apps. I get notifications for most apps. I'm not missing much that I'd find practical on a watch. I have some installed that I don't use, like Flipboard.

Samsung be teezin about tizen and what it'll wearOS.

I have no problems with tizen. It does everything I need it to do. If the gear s4 is smaller than the gear s2 classic, then I will consider getting one for christmas.

I love that charging combo. Would free up an outlet on my night stand.

Rose gold will go well with my lilac purple S9 plus.

Owned multiple wear watches and finally jumped shipped with the gear s3 and could not believe how much better tizen was. Wear has way better app selection/support, but in the ui department and basic functionality, tizen is much better.......to me lol

Agreed, but a smartwatch with no app support is liking buying a supercar with the engine of Honda Civic...

Tizen UI is greatly superior to Wear but Samsung's software needed for your phone to communicate with the watch is terrible for none Samsung phones.
The watched worked wonderfully with my S7 but when I switched to a pixel it seemed to work ok but it seems 5 mo the ago they did updates that made it practically unusable

No MST???? NFC is not nearly as reliable and available as the MST. With no MST, I won't be buying this device. :-(

In my country Samsung Pay is larger than Apple Pay, and Google Pay has not yet been introduced. Samsung Pay with MST has made it possible to pay anywhere. Removing it seems to be a great way of stifling sales.

No support for MST means no purchase for me. I will stick with my Frontier.

No MST, no buy. I'll just keep my Gear S3 Frontier until it stops working and then just buy another Gear S3 Frontier unless Samsung releases another watch with MST.

I was salivating over the specs and everything until I read it won't have MST....I've just started using it almost everywhere and love it! Oh well....

Are the prices backwards? The smaller is more expensive then the bigger watch?

They got the price of the larger watch wrong. It's 349.99

"You'll need to pay $329.99 for the 42mm variant and $249.99 for the 46mm one." That seems wrong...

What about Samsung Pay in Canada?

Hey, good news! Now the watch with Samsung Pay and MST should drop to a price where I might consider it! Thanks, Samsung, you've made it even more possible for me to have a non-Samsung phone as my next phone!

So we can still expect the app selection to be almost non existent? How can Samsung remain this stupid for this long? Hardware, battery, and UI are great. It needs to be more than a customizable watch with a couple of smart features

Well this looks nice but since there is no Wear OS, I'll be waiting to see what the Pixel Watch is like. App selection is too dismal, plus no MST? WTF Samsung?

Nice watch. With all due respect, the watch costs more than some lower mid tier phones. I see a great product, but low sales volume. You are looking at $2k in Canada for a flagship Samsung phone and watch.

The larger version is less expensive? Seems odd.

No MST support no go. At least in the US

One more thing to note. I hope it works better for those of us with tattoo'd sleeves. I had to put tape on the back of the watch to have the always on display. Haha

No MST, no go. Guess I'll be keeping my S3 Classic!

Haaa. These watches are trash.. weak over priced and one sad ass use for a battery.. P.O.S. Lame ass watches.

Isn't Friday or any of the Madea movies on? Take a walk, junior

Shame they didn't include MST. That is my favorite thing about the S3.

I'm bummed that this doesn't have MST. I used my GearS3 for purchases, all the time. I guess I'll be saving money and keeping my GearS3 until it stops running.

"Hey, Samsung! 2014 called. They want their MST technology ba-----* Oh... you gave it back to them? .. uh... nice...."

Yeah too bad the US is stuck in 2014. NFC is practically useless where I live lol.

<a href='https://www.khojinindia.com'>can we get the confirmation day to lunch in India</a>

Does anyone know if there is any easier way to sync & manage music and especially podcasts than when the S3 first came out. I have it on pre-order but the ease of music management is sort of a deal breaker for me and I'm not convinced enough has changed. Oh, I have no interest in paying a sub for Spotify.