Android Wear software review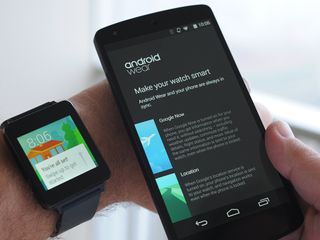 It's early days for Android on smartwatches, but despite a few teething problems, Android Wear has an abundance of potential
We have been promised a revolution in wearable computing for at least the past couple years. Early entrants like the Pebble and the Samsung Gear series — along with a handful of other, lesser-known offerings — gave us a peek at a connected future in which we're free from the burden of constant smartphone checking. In this new mobile world, wearable computers would funnel relevant, context-sensitive alerts to us through devices worn on our bodies.
The wearable revolution promised to wean us off the need to constantly check our smartphones ... even if it meant we're only glancing down at another, smaller device on our wrist instead.
Android Wear is Google's first real foray into this new frontier of wearable devices, making its debut on new smartwatches from LG and Samsung, with more following from Motorola and others later in the year. These products have been a long time coming, and they arrive at a time when Pebble has already proved the viability of smartwatches as a product category, but the long-awaited Apple iWatch has yet to materialize.
So after what seems like an eternity, does Android Wear represent the dawn of the mainstream smartwatch era? Read on to find out as we take a deeper look at the software side of Android Wear.
About this review
We're publishing this review two weeks after the first Android Wear hardware became available to Google I/O attendees. I (Alex Dobie) have been using a UK retail G Watch for around a week at the time of writing. Phil Nickinson and Jerry Hildenbrand have been using the LG G Watch and Samsung Gear Live respectively since I/O. This review is based on the impressions from all three of us.
For the purposes of this review, we're looking at the initial release of Android Wear — Android 4.4W, build KMV78V — as it runs on the G Watch and Gear Live. Some Gear Live watches have since received an update to a newer build, KMV78X, however this update hasn't hit all devices yet, and it's unclear what's new in it at the time of writing.
The first circular Android Wear watch, the Moto 360, is expected to launch later this summer, and we'll have more to say once we get our hands on that device.
The basics
Before we get into the review proper, let's take a step back and look at what the Android Wear platform actually is.
Android Wear is an offshoot of Google's mobile OS, a new branch of Android (Android 4.4W, specifically) designed to run on low-powered wearable devices like smartwatches. Just like the Pebble or Gear 2 line, wearables running Android Wear connect to an Android (4.3 Jelly Bean or higher) handset over a Bluetooth connection, allowing notifications from the phone to be displayed on the watch.
But Android Wear is much more than just a mirror for your phone's notification tray. For the most part, it's a full version of the Android OS, which means the watch itself can run specially-designed apps. The normal way to get apps onto your wrist is by downloading them from Google Play on your phone, after which the Android Wear component is synced with the watch over Bluetooth.
The top-level screen shows you pending notifications from apps on your phone, as well as alerts from apps that live directly on the watch. And as on-screen keyboards on a tiny watch display aren't exactly ideal, most text entry tasks are handled through Google's voice recognition service.
Unlike Android phones and tablets, Google controls the entire software experience on all Android Wear devices, so you won't find any manufacturer customizations on your watch besides a handful of apps and watch faces. Software updates, too, come directly from Google, as they do on Nexus and Google Play edition devices. The hardware may differ, but the software is a singular "pure Google" experience.
More: Everything you need to know about Android Wear
Android Wear initial setup
For what's still a very new category of device, Google has done a great job smoothing out the process of getting your Android Wear smartwatch up and running. After first powering on the watch you'll be directed to download the Android Wear app for your phone, and that app will in turn walk you through the Bluetooth pairing process. From there you'll be given a quick tour of the Android Wear app, the phone-based controller for your wearable that lets you manage apps and preferences. We've reset our devices a handful of times in the past few days, and we've yet to run into trouble getting them set up again from scratch.
Once you're done, a brief tutorial on the watch will make sure you're acquainted with all the various gestures for waking the gadget, putting it back into low-power mode, and working your way through the different types of on-screen cards you'll come across.
While the pairing process itself is as easy as we could've hoped, it's worth noting that you can't have one watch paired to multiple phones as you can with the Pebble. (For reasons that become obvious when you consider that the watch apps are pulled from applications on the phone.) In fact, if you want to pair your watch with a different handset you'll need to perform a factory reset and go through the initial setup all over again. That might seem a drastic step, but the setup process itself is relatively painless, taking just a minute or two to complete.
If you plan on rocking multiple Android Wear devices with a single phone, however, you shouldn't run into any problems.
And of course it is Android Wear, and as such these watches only work with Android phones and tablets. At the recent Google I/O developer conference there was no indication of any plans to make these wearables work with iOS or any other platform. Given the way Android Wear works at the software level, we're not holding our breath for iOS support anytime soon.
More: How to set up your Android Wear watch
Getting around Android Wear
The Android Wear UI is all about cards and swipes, and if you're familiar with Google Now — Google's predictive search feature — you'll be right at home with the early Android Wear watches. Cards are used to represent notifications or apps, and you can scroll through them by swiping up or down. Swiping left will let you view more information on a card, or act on its contents — for example, by replying to a text message using voice controls. Swiping right will dismiss an app or notification, just like tossing away a card in Google Now.
The main watch face is displayed at the top of all your cards, and there are a few digital and analog options to choose from, with a varying amount of space down below to let you peek at the top card in the stack. For the most part, though, these initial watch faces aren't all that inspiring.
Swiping down from the watch face lets you see the current date and battery level, and activate the mute control, which stops the watch from buzzing you with notifications while it's active. (Swipe down again to turn the mute function off.)
As you might expect, Google search and voice actions are a huge part of the Android Wear experience. Say "OK, Google" at any time while the watch is awake and voice search will spring into action, allowing you to search the web or perform certain tasks on the watch. For instance, you can set alarms, reminders, send text messages or navigate to a certain place using Google Maps.
For the most part, commanding Android Wear with your voice works pretty well, particularly when it comes to launching apps or placing calls. But message transcription itself can be hit and miss at times, which is frustrating when there's no alternative input method. (Ironically, one phrase Google's voice transcription seems to struggle with, at least in UK English, is "G Watch.")
Alternatively you can tap on the main watch face to bring up the speech menu directly. From there, you can swipe down to view a full list of commands and pick one without speaking, but it's clear voice control is how Google expects most users to communicate with their watches. That's a good thing and a bad thing. For the most part, Android Wear does a decent job of working out what we want to do, but you're still going to look and feel like an idiot (or perhaps a super-awesome, leather-clad, 1980s young loner on a crusade to champion the cause of the innocent, the helpless, the powerless, in a world of criminals who operate above the law) talking into your watch in public.
What's more, the non-voice options just aren't that convenient to get to. The menu for launching apps is at least four taps away at any given time. And the Settings menu is similarly buried, making it difficult to reach the important brightness level controls. (Bafflingly, there's no ambient light sensor and thus no auto-brightness option on the Gear Live or G Watch.)
The ability to run apps is a core feature of Android Wear, yet it's a capability that's oddly obfuscated unless you're the sort of person who's inclined to talk to your electronics. This presents a problem for developers as well as users — why bother taking the time to create an all-singing, all-dancing watch app if it's out of sight most of the time? At least the top-level cards are relatively quick and easy to navigate, but we'd really like to see more prominence given to the menu of on-watch apps. After all, this is a big part of what sets Android Wear apart from rival platforms.
On the other hand, perhaps this really is what Google intends, with the watch truly serving as an accessory, accompanying and augmenting the app experience. It's likely how normal consumers will see such a device, and it's something those of us who live and breathe Android will have to remember.
Though the Android Wear UI can seem like a maze of swipes to begin with, with time you'll begin to build a mental map of where everything lives within the software, and as we've said, the setup process does a good job of explaining how the various swipe gestures work. But there's some work to be done in making certain stuff easier to get to. Making users navigate through multiple layers of menus just to change a simple setting or launch an app just seems like bad design.
Android Wear smartwatches are touted as "always on" gadgets, but the display isn't fully lit-up all of the time. When it's idle, it switches to a low-power "always on" mode, which displays a basic monochrome outline of your chosen watchface, including any space for the first notification card. To preserve battery power, it also dials back the display brightness considerably, to the point where it's almost illegible in brighter light.
There are a couple of ways to fully wake up the display. The first, which is also the simplest and most reliable, is to simply tap the screen. Android Wear's motion sensors can also detect when you lift your arm up to look at the watch, and it'll light up the display when you do this too. The only problem is the position at which this activates is hit and miss. Sometimes it activates too quickly. Other times you're shaking your arm and finally just tap the display.
Android Wear watches will automatically switch back to the "always on" display mode after a few seconds; to make the transition manually, you can cover the screen with your palm. It can seem like an odd motion at first, but it works reliably, and it feels like a natural way to put the device into sleep mode. (We've gotten it to work just fine with a single finger as well.)
The Android Wear app
While you can run apps directly on Android Wear smartwatches, much of the heavy lifting is done by your phone through the phone-based Android Wear companion app.
Like Android on a phone or tablet, Android Wear is set up to allow you to use different apps to perform various tasks. That's why at startup you're presented with a choice of apps for use with the smartwatch's voice controls, such as "Set an alarm" or "Call a taxi." If there's more than one app available to perform a task — which is the case with heart rate-monitoring and the stopwatch on the Samsung Gear Live — this is where you can pick which one you want to use.
Right now, only a week or so after launch, there aren't too many choices available. But expect this menu to become increasingly important as more third-party Android Wear apps get out there. (And there's a big link to "Browse compatible apps," which sends you to a list showing the 30 or so Google-curated, Wear-enabled apps currently on the Play Store.)
The in-app Settings menu lets you mute notifications from specific apps, but only one at a time. And as we'll discuss in the next section, you can't filter notifications from apps based on specific criteria — it's either on or off for each app.
Other options include the ability to toggle the "always on" screen mode, hide the small card preview when the screen is dimmed and silence the phone when the watch is connected.
And that's basically it. There's no menu for loading individual apps onto the watch, as watch apps are designed to be pushed across automatically once the phone counterpart is installed. For the most part that's a good thing. While power users may crave more control over exactly what's on their devices, the way Wear currently works allows for a seamless app experience across watch and phone.
Other settings, like brightness, airplane mode and the various developer options, can be found in the Settings app on the watch.
Notification wrangling
Notifications on your wrist are to smartwatches what email in your pocket was to early smartphones. Being able to look down and act on an email, text or social update without pulling your phone out is what makes smartwatches genuinely useful, and not just a novelty.
For the most part, Android Wear's notification support is solid. It links into Android's notification listener system to show details of notifications in your watch, represented in Google's trademark card layout. Most notifications will buzz your wrist and pull the watch out of its "always on" screen mode, allowing you to instantly see the contents of the notification. Messages take on a little visual flair too, incorporating parts of the app or contact's icon behind the card for quick recognition. For other alerts like calendar notifications and weather, more generic background art is used.
Most Android apps will just work with Android Wear, showing you on your wrist exactly what you'd see on your phone or tablet, accompanied by a gentle buzz. If nothing else, they'll give you the option to open the app on your phone. Apps properly optimized for Android Wear, however, can also show additional options. For example, in Google Hangouts, you can reply to messages using voice input, and in Gmail you an archive unimportant mail directly on the watch.
But there's no way to bring back a card you might've accidentally dismissed, nor is there a Pebble-style notification history menu to look up earlier alerts. And as swiping away a notification on the watch also dismisses it on the phone, you'll need to be careful with your frequent swiping. Android Wear is a powerful tool for quickly dispensing with the barrage of notifications you may be faced with throughout the day, but with that power, as they say, comes responsibility.
And there are a few other niggles which make Android Wear's notification management less than perfect. In Gmail there's no way to tell which account a message has been sent to if you have multiple Google accounts. And it's not possible to swipe away individual emails that are clustered together on the watch's display — it's all or nothing.
There's also the problem of controlling which notifications are sent to your watch. Most of the Android Central editors receive tons of emails and other notifications every day, some of them more important than others. And while you can stop certain apps from sending notifications to your watch, it'd be nice to see more granular control over which messages are allowed to buzz your wrist. An email from a friend or family member, for example, should be given more prominence than a random press release.
You might argue, however, that that's where quick, glanceable notifications come in. It's much faster to deal with unimportant messages on a watch than a phone, so you're saving time either way. Nevertheless, lots of email notifications will quickly clutter up a smartwatch's tiny display.
Android Wear apps and features
Out of the box, Android Wear's selection of apps is rather spartan. Staple apps and cards include:
Agenda: Tracks your Google Calendar appointments on your wrist.
Compass: A self-explanatory app, based around the watch's internal digital compass.
Fit: Tracks your steps taken each day, and heart rate readings on devices that support it.
World Clock: Creates a card showing you the time in one or more cities around the world, useful if you're traveling overseas.
Maps: Activated with the "navigate to..." keywords, this brings up driving directions on the watch and phone. You can bring up walking directions too, however to get these you'll need to start the navigation from your phone and specifically select this option.
Others, including Google's own Keep app, can be downloaded from Google Play.
As with any new platform, it'll take time and development hours to flesh out Android Wear's app portfolio. Right now, the 30 or so apps out there already cover a wide range of functionality — from viewing boarding passes in the American Airlines and Delta apps, to arranging a taxi ride through Lyft, to following recipes on your wrist with the Allthecooks recipes app. The out-of-box experience may be centered on notifications, but it's third-party developers who'll provide the real killer apps for Android Wear in the months ahead.
Google Now
There was no way it wasn't going to happen. Google Now on a smartwatch made too much sense to not be realized through Android Wear. You won't be able to see every Google Now card on your wrist — and that's not necessarily a bad thing — but important updates such as weather cards and transit directions will follow you around.
On the other hand, you might also find yourself continuously swiping away Google Now cards that don't really matter to you. We figure that'll get smarter over time.
Like its smartphone counterpart, the usefulness of Google Now on a smartwatch is going to depend on where you live and how many Google services you use. But expect more Google Now functionality to be rolled into Android Wear as the predictive search app continues to grow.
Step tracking
The built-in Fit app lets you track your steps and view historic step data over time, along with your heart rate if you're using a watch that supports it. The Fit app allows you to adjust your daily step goal and receive a congratulatory card when you hit that target.
The app is part of the Google Fit Platform, which isn't widely available at present, and as such if you factory reset your watch then your step data disappears into oblivion.
And unfortunately we've also noticed that the current crop of Android Wear devices seem to overestimate the number of steps taken compared to the pedometer sensors in other smartwatches and wearables.
More: Tracking your steps with Android Wear
Music controls
Google Play Music and some other music apps bring album art and song details to your wrist, along with swipeable controls for pause/play and forwards/backwards track controls. No volume controls or advanced playlist views, though.
The bottom line
While its potential is plain to see, it's still early days for Android Wear and wearable computing as a whole. At present this is clearly a version 1.0 OS running on version 1.0 hardware — the current crop of Android-powered watches are comparable to early phones like the T-Mobile G1 and OG Motorola Droid. Most of what's there works, but they're products that run up against the technological limitations of the time, as well as an OS that's still adapting to a new form factor.
In many ways it's a stark contrast to the mature Android experience we see on phones and tablets today.
Generally speaking, Google's wrist-based notification experience is well done, but there are issues to work out elsewhere, and plenty of room for improvement across the board. On-watch apps are tricky to reach without using voice actions. As power users we'd like to have seen some finer control over the types of notifications that are displayed, and an easy way to review dismissed cards. And the angle of activation for waking the screen could use some adjustment too. These are the kinds of refinements we're hoping to see from future versions of Android Wear. It's not necessarily the end of the world that they're absent from the initial release, though it bears mentioning all the same.
As imperfect as the current Android Wear software is, the launch hardware is perhaps the greater problem. Both the LG G Watch and Samsung Gear Live use displays which are, for all intents and purposes, useless in direct sunlight. You'll need to crank the brightness all the way up to see anything at all in bright conditions, and this is made all the more frustrating by the lack of ambient light sensors in the current Android Wear hardware, which means there's no auto-brightness option. Instead you've got to go through five layers of menus to change the brightness level each time you go outside, and that's not just a good user experience.
There've been complaints about Android Wear's battery life too, especially compared to the Pebble, which can last up to five days per charge. Personally, I can live with the battery performance I'm getting out of the LG G Watch — one day with relative ease, two days max — but to me the display issue is almost a deal-breaker, and it's going to take more advanced smartwatch displays or batteries to change that.
On top of that, Samsung and LG's hardware designs are, to put it mildly, basic and utilitarian. Perhaps the more lustworthy Moto 360 — the Android smartwatch that's turned the most heads so far — will spice things up a bit. As we've said in our reviews, there's little sex appeal to be found on the hardware side.
We may finally be reaching the dawn of the smartwatch era, but at present, Android Wear watches are niche products for early adopters — ultra-connected enthusiasts who want an early look at where this technology is headed. As such, those hoping for a quantum leap ahead of the existing Pebble and Gear devices may be disappointed. Right now Android Wear seems more like a baby step beyond those devices, and it'll take advancements in hardware and software before Android becomes as universal on wrists as it is in pockets.
Regardless, the potential of Android Wear and the apps it'll enable is plain to see, and we'll be watching both with interest in the months ahead.
Read more: LG G Watch review, Samsung Gear Live review, Moto 360 hands-on
Alex was with Android Central for over a decade, producing written and video content for the site, and served as global Executive Editor from 2016 to 2022.
LOL, the pics don't match up as far as the time goes. Minor insignificant issue. I can not wait to hear more about the wear gear going forward. A comparison between the Neo2 and the Gear2 would be nice. I am on the edge and almost ready to jump into buying one. Thanks, Keep up the great work.

Come on devs! I need a port for my Gear 1.

Not gonna happen with that camera...

Had a Gear 1 also, but got Moto 360 instead now, sucks to by 2 in one year but oh well.

while i understand that you can only have your watch paired to one phone, you should at least have the ability to pair it to a tablet as well, yeah yeah i know it's considered a mobile, but IMO it's not, though some have cellular radio's yes, but one phone and tablets would be idea, and to take that further even be able to pair to your chromebook, that way you can choose to open to lets say another device, instead on just one freaking phone and that's it, why shouldn't we be able to open to a chromebook to view something larger then our phones, granted most our phones are huge, lol.

I think this makes some sense, it'd even open up the market on AW for people that have Android tablets but not phones...

Android wear should be compatible with iOS. Google is a software company and cares about getting their product in the most hands possible. Leaving iOS out defeats this purpose. Google glass supports iOS and so should Android Wear. I have an iPhone 5s and a Nexus 5 and my Samsung gear live is useless when I'm using my iPhone. Even if it's only minimal support (ie Google Now but no extra app tie ins) that would be better than no support at all. Pebble is able to support Android and iOS, so should Android wear.

I am sure the iWatch will support Android, Windows Phone, and BlackBerry 10. Ha. To me - this is why Pebble is still a viable smartwatch choice along with battery life and screen visibility in all environments.

Pebble is good, but its same as dead because of Android wear
You see what everyone is missing is marketing and developer support. Even though Lg G watch or Gear live lasts only a day and that screen is unreadable in sunlight, these devices are SOON going to be sold along with a G3 and an S5 for FREE.
Pebble cant afford to do that, moreover both Samsung and LG has wider reach in world markets, Pebble cant compete with that. When more users join , developers follow, that's what happened with original android and I am sure the same will happen with Wear. The only option with pebble is to get acquired by Microsoft/Google or it will remain a Niche albeit good product.

I have the G Watch - the screen is unreadable in sunlight. I am sorry but that is a real problem. Overall - I like the simple design and it is very comfortable.

I am pretty sure there will eventually be an iOS app. But it's pretty clear that Android Wear is still in a fairly early development state, which is why Android is the only option today.

This may partially be on Apple, as well. They're under no obligation to make it easy for Android Wear to pull information from iOS apps, or to allow an AW app in the App Store. With their own wearable almost certainly coming, they may have a vested interest in not allowing AW to work well with iOS. But if AW devices sell well and Google thinks there's money (and data mining) to be had from iOS users, they'll probably push for some kind of iOS support.

I am sure google would love to get as many AW devices into the hands of as many people worldwide as they possibly can. Apple would love to limit their customer's choices to just one, the iWatch. What would be most interesting, is if Apple tries to get some Android phone users to buy an iWatch by providing compatibility to Android. They would have little to lose (the software is written), and hundreds of millions Android users to possibly gain and sell a watch to. But they are apple and will sell it for some outrageous price anyway... so I (likely) won't be buying one even if it did happen. I am not an apple fan, but so far I am not interested in any AW devices released yet, especially if unreadable outside. So I am hoping some hardware company (even Apple) gets something readable and with good battery life. There's no point to a smart watch you can't read. Someone has to get the hardware that is actually suited to the application before smart watches are ready for prime time. But the AW software seems good enough, but not quite what it will soon be after the inevitable string of updates that'll roll out over the next year (thanks for the great review Alex). For right now, I'll wait and see what happens on the hardware front.

How quickly we forget that it took 8 months before MyGlass was available on iOS. Patience - Google definitely wants MyWear on iOS, so I wouldn't be pointing the fingers in their direction.

There are many reasons why AW would have a hard time working on other operating systems. First of all, the Android Wear apps are part of the Android apps. The apps are installed on the phone. This means that in reality only Android applications would work... unless Google duplicates the entire code that communicates between Wear and iOS. And because of really big technical differences (iOS doesn't support intents, for example), I cannot see a iOS compatible AW device anytime soon, if ever. I'm sure Apple also wouldn't allow it :)

The problem with this is that Android Wear most likely cannot tie into the notifications on iOS because of limitations within iOS itself. Android specifically implemented a "Notification Listener" service in 4.4 just for this sort of thing. Without something similar on iOS, displaying notifications from all apps on a device is going to be literally impossible on iOS.

I also have noticed that the my LG G Watch overestimates the steps i have taken compared to my fitbit zip clipped to my belt loop...by as much as 1500 steps compared over the last few days. This must be software and expect it to be fixed soon.

I think it's hard for a wrist-based wearable to tell the difference between the swinging motion of an arm during a step and other arm movements. My Fitbit recorded 30 steps while I was shoveling snacks into my fat face the other day.

Because humans tend to move their hands and arms around while they're sitting too. No way around that I'm afraid. Wrist just isn't a great place for step counting. Hip is probably the best.

Ya thats why I'm going to keep my fitbit on for now. i will continue to monitor the differences.

Yeah I don't think it's so much software as an inherent weakness of wrist mounted trackers, I'm sure it can be tweaked to an extent but they probably prefer false positives over uncounted steps. I always found it odd that the trend of fitness trackers kept moving more and more towards wrist devices for this reason... Familiarity/convenience over effectiveness seemed odd for something that's supposed to track your own effectiveness. It's hard to draw any over arching conclusions without some in depth comparisons though... Fitbit Zip clipped to your waist vs one of the Fitbit bands would be interesting, and/or AW on your wrist vs a phone with step tracking in your pocket. You could use a GPS based app as a baseline to make it a more controlled test... Maybe something for an AC writer to tackle? My Fitbit Zip clipped to my pocket seems pretty accurate but I only wear it when I go run for exercise along pre planned routes so if it's of by a tenth of a mile it's no biggie.

I love my gear live but I'm sending it back. After a week of use, I'm getting bad battery life. On days I dont work which were three, the battery life is fine. However, on days that I work the watch is dead within six hours. I have tested this the last two days. I have brightness on lv. 1 and screen off. I don't know if its the type of work I do which kills it. I work at a retail warehouse(backroom) so I'm moving alot and listening to music. I can't think this use really kills the watch so fast. I love android wear as an OS and have no doubt it will get better. At this time however if it can't even get me though the work day then its not for me sadly. Going back to my pebble
Posted via Android Central App

Personally Android Wear just isn't ready yet. Even the 360 will not save the beta like software inside. I'm gonna wait until Google actually makes this more purposeful to use other than gimmicks. Or maybe Apple will show how it's done better to make Google keep up. Posted via Android Central App

I can't wait for Apple to release their device so that Google and Apple can start stealing features from each other like they do with phones. Then we can all bitch and moan about who stole what from whom, but it'll lead to way better devices for all of us.

True. Also, once people start using these, the dev's at places like XDA will start coming up with cool ideas. Those kinds of things often get ported into Android, eventually. The whole "swipe to dismiss" notifications is thanks to CyanogenMOD. Many thousands of minds are always better at coming up with ideas than a team of ~50.

That's really all these current crop of smart watches have, potential. You have to start somewhere. However, they are not fully baked, and will have to be a lot better before my dollars go here. They should start with battery life. The LG G Watch and Samsung Gear Live have terrible battery life. As far as any upcoming iWatch, I really don't see it being any better, and perhaps worse.

I would love the LG G Watch. I have a smaller wrist and would, for comfort, find a band that would fit me better. also the ability to change bands is great as to change them to fit into my wardrobe.

Jerry replied to several comments saying the step counter was very accurate, and it wasn't just counting the motion of his arms. In this review you stated it is not very accurate. Are you guys undecided on this point?

No offense to Jerry, but isn't he in a wheelchair most of the time? Maybe his wife has been using it, I dunno.. I'm sorry if I offended you Jerry, just wondered... anyway, I really don't see how counting steps is an important feature of a watch. If it can be disabled, I'm gonna do just that on my Moto360 - just to save battery.

I think that was his point. he's in a wheelchair and it hasn't counted hardly any steps taken for him. I don't think the basic step counter built into it is all that useful, but using the APi to tie into more robust fitness apps would be.

I think it might be a little aggressive on the momentum. I can walk, stop, and watch it count another step or two.

Correct. I'm not saying it is accurate (that's pretty difficult for me to determine) but my fitbit counts steps while I use my arms to propel my chair, and the Gear Live doesn't. I think there is more than arm-motion involved. Maybe they can tap the Hall sensor to get a more accurate position or something.

Ugly watch faces.
No go until Moto 360.

The biggest oversight seems to be lack of autobrightness. Do they really expect people to navigate 5 menus deep every time they go outside or come inside? Or do they expect people to just keep the watches blindingly bright indoors? Or do they expect people to just not use the watch outside? The worst part is, I don't think the Moto 360 will have an ambient light sensor either. I don't see anywhere they could fit it.

I'm not sure where this "5 menus deep"to adjust brightness is coming from. On the Gear Live, if you hold the side button for a second the very first item on the list is "Adjust brightness". Takes all of 1-2 seconds to change.

me either. But, i agree with them that the lack of an ambient light sensor is astonishing.

Ambient light sensors on phones are often lousy anyway, phone's always too bright in places like the theater and the sensor tends to turn off the screen when you're tapping it while on a call... All three of my HTC phones and my current LG had those weaknesses anyway. I'd much rather have a button on the side that can directly control brightness, like instead of a minutes/hours hands on analog watch you just turn for brightness and/or [insert another clever idea here].

It has been the software that is lousy, and the polling rate more so than the sensor I think. In Android L the adaptive auto brightness is working really well.

Not holding my breath for that, but I'll be pleasantly surprised if I see a change on my Nexus 5. I'm really fine with it in most cases, it just never seems to go to the lowest dimming in absolute darkness but that may be by design.

The brightness control as-is, is pretty easy. A quick swipe up or down changes it immediately.

Sad that you forgot the Sony Smartwatch series, the latest one is actually quite good, the previous Smartwatch was just ok as a proof of concept.

It would be nice if watch had a SIM card and somehow it was linked to your phone. This way you can use one or another. Go to gym, ski, bike, leave it at your desk or whatever and you dont need to bring your phone with you everywhere u go

It would be nice if LG would update their unlocked phones... so that some of us can use the watch..... Posted via Android Central App

Some of the smartwatches in the post are really wonderfully good-looking, especially the one on the HTC M8.

hey there! this is my first post on Android forum. Can someone tell how to make 10 post? I would love the LG G Watch to get it on christmas this year.
Android Central Newsletter
Get the best of Android Central in in your inbox, every day!
Thank you for signing up to Android Central. You will receive a verification email shortly.
There was a problem. Please refresh the page and try again.