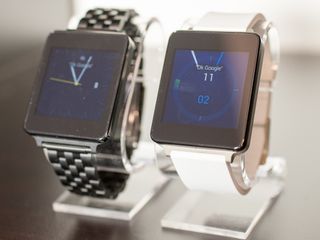 It's not at all flashy, but LG's first entry for Android Wear ends up being a solid buy
There's an argument to be made — and this isn't a hard one to make — that the watch isn't the most important part of Android Wear, Google's Android offshoot meant for the wearables space. Instead, it's the software – the simplified user interface running atop a full build of Android — that makes Android Wear so important. Anything else is just a delivery system.
All that is true and epitomized by the LG G Watch, one of first hardware offerings in the Android Wear space. It's a simple device, but a good platform on which to become acquainted with Android Wear.
We've given the LG G Watch a thorough break-in. Is it the right Android Wear watch for you? Let's discuss.
About this review
We've been using the LG G Watch — FCC ID ZNFW100 for those of you who like to poke around those places — as distributed at Google I/O in late June, and at a small press event accompanying it. We've also since received retail models, with no perceivable differences between them.
We've got just shy of two solid weeks of use under our belts — on our wrists, actually — plenty of time to form some full opinions of the LG G Watch.
Check out our Samsung Gear Live review
The LG G Watch is but one half of the initial wave of Android Wear watches. For more, be sure to read our complete Samsung Gear Live review.
The LG G Watch video review
The LG G Watch hardware
Even in the era of Android-on-a-stick and Google Glass, it's still pretty impressive to see just how small a package full builds of Android can fit into. The G Watch is another example of that, at about 1.8 inches tall, 1.5 inches wide and 0.39 inches thick. It's a rather unassuming slab of a watch, definitely not destined to win any design awards, but maybe that's the point.
Put simply, the LG G Watch is a vessel for Android Wear. No more, no less.
Other hardware points of interest:
Swipe to scroll horizontally
Category
Features
Display
1.65-inch IPS LCD display (280x280 resolution for 240 pixels per inch)
OS
Android Wear
Processor
Snapdragon 400 at 1.2 GHz
Google Services
Google Now, Google Voice, Google Maps & Navigation, Gmail, Hangouts
Additional Features
Notification (SMS, E-mail, etc.)
IP67 Dust and Water Resistant
Changeable Strap
Color Options
Black or white
Connectivity
Bluetooth® v4.0 LE
Sensor
Accelerometer, Gyroscope, Compass
RAM
512MB
Storage
4GB Internal Memory
Dimension /Weight
37.9 X 46.5 X 9.95 mm/63g
Battery
Standard Battery, Li-Polymer 400mAh
The LG G Watch display
The display is probably the most important part of any device, wearable or otherwise. At 1.65 inches diagonal and a 280x280 resolution, there's not a whole lot to be said here. You get full color as you'd expect, but pixels are evident. If you just have to have something with a higher density, the 320x320 Samsung Gear Live is your best bet. But in day-to-day use, we've not really been bothered by the resolution. Sometimes you'll notice, sometimes you won't. It has as much to do with what's on the screen — full color versus monochrome, the intricacy of the image, etc. — as anything else. And it's arguable that display quality matters less on a device that's more about notifications and less about content consumption — just as long as you can see it.
Android Wear has has three display modes — full "on," which works as you'd expect with full color; dimmed; and a monochrome "always on" display that shows the time in whatever watch face you have selected, as well as a mini view of whatever the top-most card is. (It's using the Android Daydream feature to do this, one of the many cool ways in which traditional Android features have been adopted for Wear use.) You can force the darkened "always on" display at any time by placing your hand over the display. (We're not sure if it's placebo, but that trigger seems to be less sensitive after a pre-release software update. You'll get the hang of it, though.)
And, yes, the G Watch display is all but unusable outdoors, a problem that plagues smartphones less these days. (Figure the G Watch display doesn't have as much power being pumped to it as smartphones, which have batteries with 10 times more capacity.) You'll find yourself twisting your wrist to try to get a glimpse of the time, or ducking into a shadow to take a look at an incoming notification. It makes a strong argument for smartwatches with alternative displays, like the E-Paper used by Pebble.
While you can directly control the brightness through the Settings menu (max brightness is a necessity for outdoor use, for what it's worth), there's no ambient light sensor on the watchface, and as such no auto-brightness option. All of which compounds the G Watch's display visibility issues, as you're forced to manually switch brightness modes when moving indoors or outdoors.
The rest of the watch
The back of the G Watch is pretty unassuming. This is where you'll find the only curves on the otherwise blocky watch, where the sides mold into the back. This is where you'll find the five contacts for the charging dock, with a reset button just above them. Exposed screws and FCC information finish things up.
The G Watch ships with a traditional rubber strap that's perfectly functional but not all that stylish. You can get replacement straps easily enough. The G Watch takes the standard 22mm variety, and the design of the watch means most any strap will work and look pretty good. (Unlike the Samsung Gear Live, which struggles a little thanks to a more custom design.) If you've never swapped out a watch strap before, it's a pretty easy affair, but we do recommend shelling out a couple extra dollars for a spring bar tool set, as well as a tool to help with removing links for a proper fit. (We've been using this spring bar tool, and this links removal tool
By the way: The G Watch comes out of the box with a bit of protective plastic around the edges. Be sure to peel it all off.
The G Watch charging dock
The G Watch charges via a custom dock, powered by a standard microUSB cable. It's magnetized, helping keep the watch in place, and charging with a links band on the watch hasn't been an issue. Yes, it's another annoyingly proprietary smartwatch charging cradle, but at least it works well enough.
A couple extra points about the charging dock:
The G Watch doesn't have any buttons. You can place it in the dock to turn it on, or press and hold the reset button.
Place the watch in the dock, and plug the dock into a computer to do all the same hackery you can do with a phone. That is, work with it over ADB and fastboot (and, yes, that means unlocking the bootloader and flashing a rooted boot image if you want), and sideload apps at will. (Just remember that while Android Wear is Android, it's not full full Android, so don't be surprised when a sideloaded Flappy Bird doesn't work.)
The charging dock has a tacky rubber foot on the bottom, protected by a piece of plastic. We've left that protective plastic on because we're leaving the dock in our gear bag. You can't yet buy a spare charger, so this one comes with us between home and the office.
LG G Watch battery life
Remember, the G Watch has a full-color IPS LCD display and only a 400 mAh battery, so we have to manage our expectations here. "Normal" use is going to vary depending on a number of factors — display brightness, the watch face you're using, how many notifications you're getting, and whether you've got the watch vibrations muted. We've just been letting the watch do its thing, running from about 8 a.m. to 9 or 10 p.m.
The result? We're usually down to somewhere around 40 percent battery by the end of the day. The first week we got less use, but a pre-release update seems to have improved battery life a bit. It's possible that's just a placebo effect, or a difference in the watch face we're using. But either way, don't expect to get anything more than a day-and-a-half use out of the G Watch. For all intents and purposes, you'll probably be charging every night. We'd worry less about that if we had a spare charger. But for now, you'll need to plan ahead a bit.
Other LG G Watch odds and ends
There's a pinhole microphone on the bottom edge of the watch that's used for voice commands. As it stands today, you won't be making calls from the watch.
There's no speaker for audio, though, so we wouldn't expect to see voice support in this model, obviously.
There's also no way to load up the watch with music and have it serve to a Bluetooth headset or anything.
We'd prefer for the vibration motor to be a little more powerful on notifications, but there's got to be a trade-off with battery life there.
You can wear it in the shower and watch the water active the screen. It's not magic, but it's still fun.
The bottom line
Image 1 of 14
There are a couple ways of looking at the LG G Watch, and Android Wear devices in general at this point. One is as a full-fledged Android device. The other is as a vehicle for delivering notifications to your wrist, with some (but limited) functionality beyond that. Both are right, but it's fairly clear at least at the outset that Google's leaning toward the latter.
We said at the beginning of this review that the G Watch could be considered merely a display for Android Wear, and that's pretty much the experience we've gotten. Does it set the bar for Android Wear devices? Not so much. Both the Samsung Gear Live and the upcoming Moto 360 are more stylish, and add a little extra functionality. But the G Watch does provide a pretty standard Android Wear experience, with a little more room for customization than the Gear Live — the more basic design allows for better integration of custom straps.
The price ($229 at the time of this writing) may be a bit lofty for some for what very much is a first-generation product. But if you're looking to get into Android Wear — looking to experience notifications, basic apps and interaction on your wrist, the LG G Watch is a simple and effective way to do so.
LG G Watch availability
In the U.S., the LG G Watch is available from Google Play. From July 11 it'll be available to purchase from AT&T, too, and it'll show up at other retailers as well.
In the UK it's available from Google Play, Amazon.co.uk and other independent retailers, priced between £160 and 170. Three UK also offers a discount on the G Watch when purchased with an LG G3, letting buyers pick one up for £99.
Get the Android Central Newsletter
Instant access to breaking news, the hottest reviews, great deals and helpful tips.