Android Pay in the UK: Everything you need to know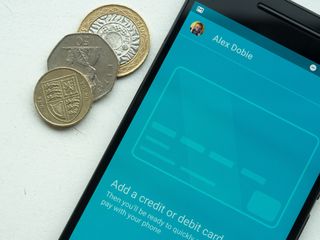 Android Pay is Google's mobile payments service, and it's now live in the UK. Much like Apple Pay, this means that if you have a supported handset and your bank allows it, you can securely pay for things in the real world without fumbling around for cards or cash.
Where can I use Android Pay in the UK?
Because the underlying technology is so similar, Android Pay should work anywhere contactless credit and debit cards are supported. That includes many of the big supermarkets and coffee shop chains, and the London Underground.
Is Android Pay the same as Samsung Pay?
No. Samsung Pay is Samsung's own payment service which uses slightly different technology, allowing it to work regardless of whether a contactless terminal is present. When Samsung Pay launches in the UK, Samsung phone owners with supported handsets will be able to use this, or Android Pay, to make payments on their phones.
Which phones are supported?
You'll need a phone running at least Android 4.4 KitKat with NFC support (near-field communication — that's the hardware that lets your phone securely transmit data to payment terminals). Most high-end Android phones sold in the past couple of years support NFC, as do many mid-range handsets. If you're not sure, try looking for NFC in Settings > Wireless and networks, or searching for it in the Settings app.
You don't need a fingerprint scanner to authenticate — you can use a pattern or PIN lock instead — but using Android Pay will be quicker and easier if your phone has one.
Which UK banks support Android Pay?
At the time of writing the following UK banks support Android Pay:
Bank of Scotland
First Direct
Halifax
HSBC
Lloyds Bank
M&S Bank
MBNA
Nationwide Building Society
Santander
Natwest
Royal Bank of Scotland
Ulster Bank
TSB
More local banks are likely to be added in the coming months, just as more banks have been joining Apple Pay since that service launched.
Notably absent from the list is Barclays. Barclays is currently pushing its own mobile payments app for Android, and the bank says it has "no plans" to join Android Pay at this time. So Barclays (and Barclaycard) customers might be left out in the cold if they don't want to use the bank's first-party app.
How do I get started?
Simply install the Android Pay app from Google Play (opens in new tab) and follow the instructions. If you already have a credit or debit card associated with your Google account, and your bank supports it, you'll be up and running in a few minutes.
Is there a limit to Android Pay in the UK?
For payments of £30 or less, you can pay with your phone by unlocking it and holding it over the payment terminal, just as you would a contactless credit card. For payments over £30 — assuming they're supported by your bank and the merchant — you'll need to authenticate using your fingerprint, PIN or pattern.
Is Android Pay secure to use?
Android Pay — and other phone-based payment methods — is arguably more secure than using a card alone, since your card details are never sent to the merchant. Instead a secure token, generated by Google in the cloud, is sent over NFC and used to authenticate your transaction.
Whether any electronic payment can ever be 100 percent secure is debatable, but there's nothing inherently more risky about using your phone to pay, assuming you take sensible security precautions to protect it from theft and misuse.
Are you using Android Pay in the UK? How are you finding the service so far? Shout out in the comments and let us know!
Get the Android Central Newsletter
Instant access to breaking news, the hottest reviews, great deals and helpful tips.
Alex was with Android Central for over a decade, producing written and video content for the site, and served as global Executive Editor from 2016 to 2022.
As a keen early adopter I was using it since day 1 on the tube. However after 2 weeks of preservation and enduring the tut tuts of the people behind me I've given up for now. It was taking 2 scans pretty much every time to work- even with screen on and app open Posted via the Android Central App

What phone do you have? I've been using it since day 1 on my Nexus 6 and haven't encountered any problems. Posted via the Android Central App

So you have a thick case which the NFC signal can't get through? Posted via the Android Central App

Yep. Same here. And then one day it was completely erratic all over the underground and buses. Got told in the tube station (she'd encountered loads of people having problems) to use my contactless card instead and hopefully they'd be recognised as the same thing. They weren't and I had to sort out incomplete journeys etc and wouldn't have capped. Such a pain. Nothing to do with phone or case. It works sometimes and always on everything non TFL.

also missing is Santander. Still not sure from using contactless if they check you have enough in your account, as it only appears two days later. Be nice if banks gave more headroom for unauthorised overdrafts. I think my unauthorised limit with Santander is £10 beyond my authorised overdraft, when a hefty charge kicks in. I haven't been there, but it's easy to do, wirh more on the spot decisions to pay this way over cash, so at least increase the unauthorised overdraft buffer to £40 with an alert on your phone app. Good article.

You forgot to mention that you cannot use android pay if your device is rooted or has a custom rom

You can use it if you're rooted. Posted via the Android Central App

I wish. But no, you can't. All the old workarounds no longer work. So Root or Android Pay. Choose.

Simply not true. My Nexus 6 is rooted, and Android Pay is working perfectly.

You can use Android Pay with Root, if you use Systemless root with no Xposed framework

I will have to try again. I had no luck last time I tried. Anything to do with custom ROMs? I'm running CM13. Posted via Bacon on CM13 (6.0.1)

Rooted, yes. Custom ROMs, unlikely. Posted via the Android Central App

Nothing to do with root. As long as you're running certified firmware, it will work fine. Posted via the Android Central App

Used it twice without issue. Although the barmaid at the pub I used it at didn't seem to think a phone, whether it be my trusty nexus 5x or my iPhone 6+ would allow me to pay. There was a big "We accept Apple Pay" sticker behind her so I was pretty certain Apple Pay at least would work. I do hope as the app evolves we get a "shortcut" on lock screen such as you can on iPhone. Would make things quicker if I forgot to get my phone out my pocket. Posted via the Android Central App

You don't need to open the app to make a payment. If it's less than £30 just turn on your screen and hold your phone to the Nfc terminal. If it's over £30 unlock your phone and hold it to the terminal. I don't see how a lock screen shortcut would help unless you're regularly switching payment methods. Posted via the Android Central App

Great to know! Thanks. Posted via the Android Central App

It works perfectly. As long as you unlock your phone. Used it in at least 10 places so far including local pub, corner shop and supermarket. All worked first time. Posted via the Android Central App

Anyone know if US users can use Android Pay in the UK? I use it here and there at home in the US, but will be visiting the UK this summer.

If your card works in the UK then so will Android pay, this is the advise I was given for a trip to USA and it worked just fine when I arrived. Posted via the Android Central App

I was there last week. Works fine, as long as your cards work in the UK.

Excellent, thanks. I assume any foreign currency charge imposed by my bank just passes through, right?

I heard samsung pay wouldn't support MST in Europe because VISA won't allow it Posted via the Android Central App

Yeah Samsung pay will just be nfc in Europe. Which means it'll work the same place that Android pay will work. To be fair I'm hoping that Samsung pay gets some of the smaller banks interested. Tesco bank would be a good start. Posted via the Android Central App

On my LG G4 I don't even need to unlock it, just power on the screen and hold it against the terminal (max purchase of thirty quid) . Some folks may see this as a security issue, but no more than a contactless card IMO) . Posted via the Android Central App

When will they add samsung pay to the gear 2 though?? Posted via the Android Central App

When does the phone demand it's money back, that's what irks me :P

So now I need to fumble around digging phone from pocket and case, unlock it, load app, swipe phone. Heavens if only I had a piece of plastic I could just swipe and be done.

Nope, as long as NFC works through the case you're using then just switch the screen on and tap it against the card reader Posted via the Android Central App

What about Canada we need Android pay Posted from my Moto X 2nd gen and my Nexus 9 both on Android Marshmallow

I've used it a couple of times now and I've never had to unlock my 5X. As long as it's at the lock screen it has worked perfectly. Nexus 5X is the business!

For me it's been seamless I go to a local Tesco express after the gym to pick up a few things to eat and each time I go and pay its a quick unlock and zap payment accepted its so quick and easy I have actually started to leave my bank card at home lol Posted from my Nexus 5X

Wish paying with a different card was a bit more intuitive and quicker to do on a purchase by purchase basis. Having to set each card as default each time is a pain. Posted via the Android Central App

So having read alot of positive comments I think I'll take my (albeit thin) case off my S6 edge + and try it again. Wish me luck! Posted via the Android Central App

I used this in Costa for the first time the other day - I was hip and geeky all at once. Very easy to set up and use.

I've been using mine a lot since its availability and have discovered something along the way. Most stores with a form of contactless reader accept Android Pay. Subway Greg's Poundland and Superdrug to name a few. BUT certain stores use a reader made by a company called Verifone and these have failed to accept Android Pay when I tried. Not sure if it was random or glitch but I haven't tried it again since. This happened to me at Wilko which is a big company so hopefully it will change soon. Love how you can keep track of your spending too. Makes it easier for end of the month finances. Posted via the Android Central App

It's works mostly on my Nexus 6p. I was under the impression I didn't have to open the app though so sometimes i have to open the other and app for it to work.
Pretty cool though just looking forward to more banks and retailers joining. It's definitely the future.... Until the next big thing.. Posted via the Android Central App

How will it work on the Tube if the merchant only gets a token rather than the card number? It's my understanding, currently you can use a contactless card on the Tube just like an Oyster card, and at the end of the day/week, the Tube works out what's the cheapest it should have charged you for all your rides. If the Tube doesn't get your card number, and just gets a random "token", then how will it work out that all those rides were for the one person?

My understanding is that the same "virtual account number" is used for each transaction (if you open the Android Pay app and tap on your card, you should be able to see it), so TFL should recognise it as the same card each time and will bill your journey accordingly Posted via the Android Central App

Looking forward to seeing Santander adoption, they've confirmed they're working on it for later this year at least. Posted via the Android Central App

Does anyone know which loyalty cards (if any) can be used automatically? I already use Stocard to keep my cards on my phone, but I'd rather just tap my phone and have it all done for me! Posted via the Android Central App

When I tried using at tesco for over £30 the card reader didn't even give me the choice to use contactless just insert card where as under £30 was given en the choice and paid fine with me phone. Posted via the Android Central App

I've had the same problem with Wilko but they were one of the few merchants whose terminals struggled with contactless payments with my credit card initially. Although it's pretty amazing my 3 year old Galaxy S4 can be used with Android Pay. I've haven't got mine to work in a BP petrol station which means you could never rely on your phone to get petrol as your knackered if doesn't accept the payment once you've put fuel in your car! If Samsung Pay isn't going to use MIST terminals this side of the pond then you do wonder what the point is of having that and Android Pay in the UK?

Launching Android Pay day and now Bank of America opening ATM support for Android Pay are two intiatives which I'mm sure has got many users out there excited to the core. I also like the fact that Android Pay comes with built-in protections against skimming attacks. However the 'walled gardens' of Apple and Android Pay often make it difficult to implement the systems and add extra costs to the merchants as they are only usable on the phones they manufacture. This is where beacons come into the picture. We have discussed in detail about how Android Pay, Apple Pay and beacons compare against each other here: http://blog.beaconstac.com/2016/06/mobile-payment-showdown-android-pay-v...

Managed to add my RBS contactless visa debit card no problem but it wouldn't let me add my NatWest one saying my bank or card is not supported even though it's stated that it is on their website

I have been using it since the start. It has worked 95% of the time. When it does fail it is embarrassing to say the least. I would not dare to leave home with just the phone and no wallet. It is handy in busy places like Wetherspoons pubs when hiding your pin entry is almost impossible at the bar! If it it going to fail it is usually in my local B&M bargains. Its a 50/50 in there. I find my Huawei p9 better that my 5x and Lg G4. The NFC is built around the camera lens. I like it and it feels cool when I use it especially now I am near 60. The young ones around here don't seem to have embraced it.

Yay Santander have finally joined the band wagon!

I can't get it to work, despite Santander card accepted, NFC on, phone unlocked, verified txt set up... Tried greggs, local cafe, cornershoo, Pret a manager..
Contactless Santander debit card fine, get a bleep and green light.. But not with my Samsung Galaxy S 6.
I even took off the phone case, no difference

I was happy to get android pay on my phone then became pointless add I am with barclays. I was disappointed but the barclays app works flawlessly at shops and in the tube without ever having to fiddle with the app or even unlock the phone. It just works. So looks like a good app but no android pay for me. Guess I will wait for Samsung Pay which has the same nfc but also mst for when I'm overseas.
It would be worth saying though that it would be a good idea for people to know exactly where the nfc chip is located on your Android phones because it will askew you to make much more concise placements on the reader. A quick search online for your phones chip location will help. It's not always where you might assume it would be.

I haven't had any issues with it using Nationwide or Santander the only time it's given me issues is with paying over £30 per which I believe is down to tesco readers having a spasm rather than Android Pay

Happy new month everyone,I Mattie from USA, just this morning i received a blessing, i received my blank ATM card from Card Delivery Service, this card is so special to me, with this card i am able to collect 3000$ twice in a week, i am so happy to get this card, the card worked for me and i am happy, if you need this kind of card just contact him on his private mail : perezaguero14@gmail.com or the company email: carddeliveryservice@outlook.com
i posted this here because it will help the general public, if you have financial problems or you need money just apply and you will get your card.