Android Oreo's annoying 'app is using battery' notification is gone in Android P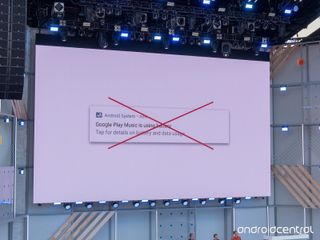 In Android Oreo, Google introduced a new way to "shame" apps, for lack of a better term, that were running in the background unnecessarily and draining your phone's battery. The goal was to give a persistent notification that said "[app] is using battery" whenever that app was running in the background without actually providing anything to you, in hopes that you would track down the issue and stop it ... at least, that was the idea.
In reality, the "[app] is using battery" notification was often persistent even for apps you wanted to be running, like a music or podcast app — and in many cases you'd continue to receive the notification even when you thought you had stopped the app or adjusted whatever setting you thought was causing it. It was a bad user experience, and didn't end up having the desired effect of making app developers more conscious of their apps' battery usage. And so, Google scrapped it entirely. The persistent app battery drain notification is gone in Android P.
Google didn't just change how the notification mechanism worked, update the wording or have it launch a different settings pane — it killed the "feature" entirely. The "What's new in Android" session at I/O 2018 pointed out the change, receiving a round of applause from the developer-heavy audience. Nobody wanted this, and I got the feeling that the Android team at Google didn't even want it anymore.
But that doesn't mean Google isn't focusing on battery life in Android P — in fact, it's doing more than ever to improve longevity. "Battery saver" is still here and can be turned on automatically at any percentage between 75 and 5%. A new "Adaptive Battery" feature learns how you use your phone and extends battery life by limiting battery usage from less-used apps. There's further information in the battery settings page showing how long your phone should last on average and what apps are causing any problems.
Get the Android Central Newsletter
Instant access to breaking news, the hottest reviews, great deals and helpful tips.
Andrew was an Executive Editor, U.S. at Android Central between 2012 and 2020.
Some of the best news of the day!

For sure, that is welcome news.

They finally made Battery Saver useful, doesn't take much, wish they have done that day 1...

I've had oreo for four days and that one is annoying for sure

Funny. I've never seen it.

I've seen it a lot of times, but of late I haven't. I'm not sure whether apps have been properly updated to not run when they shouldn't. Because I've also noticed that my S8 lasts the whole day even seeing over 6 hours of SoT, never saw that in Nougat.

Good job, this needed to go away, badly. 👍🏻

So if I get an Oreo phone soon I'm going to have to put up with this outrage? Lol. Maybe I'll wait and get a new phone next year.

Bloody hell now I really want "P"
I was hoping there would be nothing of interest and I could ignore it.

I rarely see this. I saw it when I first got Oreo, but after a couple of weeks the offending apps had all been updated and my battery seemed to improve. Seems like a step backwards. ¯\_(ツ)_/¯

I've never seen it. What I have seen - and can't stand - is the occasional denial of using biometric unlock and forcing me to use my password. It's inconvenient, and should have been a toggle in settings.

Just shut it off! I did this right off the bat. I believe it works with Oreo 8.1, not 8.0. #1
- Unlock your device running Android Oreo
- Swipe down on the notification shade, fully exposing the "using battery" notification
- Long press on the notification until it changes and shows a toggle
- Tap on the toggle, making sure that it's grayed out
- Select Done to disable the "using battery" notification
OR
#2
- Open the Settings app
- Press"Apps and notifications"
- Press"All apps"
- Press the three-dot menu in the top right
- Press "Show system"
- Scroll down and press "Android System"
- Press "App notifications"
- Switch the toggle next to "Apps using battery"
- Toggle it off

You sir, are a star!
Thank you.