Android Oreo now available for unlocked HTC 10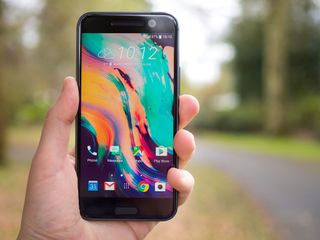 Although we wouldn't recommend buying one in early 2018, the HTC 10 was an excellent handset during its time that flew under the radar for a lot of people. The phone shipped with 6.0.1 Marshmallow, was updated to Nougat in late 2016, and it's now getting to share in on the Oreo action.
Android 8.0 Oreo is now rolling out to the HTC 10 via an over-the-air update, and if it hasn't landed on your phone yet, it should arrive within the coming days. However, if you grow tired of waiting and want to get the new software on your phone this instant, you can download the RUU file directly from your phone. If you do choose to go this route, be warned that this will completely wipe everything on your phone and put you back to square one.
Prior to the 10, HTC also pushed Oreo updates to the U11 and U11 Life (both the unlocked model and the one on T-Mobile). HTC previously said that Oreo would also be coming to the U Ultra, so it should only be a matter of time before that rolls out as well.
HTC 10 review: Iconic, impressive, imperfect
Joe Maring was a Senior Editor for Android Central between 2017 and 2021. You can reach him on Twitter at @JoeMaring1.
I reckon they just forgot about the U11 from sprint. That's terrible when a phone a year older get an update over a newer one. I havnt received a security update since October either. It would at least be nice to know something. I've been a loyal HTC customer since the HTC Evo came out and been with sprint for over 10 years maybe its time to change.

It could be Sprint itself. After many updates are done by the oem, they undergo a stress test process of sorts by each carrier to see it behaves with it's firmware. So the problem most likely is with your carrier.

Exactly. The problems is your carrier. Buy unlocked next time.

I've been with sprint for over 10 years and never had any problem before so that's why I stayed with them and they gave me a great deal on the phone so that's the reason that I didn't buy it UNLOCKED!!!

It's solely the difference between an unlocked vs a carrier locked version of a phone. The Nougat update on the unlocked HTC 10 came in in Dec of last year, and was a few months ahead of carriers like AT&T/Verizon. Besides, HTC gets to control the unlocked version's updates, compared to having to get carrier approval for the carrier variants. I'm going to agree with the others and say your beef needs to be with Sprint, and not HTC in this case.

Great phone when I had it. My Mom (not tech savvy) uses it now and she loves it. Great audio from the headphone jack. Still snappy quick when I had it. Only con to me was the screen is a bit dull.

......See this is why I was hesitant to go back to a Note. All these phones getting Oreo but the Note 8 is still waiting.

Shitdung never was a good software company. Hardware, I give em credit. Software though, poopoo.

Shitdung....LOL. I like it. But in all seriousness, OS updates aren't as important as they used to be. What does Oreo give you that Nougat doesn't? Will the camera be better? Better battery life? Doubtful. The more important thing to know is what security update are you on? If you are months behind on that, I would fault Shitdung for that. Visually you will notice almost nothing different between 7.0 and 8.0, especially with the skin formerly known as Touchwiz.

They were a good company up until the 5 series of device. Galaxy S4 was great at the time and root friendly. Note 4 was a beast. I stopped buying their products after that.

Starting with the S4, Samsung really started pushing their phones to the business sector. My company offers 2 devices for our cell phone program. Last year's iPhone and last year's Galaxy S device (currently offering the S7 and the iPhone 7). Considering the root/mod community is a super small % of the market, it really isn't worth it to cater to a statistically insignificant group. I do like HTC's method, however. They'll provide you with the code to unlock/root your phone, but if you don't request the code, your phone is still secure.

I'm not familiar with RUU files. Is this something that will only work for Unlocked Versions? (I have a Verizon model)

No it will not work on your device. Unless you are unlocked and S-Off'd. If you don't know what those mean then, I wouldn't ask anymore questions. Unless you want to work on something for hours only to find out that the Unlocked software won't support the Verizon bands. Or rather, Verizon doesn't support unlocked devices if it's not samsung or apple.

so i was able to download the ruu last night , but unable to unable to install. says signature bad or missing. seems tonight htc took down the link . so hopefully that means they are fixing whatever is going on. still no ota notification for me yet either.

Wonder how long a wait until the European unlocked version gets it. *taps his fingers*

Within 3-5 weeks according to llabtoofer's tweet

They pulled the update due to unknow reasons apparently.

Just got the update via OTA push notification. (unlocked UK on o2 network)

I still haven't gotten this update

GUYS THE UPDATE CAME TODAY.

Anyone get the PIP feature to work? Not working with YouTube
Android Central Newsletter
Get the best of Android Central in in your inbox, every day!
Thank you for signing up to Android Central. You will receive a verification email shortly.
There was a problem. Please refresh the page and try again.