Android N Developer Preview might expand to non-Nexus phones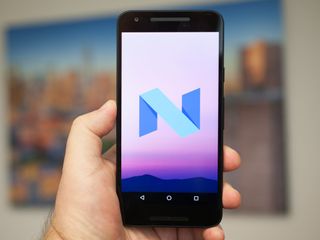 While the current Android N Developer Preview is restricted to Google's own Nexus phones (just as in years past), Google may be looking to expand testing to OEM partner phones as well. Spotted in a bit of hidden HTML code on the Android N Preview site (via FUNExtreme on Reddit), a bit of text intended for the "What's New" section hints that more devices will be supported in the future, including those from OEM partners.
As is usual with things of this nature, it's best to take this information with a giant grain of salt until we hear something official from Google itself. However, the prospect of a publicly available Android N Preview for phones from Samsung, LG and others is intriguing.
Would you be excited to give the Android N Preview a shot on your non-Nexus phone? Let us know your thoughts in the comments below.
Interesting. I think interest has piqued for other phone owners that want to try the preview. Posted From my Verizon Galaxy Note Edge via the Android Central App... And Don't Eat The Yellow Snow!

I think it is more of a 'get more data' on other devices. OEMs use different hardware in their phones. It is the best, and easiest, way to find bugs early. Thus hopefully ensuring an earlier and more stable release for the OEM. Posted via the Android Central App

It will be interesting to see how this plays out.

Hey Samsung and AT&T, you've failed to even deliver Marshmallow to the GS 6! GET OFF YOUR SORRY PATHETIC ARSES!!!

It's not Samsung it's at&t they are extremely slow in updates stop blaming the phone manufacturers it's the phone service companys causing this slow updates this is the reason why I buy my phones unlocked free from the carrier's and NO carrier bloatware Posted from my Moto X 2nd gen and my Nexus 9 both on Android Marshmallow

In all fairness... Had Samsung got the update to att earlier... Posted via the Android Central App

I'm in the same boat on my Note 5. What is att even doing? They need to update their bloatware... Haha! Everybody just disabled their crap anyway! From my ATT Note 5 paired with my larger Asus Zenwatch 2

Yeah at&t still hasn't released Marshmallow for the HTC M9 either, they're making it pretty obvious who's at fault with updates Posted via the Android Central App

My Verizon s6 has had marshmallow for about 2 weeks now

If true, it will be interesting to see if it's just limited to unlocked models. I can't imagine US carriers like AT&T and Verizon supporting something like this. Posted via the Android Central App

No carrier is going to support this on their branded models, it will be for unlocked, unbranded phones only. Still, this is another win for unlocked phones Posted via the Android Central App

HTC will be on board. But will Verizon? Posted via the Android Central App

What kind of board? Pressure treated? Ply board?.....ah yes.....particle board! Lol

Water Posted via the Android Central App

Big game on in Hockeytown Posted via Nexus 6 running on any data plan I want

LMAO *chanting* Score board! Score board! Score... Posted via the Android Central App

I have a moto g, and the answer is YES :) Posted via the Android Central App

Google desperately trying to get those latest os adoption numbers up. As they should. Posted via the Android Central App

I think it's definitely the right move for Google and will decrease the time between major release rollout and release showing up on OEM phones Posted via the Android Central App

Id do anything to get rid of the crappy LG skin of android os that came with my phone. Its buggy and lacks even the basics of conveniences .

That's the interesting part. Will lg, Samsung, HTC, and Motorola add their own software to the Dev previews or will they allow pure android to run on their devices? I think it'll be interesting to see what they're going to do Posted via my Dirty shamu

Why don't you use Nova Launcher (or a different launcher?) This pre-beta version of N won't really help you... SiDi™

I'd slap this on my Life One X faster than you can say BLU. They already missed their Q1 deadline to give us 6.0, I don't expect any further updates once they finally get around to get us that. This version of Microsoft's Insider program for Android would be a great alternative.

I would love for Google to allow other devices to test out the preview. It would be fun to give it a shot on my lg g4. Posted via the Android Central App

I would install it on my Moto X Pure the minute it became available.

I wouldn't mind testing out the new Android N on my G7 Edge Posted via the Android Central App

it's cool for getting a preview of what's coming. After 2 days on my N6 I got system UI crashes every 5 minutes or so, for what seems like absolutely no reason...or not one I could find. Even a reflash didn't fix that. Don't get too excited, people...it's about as alpha as they come. Maybe a later build release will be more stable, but for now I wouldn't consider flashing it as a daily rom.

Did you check the logs? Posted via my Dirty shamu

**COUGH COUGH** Vanilla Android N for Samsung Galaxy S7/Edge**COUGH COUGH** Posted via the Android Central App

Ewww no thank you luvin my s7 edge

Yes please Posted via S7 edge

Hey, my friend! Did you keep your Galaxy Note Edge or did you upgrade? Posted From my Verizon Galaxy Note Edge via the Android Central App... And Don't Eat The Yellow Snow!

I have not yet.. honestly I don't use my note edge much anymore, I downgraded (not really) to a droid Maxx (from 2013) and it performs SO much better with cm13. When I'm able to upgrade I'll most likely upgrade to the s7 edge. Unless something convincing is released in the mean time Posted via the Android Central App

I'm assuming the availability of the N Preview will be down to the OEMs themselves in a lot of cases. Don't get your hopes up. Sony has been active in the AOSP space, maybe it'll be available for the Z3 (I say this not just because I have one, but because I suspect it's their baseline device for software testing.) Either way, I won't be flashing it to my phone, which I need to work. But if it helps speed up development, then great. Posted via the Android Central App

This will probably only be for unlocked phones like current Motorolas... Posted via my Nexus 6P on VerLIEzon Wireless but without their shackles.

It worked pretty good for my Nexus 6, EXCEPT it wouldn't see any of my contacts from Outlook, which is where they live, I freaked out, but when I reinstalled 6.0.1 they were there..bug! Posted via the Android Central App

Can't imagine how this would even work but it's definitely welcomed Posted via the Android Central App

Would be fantastic to have it on a Note 5, but I'm not gullible. Will never happen.

Looks like a way to speed up those update rollouts. Which I approve Just don't make it buggy.

I'd love to try it out on my G4.

Not interested in trying out a buggy unfinished OS. I'll wait for the finished product even if it takes a few months I could care less. My phone runs good on whatever is on it all the time. S7 edge will make America great again!

Couldn't care less. Posted via the Android Central App

I would like to give it a try on my G4. Posted from the LG G4 (H815P)

I see no benefit to Oems in having public beta for early source code builds. Even if they put all over it that it is a beta, people will get pissed when stuff breaks. Plus it is not like OEM's have been developer friendly lately. When was the last time someone had a good bootloader unlock policy? Posted via the Android Central App

Motorola has a pretty good boot loader unlock policy along with Google Nexus and well those are the only two I know of Posted via the Android Central App

Nexus is a dev phone and essentially a reference device for the operating system and Google makes the OEM do it. Motorola is better than most, but they have been inconsistent about voiding your warranty and allowing carrier models to unlock. Sony and Nvidia allow you to unlock, but I believe they both void your warranty. I know Nvidia does. Posted via the Android Central App

I can see this potentially working with OEMs that stick to basically stock (Motorola comes to mind) but how would it work with Samsung which has a proprietary UI? I remember reading (maybe it was here) about Android N having some ability to separate Android OS from OEM software and thus being able to be updated easier than say it currently is and maybe this is part of the process? Essentially Android living in its own space under any OEM customization and thus could be updated regardless of carrier and OEM. My memory could be completely off or I may have understand what the article was talking about, but that is what stuck in my head. Regardless I still continue to feel that there has to be some solution that ensures that all devices are updated easier than they currently are.

OEMs need only insert updated drivers into the OS and everything should sort of work with bugs of course. But yes, OEMs would have to do some work to get it working on their phones Posted via the Android Central App

Pretty sure Samsung won't be a partner, probably lesser OEMs line HTC and Motorola. Posted via the Android Central App

It will be interesting to see what becomes of this. It seems like a win-win for Google and OEMs, since Google would get their updates out there faster and OEMs would be able to start testing sooner with public support. However, good luck getting anything on a carrier branded model. I for one wouldn't be taking part, I have a hard enough time excepting a stable update after getting screwed on ICS. Posted via the Android Central App

Android N runs like a champ on my Nexus. Be Together Not The Same

Yes, as an HTC One M8 unlocked user, I will welcome the opportunity to be a beta for N.
Marshmallow is great, love it. But it was sent to this phone a tad early (6.0), wish they would have waited for the 6.0.1 version, as my alarm is non-functional and data handoff between towers when traveling is always suspect (indicators show it's connected, but still have to cycle Data widget or Airplane mode to reconnect properly).
As mentioned in an earlier post, a bigger variety of hardware, manufacturers and model tests before release can vastly improve the quality of the initial version. Posted via the Android Central App

I'd love to see it on my LG vortex. When will I be able to get it? Posted via the Android Central App

Maybe Google make it work on an iPhone

I'd install it on my Galaxy S6 for sure. Posted via the Android Central App

+1 Would love to install on my OnePlus One

Maybe google is serious about taking control of android updates. The
Idea floated around ealier on was that google was going to take charge of the updates and that oems may have to put their launchers in the play store. Maybe its going to happen and all devices will come stock (dont count on oems not putting their bloatware and themes and system apps straight from the factory though. It should make for a more universal experience across devices which i think is nice.

Not so interested in previews but would love my non-Nexus to get actual updates rather than being left in the dust. Posted via the Android Central App

If it will work on Samsung devices and won't have TouchWiz... IT WILL BE THE BEST THING THAT COULD HAPPEN

Unless Samsung allows this to be flashed without tripping Knox (and disabling Samsung Pay permanently), there's probably no way I'll flash it. My S7 is my first phone I haven't rooted as of yet. Posted via the Android Central App

Honestly, I'm much more interested in getting google controlled AOSP roms. Basically, the GPE roms without the who play store purchasing. Updates are basically the main reason I go nexus. Other phones should be able to get in on that simplicity and update style.

I'd like to see it on my "no-longer-update-qualified-nexus-"Nexus 5.

I would love to get android n on samsung s4 with 5.0.1 att

LG g4 please, stock plus a dev preview, oh yes. Sprint LG G4, ZVA.

I think it may come for Moto G (3rd Gen). Just because it's near enough stock Android.
Android Central Newsletter
Thank you for signing up to Android Central. You will receive a verification email shortly.
There was a problem. Please refresh the page and try again.