Android N Developer Preview 2 now available for the Nexus Player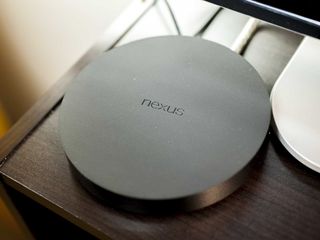 Though it's a little late to the party, the second Android N Developer Preview release is now available for the Nexus Player. The update was announced by Android Developer Advocate Ian Lake, who notes that the release moves the build number up to NPC91O.
According to Lake, there are a few Nexus Player-specific issues to be aware of after installing, however:
Playback of Netflix HD content may fail on Nexus Player.
Any application that relies on dynamic video resolution changes may fail on Nexus Player.
Any application that use the VP9 video codec may fail on Nexus Player.
Vulkan: SPIR-V shaders may trigger driver asserts.
Vulkan: Some pipeline configurations may cause vkCreateGraphicsPipeline() to crash.
If that looks like a hefty list of issues, it bears repeating that the Android N Preview is aimed squarely at developers. Still, if you're interested, you can grab the latest factory image from Google now. Also be sure to check out our look at everything new in the Android N preview so far.
Genuine question, does anybody own one of these? Curious, I use the Chromecast 2. AT&T Galaxy Note 4

I do, I got it for $10 last Christmas, I had some Best Buy credit and got this, definitely wort the $10 I paid for it. Actually and honestly I do like it, I bought an adapter for Ethernet, and it works very well. Space hasn't been an issue for me as I am not a gamer, but it is limited in space. I have a Chromecast also, but I use this since casting is built in.

Got one during the Target $35 clear out.

I have two in my house that run Kodi very well.

Yup. Got it from Best Buy for $49 but it's now in the bedroom since I recently got a Shield TV for my 4k tv in the living room. Posted via the Android Central App

I have 2 nexus players, and 2 chromecasts, now. In my experience, the nexus player streams content better, even when casting to it from my phone. Faster, smoother. Chromecasts are in a drawer.

Yep, I got one for like $35 through some promotion. As a media player, it works really well for me. I don't use it for games, so I can't comment on its performance in that respect. The only issue that I've had is that it loses its pairing with the Bluetooth remote maybe once every other week. Posted via the Android Central App

Everyone getting these things on the cheap! I need to keep an eye out

You're only option is to buy it off eBay, none of the normal sellers, staples, google play store, best buy, asus, etc no longer carry it.

I've got both a NP and Chromecast 1. would love to use NP but it messes with my HDTV antenna, so it stays unplugged until I find a fix. Posted via the Android Central App

I have a NP because I could never get casting to work for more than a day at a time sporadically on my Chromecast 1. It would randomly work, then quit during while streaming content. I could never diagnose the problem I even bought the Ethernet adapter so that wireless would not be part of the issues. Anyway, I can cast the NP no problem, but the native apps seem to work a lot better. It was worth the $50 I spent. Posted via the Android Central App

I own 4 of the them. Theater, bedroom, office and gym. LOVE THEM. Had Chromecast in all these locations before, but Nexus player is so much easier and nicer to use...I mean, no phone, tablet or computer needed, just pickup the remote and stream whatever you want directly from the app on the NP. Can't beat it IMO. Plus, if needed still can cast to it. I also have a roku 4 but we never use it.

I own 3 Posted via the Android Central App

I own 3, one my bedroom, and kid's room, and living room. Posted via the Android Central App

Mine runs fine on MM. No huge reason to update to the beta IMO.

Android N is pretty unstable on mine (yes I installed fully knowing the issues). The first beta had Netflix stuttering, and the whole interface is laggy, so it looks like that's not going to change soon. There's no practical reason to install it on the Player unless you're a dev IMO.

Does this run the popular emulator apps? Posted via the Android Central App

I am surprised and glad Google is still supporting the Nexus Player with new versions if Android. Awesome. Posted via the Android Central App

Great device! I'm glad that this is still being supported. I've got two of these! It's better than the garbage smart tv software that came with my Samsung tv. Posted via the Android Central App

I have a roku stick and roku 3 Chromecast 1 and a Nexus player roku is so much better. I was disappointed by the gaming on the Nexus player. I rather use a remote instead of my phone to send content o and watch ESPN no native app and if you cast it to a Nexus player the audio doesn't sync well with the video. Posted via the Android Central App
Android Central Newsletter
Get the best of Android Central in in your inbox, every day!
Thank you for signing up to Android Central. You will receive a verification email shortly.
There was a problem. Please refresh the page and try again.