Android flagships in 2017: Where next for high-end phones?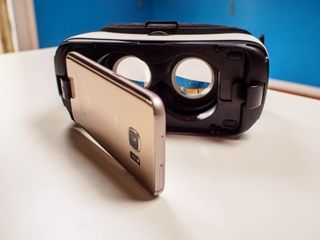 It's true that mid-priced Android phones are better than ever right now, with handsets like the OnePlus 3 making top-tier performance and build to more attainable than ever. And as a result, the gap between a $400 phone and a $700 device has never been narrower.
But that doesn't mean the days of traditional flagship phones are over. There are still many valid reasons to spend top dollar on a phone in late 2016 or early 2017. Even as the majority of cheaper smartphones become basically good enough, mobile innovation hasn't completely stalled.
Let's take a look at how phones can still be exciting in the future, and why you still might want to buy one of the very best Androids out there.
These days, phone performance is pretty much good enough across the board. Well, with a few exceptions —
The manufacturer got the balance of hardware wrong (hey there phones with a 1080p display and Snapdragon 615)
Cases of crappy software optimization (hey there Moto X Play and LG G Flex 2)
When you're buying a super-low-end phone with garbage internals (hey there Wileyfox Spark)
In most other instances, Android 6.0 Marshmallow is mature enough to run well on any reasonable level of hardware. So why would you want to go beyond this baseline?
Well, the first is a niche area, but one that's primed for massive growth in the next year — virtual reality. With the arrival of Google's Daydream platform, VR will act as a catalyst at the high end. We've already explored how the jump up to 4K displays in upcoming phones like the Samsung Galaxy S8 might be driven by VR, with super-dense screens needed to provide a sharp VR experience.
And as you increase display density, ever more horsepower is required to push those extra pixels, particularly if you're gaming in VR.
Indeed, a big part of Google's Daydream initiative has to do with making sure the hardware's up to scratch. Daydream-certified phones have to meet certain standards in terms of performance (so the thing runs smoothly), thermals (so it doesn't overheat in the process) and latency (so you don't experience nauseating lag when moving around). And those are likely to become major factors in future high-end CPUs — the ones that'll drive phones at the $700 level, but not necessarily $400 and below.
Even if you're not interested in VR, other areas of mobile technology are far from plateauing — in particular battery tech. While we're more or less used to charging our phones (at least) overnight, new types of battery chemistry are in the works which could drastically improve battery life in the near future. While most current gadgets use lithium-ion batteries, future batteries based upon lithium-sulfur cells could pack significantly more charge into a smaller space, while also being much safer.
From our recent Smartphone Futurology series:
This is likely still a few years off, but when next-generation lithium-sulfur batteries arrive you can bet that flagship phones will have them first. Battery anxiety is a daily problem for a lot of us, and thus yet another area for more expensive handsets to provide meaningful differentiation. Or to put it another way, if your margins are already slim at the $400 level, chances are you'll think twice before splurging on a next-generation battery. At $700, you've got more wiggle room.
MORE: Smartphone Futurology: Exploring the next big thing in battery technology
The same is true of smartphone cameras, another area where there's plenty of room for technological growth. Sure, most phones — even really cheap ones — can take good photos in daylight. But producing crisp, noise-free photos in a dark bar or outdoors by streetlight is still challenging, even for the very best of today's flagships.
That's why we've seen this year's flagships focus on low light photography, with ever wider apertures and larger pixels, and more advanced optical stabilization. Once you're at the 12-16 megapixel mark, you don't really need any more pixels — and so engineering effort can be spent in other areas. In the year ahead, expect more high-end phones to pack dual-lens cameras, especially if the iPhone 7 gives momentum to this trend, as is widely rumored.
There are countless examples where a dual camera setup could add real value. The most obvious is different types of lenses — the LG G5 is a great example, with its secondary wide-angle camera. Similarly, it's not hard to imagine a second or third camera adding magnification — effectively letting you zoom in without relying on digital zoom. Or, like the Huawei P9, a second camera might be used to enhance contrast and assist with autofocus duties.
That quality smartphones are now highly affordable is a great thing, but that doesn't mean flagships are a thing of the past. And while another iPhone-style revolution in this area may be a decade or more away — if it ever comes — there'll be still plenty to entice buyers looking for the latest and greatest.
What do you want to see from the next generation of Android flagships? Let us know in the comments!
Get the Android Central Newsletter
Instant access to breaking news, the hottest reviews, great deals and helpful tips.
Alex was with Android Central for over a decade, producing written and video content for the site, and served as global Executive Editor from 2016 to 2022.