Android Auto was worth waiting three years to buy my car for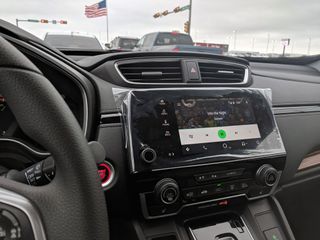 I used to drive a 2003 Honda Odyssey. During my Disney College Program, she picked up the name Crimson. If anyone needed to move, if anyone needed to haul a crew around, or was taking a road trip, Crimson was our girl. Even at 226,000 miles, I was reluctant to give her up. During three years of car shopping to succeed her, I had only one requirement for Crimson's replacement: it had to have Android Auto.
Now, I have it. And it's glorious.
This is my 2018 Honda CR-V, with the EX level trim, Obsidian Blue exterior, and most importantly, Android Auto. The native infotainment system on the EX and above supports both Android Auto and Apple CarPlay, with the USB port that links up with the head unit sitting at the bottom of the center console compartment. It's a nice arrangement, allowing excess cabling to be coiled out of sight while the phone sits and charges on either the center console tray or in one of the cup holders.
If you hadn't spied it in the photo above, there's one big difference between this head unit and most aftermarket Android Auto head units: it has a good old-fashioned volume knob! I use the steering wheel controls more often, but it's good to have a knob that people in the passenger seat can quickly quell the music when they get a call, or you want to blast that drum fill during "In The Air Tonight". It's old school, but there's something undeniable about the appeal of a volume knob.
Speaking of steering wheel controls, the ones implemented on the CR-V's wheel are equal parts cool and confusing. The volume slide is haptic, so if you just brush your thumb over it, it'll turn the music up or down. This is cool if you're a volume rider like I am, but it's easy to trigger while making a turn. Likewise, the side-to-side arrow keys let you easily change tracks, but the center "Enter" button doesn't pause the music. As volume gets its own rocker now, the up and down buttons will switch music sources, if you're into that kind of thing. Me, I plug in my phone and let Android Auto do its thing.
There's also call and voice command buttons on the steering wheel, and that voice command button pulls double duty. Click the button once, and you can give a voice command for the non-Android Auto part of the head unit. Press and hold the voice command button and Google Assistant will process your search instead.
The Android Auto experience is supposed to be the same across phones and head units, and the layout does indeed match other head units. There're five buttons on the bottom nav bar: maps, phone, home, music, and Instrument Panel, which takes me back to the home screen on the CR-V's launcher — the CR-V's head unit runs Android. Navigating Android Auto is easier on the head unit's 7-inch electrostatic screen than it fumbling with Android Auto on the phone itself, as I did with Crimson.
Between voice commands and the easy layout of most apps, it's hard to run into the 5-tap limit when navigating, but every now and again that block me from reaching a playlist I wanted to switch to, but that's why you're supposed to get your music set up before you start driving. Using Android Auto for Google Maps instead of paying extra for a navigation service in the car is not only money-saving but sanity-saving, and the turn-by-turn directions are fed to the center screen of the CR-V's instrument panel, so I don't even have to look over at the main screen while I'm approaching a turn.
I've had the car for almost a month, and I can tell this is the beginning of a beautiful relationship. Without a doubt, I'm happy I waited for a model with Android Auto. Now, even though the CR-V has excellent Bluetooth and very easy pairing, I won't have to worry about it, because Android Auto's hardwired connection is easier and more stable. I know that wireless Android Auto was shown off at CES this year, and while that would be nice, I'd already waited three years for Android Auto. I wasn't going to wait another three years for wireless Android Auto.
Android Central Newsletter
Get instant access to breaking news, the hottest reviews, great deals and helpful tips
Ara Wagoner was a staff writer at Android Central. She themes phones and pokes YouTube Music with a stick. When she's not writing about cases, Chromebooks, or customization, she's wandering around Walt Disney World. If you see her without headphones, RUN. You can follow her on Twitter at @arawagco.
Nice! I wish the Accord Sport had Android Auto. That would have been my next car! The EX is nice but it's something about the wheels and the extra HP that I would rather have compared to the EX model.

The problem with Honda OEM is the lack of updates on the system in the car audio system as a whole. Probably not unique to them, but all auto manufacturers. If we had that, this would be a perfect system for those that like stock. Sure the perfect system would be in a wireless charging BT docking station with your phone as the brain, but that is a pipe dream for now. It's unfortunate... The ultimate update is a new car.

Ford updates, but it's no truly stock. Probably big cost if update doesn't take, etc.

The great thing about Android Auto is the car manufacturers are not responsible for updating Android Auto because it all runs from your phone... The car just provides the display and interface to the vehicle systems. All upgrades for Android Auto comes from Google Play. For future connectivity, Bluetooth would not be a good choice because Bluetooth doesn't not have the bandwidth required for Android Auto. Although Google is actually working on a Wi-Fi Direct type solution for connecting to Android Auto wirelessly. I'm looking forward to this not because of going all wireless but so I can use a better/faster charger than the slow chargers always built into the built-in USB ports in vehicles.

The 2018 Accord Sport? believe every trim above the LX has it, which means Sport, EX, EX-L and of course Touring all have Apple Car Play and Android Auto.

The best thing just happened today IMHO- the Sirius XM app was updated to support Android Auto. I've been waiting for that to happen since I got my Civic last year! I do agree AA has been great so far. Integration with Sirius XM makes it even better now.

Congrats on your cool 😎 new ride! What's this ones name?

Rocking the Pixel XL I see.

Looking at the Accord myself - looking forward to not having to get a dash mount for my phone. RE: wireless Android Auto, perhaps it can be implemented in the head units via a software update in the future...

Can Android Auto be used in a car that doesn't support Android Auto i.e. app only? I have a 2016 Camry and stuck with Toyota's version.

Yes, you can download Android Auto onto your Android device from the Play Store. I use it all the time.

Thanks!
Will it still work with my phone paired with my car?

Yeah. During the AA setup process, you tell it to launch AA every time your phone connects to your car via Bluetooth. I use it all the time, and it works really well.

It does, and I used it on Crimson, but the phone-only AA is a little hobbled by the size of your phone screen.

Yep. However, on the phone I much prefer car home ultra to AA. IMHO AA is completely different experience with a head unit.

I bought a Mazda CX-5 last year. At the time Mazda promised Android Auto and Apple Carplay would be added to that car by the end of last year, then Q1 this year.... Still nothing. The rest of the car is way better than everything else in it's class but dangit I wanted AA and Carplay!!!

You can add Android Auto to your CX-5 with https://mazdatweaks.com/. Here's one video: https://www.youtube.com/watch?v=aFYsfnatReo. I have a 2017 Mazda 6, but I haven't done it yet myself.

Please note your MAZDA CONNECT™ firmware version needs to be lower than 59.00.502 for the AA tweak to work.

That's sort of correct. It needs to be lower than that version for the easy USB installation method to work. I believe you can get it to work with some disassembly of your dash and a wired connection. My 2018 Mazda 3 came with a version (I forget what version) compatible with the USB installation, so this may or may not be an issue for new vehicles.

You can just get a whole new deck for a few hundreds

Lack of Android Auto is the one issue stopping me from going back to Mazda...and I have owned many Mazdas

Don't the 2018 models have it?

"I wasn't going to wait another three years for wireless Android Auto."
I think you're exaggerating for emphasis but it should happen within the year and that's what I'm hoping for in my next vehicle. Having to connect my $800 smartphone to a $5 dumb cable every single time I get in the vehicle would be a non-starter for me. Frankly, I don't see how anyone endures such frustrating banality, just seems so 2008. When it auto-magically connects via Bluetooth, that's my "now you've done it right" point of adoption.

Easy. The phone charges at the same time. Wireless sounds cool but has one big drawback.

Good point. Before I had Android Auto, I would always charge my phone while using Maps because nothing chews up battery faster than screen-on and location tracking. So having to plug in to use AA is no big deal for me. That said, I only use AA when navigating because I find audio quality is better over bluetooth.

The phone charges...so that's a bonus. Plus, it sounds like you haven't actually used Android Auto. Once you do, you'll realize it's worth plugging the phone in.

In my 2017 the phone doesn't gain a charge when using Android Auto because the USB port seems to only trickle charge and can barely keep up. In fact, after a long drive of using Google Maps and Google Play Music on AA, my phone is usually has a lot less battert charge remaining. I thought it had to do with a data cable not being able to carry as high amo. Maybe it's a Hyundai design flaw.

Your Hyundai has a low amp USB port. My CR-V has a higher-amp USB port so it charges my phone during AA use, even when navigating and listening to music for hours.

I had the same issue with my Note 4, but when I upgraded to a V30 it slowly charges instead of slowly discharges. It could have been some combination of the cable (I had to switch cables going from microUSB to Type-C), phone, or both. Perhaps try some other cables.

And yet, I bet you plug your phone in all the time just to charge it eh

This is the one thing that drives me nuts about Tesla. I've had Android Auto since it's inception, it's standard in my Sierra Denali, but in my Tesla, nodda. And to add insult to injury with that, no text notifications AT ALL, and Tesla's nav on top of Google maps is horrid. Come on Elon, everyone's doing it! Gimmie Android Auto! Android Auto is AWESOME.

Congrats, just got a new ride myself, one week today. Hyundai Santa Fe with AA baked in, works great and I love it!

We have Android Auto on our 2017 Honda Civic and we love it for navigation. We used it this past week for trip to Florida and Nashville. It worked flawlessly.
I also us it for calling. Just tell it whom to call!

We've had vastly different experiences with Android Auto.

What issues have you had? My personal car is a 2011 Subaru, so I don't use AA daily, but I rent cars with AA pretty much every work in the course of work-related travel. It's worked really well for me across a pretty broad range of vehicles so far.

It's great that you're able to use Android Auto. I have a 2016 GMC with Intelilink Display compatible with both Apple Car Play and Android Auto. Apple Car Play works beautifully as intended while Android Auto struggles to connect with My Note 8. The difference is that Android devices require (quite) a few separate components to work together (which in my case I've yet to trouble shoot properly) while Apple Car Play is simple plug n play. ACP is a thing of beauty to use while on the road. The CRV is a tremendously reliable vehicle that should last you a long time. Congratulations.

It also depends a LOT on the manufacturer. I have rented a lot of cars lately and some model cars i see Android Auto works MUCH nicer then the CarPlay. (i have both phones so i play with both) My Note8 works great in my wifes Charger, although to be fair the CarPlay works just as well.

This has been my experience, too. The only time I've had connections issues with android auto was using a old cheap USB cable. Switching to the cable that came with the phone solved that, it connects and just works flawlessly every time. While my sister's iPhone 7 plus and now X, constantly disconnect or won't connect at all without repeatedly plugging and unplugging the lightning cable or cycling power on the headunit. Also, android auto seems to be compatible with more apps and features, that car play doesn't work with.

I'm just curious what compents you needed to make android auto work? All I needed was the AA app and a USB cable.

I'm also curious. I haven't had any major problems using it in 3 different VWs, a Kia that I'm driving now, an Infiniti that I rented, and a few other rentals. It just works.

I know on the aftermarket side, I think it is a bypass for an emergency brake signal. For aftermarket head units, Android Auto would require the emergency brake to be on for it to initialize. Carplay doesn't have that requirement as far as I know. The pro that installed my Pioneer installed a bypass toggle switch.

I don't know about aftermarket, my use has always been with a factory systems compatible with Android auto (Honda and Subaru mostly). Same as the OP with the GM factory system he mentioned, so this shouldn't be an issue or required component for him. The factory systems just work, android auto app and USB cable is all you need.

I wouldn't necessarily wait 3 years just for that tech since it can be had as an app on your phone, but it's certainly an upgrade over existing in car infotainment and navigation options. I've given up on using the navigation on my Acura and am using Google Maps exclusively after multiple trips in which Acura's system needlessly directed me into heavy traffic. Just got a good phone mount to use for it.

Baller...🤗🤗🤗 Nice, wish I could afford a car..😆😆😆

I saved up for three years, my parents had a car they wanted to trade in, and there was some money left over from my college fund.

How fast does your phone charge while plugged directly into the car? That's been my primary complaint about using AA: god-awful charge rates while plugged in to the low-output USB port in the car.

The outlet for AA on the CR-V is I believe 2.1A.

Yeah, the AA connection charges way more slowly than say a good 12V adapter does.

Good for you!. I bought the 2016 CR-V and no Android Auto. :(
Enjoy the new car!.

Yeah, but you got that camera on the right-hand mirror, didn't you? They took that away on the 2017 model.

Sirius XM just updated today and is now compatible with Android Auto. Works great on my 2018 Honda Accord Touring Sedan.

Agree with you Ara! I bought the 2016 Civic EX and love Android Auto. And I am going to replace the radio in my '07 CR-V with a Pioneer unit that has Android Auto / Apple CarPlay.

You'll like it, I've had mine for about 2 weeks, and I love it. The USB port supports faster charging.

I got a new Civic last July. I wasn't that big on having Android Auto but now that I have it, I wouldn't part with it. It's awesome.

You can use Android Auto on the 2018 Honda Accord Sport. It comes standard on them now.

The trick to many playlists is to use the alphabet jump button. https://cdn.corecanvas.com/connectedcarlife-b81343df/media/original/583f... It will let you get from the main view to a playlist in the allowed 5 clicks (as long as the number of playlists for any given letter don't require scrolling).

You could just use Assistant to change playlists, couldn't you? I honestly don't have playlists created, so I've never tried it, but I would think that would work if you use Play Music.

I tried with Spotify, but Assistant didn't seem to recognize the playlist names.

Is it better to buy a car with AA built in or to replace the stereo in my car with a AA head unit?

For 99% of the cars it won't be a big deal. Jeep didn't offer an Android auto head unit until this year on the Wrangler, and I wasn't going to wait for them to do so when I bought my 2016. I am not sure why anyone would wait, no offense Ara. In many cases the aftermarket head units are better, and you can adapt all the steering wheel controls with a maestro unit. I plan to buy one of the new wireless Pioneer head units for my wife's 2016 CR-V, because the Honda nav unit sucks. Worst nav system I've ever seen on a car.

Spend 27 thousand on a new car and then another several hundred on an aftermarket radio or drive my old car a while longer, spend 27 thousand on a new car that has the radio I want, save the several hundred from that radio for insurance payments and loan payments.

Great article. I also agree that AA is a great feature and must have vehicle entertainment and navigation solution. The navigation alone makes it one of the best driving features you would want in a vehicle. I'm curious as to what this will ultimately mean for the car manufactures and their over priced dysfunctional, non understanding simple voice commands - infotainment units.

Going from a 2003 Toyota Matrix XRS I had for 15 years to a 2017 Ford Focus RS I to am enjoying AA but I just wish it handled listening by downloaded Album better. Google Play Music doesn't show downloaded albums in AA so I had to try other add-on apps and none of them get the album thing done very well. That 3 tap restriction gets in the way of playing downloaded music within CloudPlayer on AA. Now that Assistant is on AA I thought asking something as simple as "Shuffle my downloaded music" would at least allow me to listen to my downloads but that doesn't even work. It just says something to the effect of "I can't help you with that yet". The 3 tap restriction while driving is a bit draconian but I'm hoping at least the voice commands will evolve for better interaction with downloaded music. That would make Android Auto a LOT more handy for my usage scenario.

Can't you just set GPM to play downloaded music only, in the app? Or add your downloaded songs to a Playlist.

Yep, if you turn on downloaded only in GPM or Offline mode, it stays on in Android Auto.

Finally! An article on Android Central praising Android Auto! It's so much better than any other infotainment system plus it's safer because it locks you out of the phone.

Yep, it locks me out of everything on the phone but the camera, which is handy if I need to snap a pic of someone's license plate.

Question about android auto and apple car play... if u hook up ur phone to the car and use the navigation, doesn't that eat up ur data??? Isn't having a car with regular navigation better since u don't use ur data??? Or am I wrong??

You can download maps to your phone to minimize data usage. I would rather use my phone with current points of interest and updated map data for the minimal data usage over an outdated unit with built-in nav.

That blows... just for that I'm not a fan... navy in cars aren't outdated cause they have updated maps every few months... I like keeping my data lol.... since I drive a lot I use nav constantly.. android auto will kill my data

How often are you updating maps on an OEM nav system? You maybe get one update in the first year and then they want you to pay. I disagree that Android auto will kill your data if you download the maps. Google maps will keep them updated when you are on wifi.

After downloading the maps, u can't use that downloaded map during navigation..so what good is it??

I am pretty sure things like audio streaming would use up a lot more data than just navigating using Google Maps. Also how much data does your plan have that you are worried about it?

Google Maps sips data navigating if you do the reasonable thing and download the maps for your area. I've downloaded from the Austin area to the Dallas area (which is a few hundred square miles), which takes 500MB on my phone. They've optimized how much data is used navigating because they understand how critical their service is to users who may not have unlimited plans.

Last time I downloaded a map on Google to use the navigation all it does is show u the route... can't use it for navigation....unless I did it wrong

when u download a map, u can't use it in navigation I don't think.. it just shows u the route.. at least when I tried downloading a route... I wasn't able to use the navigation for it

The downside to built in GPS is when the maps are static and unaware of traffic.

Or construction. So much construction on I-35...

You wasted 3 years personally, my after market android does everything your describing now and that was 3 years ago. Plus the screen is big and came with navigation and a dash cam, as well as 3 USB cables, a memory card upgradable to 16gb, cables for backup camera and Torque that's able to read my I obd through Bluetooth.

Sweet. I have a 2011 Acura TSX (Honda Civic on steroids essentially). I plan on driving it into the ground. By that time, I'm hoping it will be difficult to find a car that doesn't have Android Auto.

I am ordering a CRV! Downgrading from my ancient explorer sportrac. I'm a big guy but I fit in it no problems.

What color are you ordering? Do you have a name picked out?

I'm thinking the steel or the blue exl model. I had a blue oddessy. I'm a big hockey nut and my last steel looking vehicle we called the Zamboni. Something along those lines. When I test drove it I could get the electronic liftgate to work if the car was running. They said it was a safety feature. I'm going back to test it again. I'll probably walk out with a pilot lol.
I'm 250 lbs and 5'9 and the CR-V was comfortable bithbin front and in the back.

The blues are so pretty, right? A power liftgate wasn't an option on the EX, and I wasn't paying for EX-L. Screw leather seats, it's too hot in Texas for them most months anyway.

Kids. Almost a requirement. The blue seems to match my 2007? Oddessy.
Wife drives a Buick Enclave so we have a larger SUV. The CR-V is too small for her and she is 4'10" lol. But she drives three kids to school etc. Mine would be to occasionally get kids but mainly for when I travel to all these regional soccer tournaments in the Northeast to officiate. All the gear I need to keep in car is a lot. It's amazing how much room it has compared to other offerings.

I have a 2017 Honda CRV and I love Android Auto! Took me a while to get to learn all it will do, and not sure I have found everything it will do. Best car and entertainment center we have ever had.

Congrats on the new ride, and yay for knobs! Quick question: During navigation, does AA use the car's GPS, or the phone's GPS?

I believe it's the phone's GPS. The other day I went to call up navigation in AA and a notification popped up that said when safe, please turn on phone location setting (I always manually turn location, Wi-Fi, and Bluetooth on and off as needed). And actually, I think you can set AA to turn Bluetooth on once AA starts, so I should probably turn that on. LOL

Ahh, that's a good clue. I used to use an NFC tag to tap and turn on GPS and Bluetooth and mobile data, but Oreo does not allow some system setting to be changed by NFC anymore, so I'm out of luck there.

How do I prevent Android Auto from popping up and asking me if I want to load it... EVERYTIME! The program is not installed and I don't want it. But I have to say, "no thanks" each and every time. I contacted customer support and they won't get back to me. My eternal thanks to anyone who can help! 😀 (p.s. It pops up on my phone not the car)

Are you plugging your phone into the car's USB just to charge or to use it as USB for locally stored music and prefer to do that to Android Auto? Most recent versions of Android give users the option to specify how Android chooses to appear to a device it's plugged into. If you just want to charge, select charging only and the pop up shouldn't appear as the head unit shouldn't recognize that a phone is plugged in.

Thank you. I'll check it out. I honestly don't know

On a side note related to music in AA, for anyone not happy with GPM I might suggest Rocket Player. I've been a long time user of Poweramp, but the developers haven't updated for AA compatibility. Someone over on an XDA board suggested Rocket Player since it is AA compatible, and I've been very happy. For the paid version, you get a 10 band equalizer (and other stuff), and Google Assistant seems to handle most music search commands pretty well with it. It's not flawless, but I have very few complaints. Seems to locate and play most album searches, as well as individual songs. I refuse to upload my stuff to the cloud, so I have everything on my phone's SD card, probably approaching 600 CDs worth at this point. FYI, I don't have podcasts, use Spotify or Pandora. It's all my music directly on my phone...

I tip my hat to your dedication. I, however, am more than happy to let Google Play hold one of the three copies of my library.

One of the best things about buying my new Hyundai i30 SR was having Android Auto integration in the car, use it everyday and love the way it works

I just purchased a car and during the shopping process comparability with Android Auto was always paramount. My only gripe us that AA is not supported in my country after all these years it was launched. I had to side the app for me to use it. It's a shame. I do use AA regularly but I'd like Google to give support to all the european countries.

Congrats on the new car , Honda till I die 👌🏾

Android auto and car play are great when they work. Connectivity issues and freezing seriously hinder my use of it. This issue isn't just with my phone, it's with my wife's phone and anyone else that plugs in whether it be iOS or Android.

Congratulations on the new ride!

Yeah, I thought I was getting one as well, and then Ford pushed back my Explorer model year that they would support it in and I had already picked it up or placed the order by that point. I might do a swap out this year or next for an Android Auto model.

Finally, a writer who has Android Auto! Can every single phone y'all cover make it into your CRV for testing to ensure it works? Some phones just don't... including Essential Phone (as of December, didn't work in my '16 Accord). The Mate 9 was maddening, in that you couldn't accept an incoming phone call on the dash, you had to find your phone to accept. Those are huge usability issues folks should know about...

Congrats on the new car. I HAVE 2003 Odyssey with 220K too. Trying to decide if I want to spend money to fix a few things and replace timing chain (which will take out the engine if it breaks). Payments aren't a great option now. Will probably eventually get something smaller but I'll miss my van. Android Auto Question. On your CR-V do you have use a charger built in with Android Auto? I have a QC3 charger and like that it was easy to replace my old charger when I got a new phone with better charging technology.

Congrats on the new car Ara. You're far more patient than I am. When Subaru redesigned the WRX in 2015 I had to have one. It has factory nav and it's atrocious. I recently replaced it with a Sony XAV-A100 w/ AA and it's been fantastic!

Have had Android Auto on my 2016 Hyundai Genesis for a couple of years. Definitely easier as part of your OEM unit. Enjoy!

Congrats on the new car. I went the aftermarket route with a Pioneer in my 2010 Nissan Rogue. I can't imagine driving anything without Android Auto or Carplay. Enjoy your ride!

Have a 2017 Honda CRV and cannot get it to play my Amazon prime music. Have to play it thru bluetooth. How do i play it with the phone connected to the infotainment center?

If Android Auto weren't such a clumsy comic-book-looking affair, I might be interested.
Android Central Newsletter
Get instant access to breaking news, the hottest reviews, great deals and helpful tips
Thank you for signing up to Android Central. You will receive a verification email shortly.
There was a problem. Please refresh the page and try again.