This new Android Auto app fixes a problem Google created for newer phones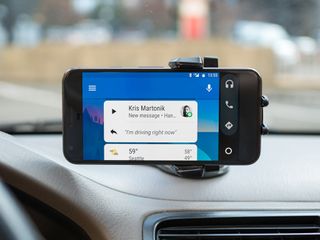 (Image credit: Android Central)
What you need to know
Android Auto for phone screens has been released.
The new app will allow users to access Android Auto again on their phones that lost access after the Android 10 update.
Android Auto on phones is expected to be replaced by Assistant Driving Mode in the future.
Back in May 2019, Google announced at I/O that it would be replacing Android Auto on phones in the future with a new solution. It would be known as Assistant Driving Mode, and while it would replace Android Auto on phones, Android Auto would continue to live on as a separate entity on car head units.
Assistant Driving Mode never had a set release date, but it was expected to launch by summer with plenty of time before the launch of Android 10. Unfortunately, development has taken longer than expected and Assistant Driving Mode has yet to be released.
That would have been fine, except Google was betting on Assistant Driving Mode already being released and broke Android Auto with the release of Android 10 for some users.
Fortunately, there is now a solution for those of you who have been missing Android Auto since upgrading to Android 10, with the Android Auto for phone screens app (opens in new tab). By installing this app, it should once again restore access to Android Auto on your Android 10 phone.
The app is only compatible with Android 10 on certain devices. If you've still got access to the old Android Auto app, then this is not for you. However, for those of you who lost access after Android 10, this should get you back up and running. At least until Google replaces it with Assistant Driving Mode in the future.
Android Auto's 2019 update is dramatically better, and makes me love it all over again
Get the Android Central Newsletter
Instant access to breaking news, the hottest reviews, great deals and helpful tips.
I'm using the newest AA on a an Android 9 phone and can't get AA to show text messages most times and rarely can get it to create texts via for example "hey Google, text Jane". The screen acts like it's listening for the message but then shuts off and won't send. Super frustrating. Apparently many folks are having similar texting issues.

I have never liked the interface. Daughter has an iPhone and the interface is exactly that on her screen. Plus I don't like how it acts in my GMC even though I've tried it a dozen times through all its updates. Now, I have a ROAV Viva in the car and use Alexa for everything. Much easier, more responsive, very happy with it.

Honestly, Android Auto and Carplay is not very good at all. The interfaces are clunky and at times difficult to navigate. I have tried both on my 2018 F150 with sync 3. I like the native experience better with navigation on the phone if I have to use maps. Spotify integration is mediocre at best and again navigation is poor. Carplay is arguably slightly better.