Android 4.4.1 update for Nexus 5 now live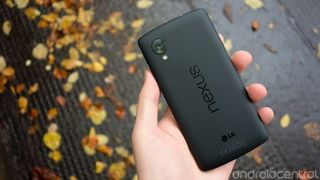 Camera improvements are the focus this time around
Shortly after Google officially announced that an update to Android 4.4.1 was making its way out to Nexus 5 devices, folks have started to see it on their own devices. The update supposedly fixes many of the issues with the Nexus 5's camera, including poor autofocus and slow capture speeds, although we can't know for sure what else is included in this update until we take a deeper look.
For now, if you've instantly lost your patience waiting for the update to hit your device, you can grab a download of the official file from Google at the link below. If you need help understanding the basic process of flashing this file to your own Nexus 5, head to our guide for Nexus tablets — the process is the same.
Update: Android 4.4.1 is also rolling out to other Nexus devices.
Android 4.4.1 (KOT49E) from 4.4 (KRT16M) for Nexus 5
New HDR+ processing animation
Andrew was an Executive Editor, U.S. at Android Central between 2012 and 2020.
Any noticeable improvements?
First!

Ah,
here's the first review
http://www.theverge.com/2013/12/5/5175568/fixing-the-nexus-5-android-4-4... Would be nice if Moto X and N5 had the same camera to receive the same updates.

no it wouldnt, the X camera is slightly better. unless you are hoping for the X camera on the N5, then I guess you have to take the good with the bad when you go with Barebones software..

Not sure which is better now. I guess we'll have to wait for comparison shots to see. The Verge seems to be very impressed with this update and I don't remember them being so impressed with moto X camera. But my point was that whatever camera they use, it'd benefit the SW team if they used the same family at least. Now they have 2 teams at least (moto X and Nexus 5).... Even if one team, multiple projects

I was really referring to the difference in software features, not necessarily the shot quality. I am anxious to see the new X camera and the new N5 camera side by side...

Things seem faster - which is nice. but now the location button on the Power Control widget doesn't turn of Location. have to turn that off the long way - anyone else noticed that?

I think you grabbed the wrong screenshots... :P

Happens. Only 3 of them were the wrong ones, right? :P

Lol... All wrong Posted via Android Central App

Nexus 5>>>>>>>> Moto X Posted via Android Central App

+1
And, another +0.01 for the 4.4.1 update.

Here's to hoping/dreaming that the Sprint Moto X will go straight to 4.4.1 Posted via Android Central App

Are you sure this fix is applicable for Moto X camera? Isn't it specific to HW?

No clue, but I want my KitKat ;) Posted via Android Central App

It's probably specific to the Nexus 5. The Moto X has a different camera and uses Moto's camera software.

THIS. Unless the changelog comes up with something more than "camera improvements", this is an update that can be mostly skipped.

As a custom ROM or ? Posted via Android Central App

Does anyone know if it fixed the speaker problem. Posted via Android Central App

I highly doubt software could fix the speaker problem. The speaker is one area where google skimped out on in efforts to keep the price as low as possible. Nexus 5...enough said

But music through the headphones with some apps like Google play music sound bad to. Posted via Android Central App

I think you have bad headphones, I listen to google play music in my car via aux cable all of the time and music sounds great.

Didn't Google say they were planning a software fix for the speaker? Obviously this is not it though.

Didn't Phil post on the front page about it? Im pretty sure he confirmed with Google that they were aware of the speaker problem and working on a fix. Maybe not in this update.

I've already read people claiming a big improvement. So far on mine I have to agree.

Done flashing, rebooting now.

What ROM? Posted via Android Central App

How did you flash it? Need help

Even if it does, just re root with Wugfresh's Nexus Toolkit. Easy as hell to do. Sent from my Nexus 5 :-D

I just downloaded from the link but nothing happened... What did I do wrong? Posted via Android Central App

Read the instructions. It explains it all. Posted via Android Central App

Is it only me who's not getting an update yet from my settings?

It is a staged rollout. Most won't get it right away. Posted via Android Central App

Awesome! Just waiting on a flashable version over on xda. Posted via Android Central App

Just flashed this. Some things I've noticed: -new animation in HDR+ mode
-swiping to the right to check pictures now opens Photos app instead of Gallery
-new option to "show on map" when you click overflow menu in Photos app Posted via Android Central App

I hate the photos app, I much prefer gallery Posted via Android Central App

Listening to music.. At the moment. It sounds like it's a louder. From what I noticed before it wasn't this loud. Even the sounds seem more cleaner and clearer. Posted via Android Central App

Will there be such an update for the Nexus 4? Posted via Android Central App

Considering that these seem to be fixes targeted at the Nexus 5, I wouldn't count on 4.4.1 for the Nexus 4 being exactly the same.

I guess someone on XDA got the update and sideloaded it. Which is what I am doing at the current moment as well. Here is the direct link. http://android.clients.google.com/packages/data/ota/google_mako/0896df95...

Sideloading as we speak... Android is Upgrading... Optimizing app 1 of 256 - This might take a while :-)

Got my update pushed to me without checking. Posted via Android Central App

Wasn't as lucky, seems I am never am though lol

Lucky you! Posted via Android Central App

Wagonis.....what's up? From the old Esteem android forum! How you like your Nexus 5? Posted via Android Central App

Wow, the old Esteem forum! That seems like ages ago, although I have to admit that was my first real deal and half way decent Android device. lol What's up dude? So far I love the Nexus 5, sold my 7 month old GS4 for this thing and the only things I really miss are the quality pictures I was able to take with the GS4 and the IR blaster. Hoping this update brings the pic quality closer but as far as the IR blaster I'll have to learn to live without it. Truth be told, I WAS about to sell the N5 so I can buy the Moto X but honestly I don't see the huge benefit and if anything, I see the N5 being a better device in the long run with the SN800 QC.

Can I flash this over the stock ROM via twrp? Anyone tried? Posted via Nexus5

Being that this is just an upgrade file, I don't see why you wouldn't be able to use TWRP or any custom recovery to flash it. Although be warned, some folks had issues doing so on a rooted N7 with a custom recovery...just sayin.

Someone on xda said he side loaded it via twrp but it put him back on stock recovery and lost root. But he got those back with a toolkit. I'm going to try updating with twrp when I get it. Posted via Android Central App

Instead of risking bricking your device, why not simply flash stock recovery prior to upgrading. Posted via Android Central App

Speaker is definitely louder. Checked a voicemail on speakerphone and I could tell it was louder. Also for Canadians on certain carriers like Rogers, the voicemail notification bug is fixed too.

Placebo? Can you flash back and forth really quick and then report back? Posted via Android Central App using an LG G2.

No chance I'm flashing back and forth to test it, I'll let some android site handle that lol Posted via Android Central App

Anyone on Sprint get it yet? I'm still skeptical updates are going to come from Google at the same time as everyone else for some reason.

Considering that its the exact same phone as available from the Play Store, I would think so.

Yeah that was a long time ago! That old Esteem is still being used today by my nephew. I had the Galaxy s3 and knew I'd be upgrading to the Nexus 5. Almost bought a Galaxy s4 first, but glad I bought the Nexus. I'm very interested to see how this update enhances the camera....looks promising. Good to see ya and hope all is well. Cheers Posted via Android Central App

Haha, yeah believe it or not, my Esteem is being used by my sister, my Indulge is being used by my nephew, my Ascend is being used by a friend and my Code (Yes, the Samsung Code) is being used by a co-worker. I even had my brother use my old BB but the screen finally went. My phones continue to be in use all over the place.

If we have switched over to ART do we have to do back to DAVLIK for the update to be performed?

I'm on ART and the update worked fine for be without changing back to dalvik :) Posted via Android Central App

No need to switch to davlik, I sideloaded while running ART with no issue. Posted via Android Central App

Has anyone tried downloading the update and flashing it via TWRP recovery? Posted via Android Central App

http://forum.xda-developers.com/showthread.php?t=2517778 Check this out. Posted via Android Central App

Geez google personally set a double standard when it comes to stock and GEL lol its either stock or SUPER STOCK but I am so confused why all nexus devices don't get an update because we need one Sent from my Nexus 7 2013

You can actually install GEL on any Nexus device, I have it on my Nexus 7 (2012)

OK, big thing for me that I noticed is that now you can use zoom while camera is in HDR+ mode and the zoom shot looks beautiful when zooming in on a close (like, within inches) object. Also like the progress ring for pictures and it does seem to respond better. The speaker does sound a little better as well. Now I want to see how this update affects the better at all.

Sounds good man! Thank you! Can't wait for it. How about focus times? Posted via Android Central App

Focus time seems to be better as well, except for those really close shots, but that's where being able to zoom in comes in...finally :-)

That's good to hear. Posted via Android Central App

How did you install the update? Never mind, saw that you sideload it. Did you side load it with stock recovery? Posted via Android Central App

I just sideloaded the OTA update for the Nexus 4. http://www.androidpolice.com/2013/12/05/download-android-4-4-1-ota-kot49...

When you rotate the camera from landscape to portrait (or vice versa) the slow laggy rotation animation is gone. It's almost instant now!

Flashed through TWRP, works fine. Noticeable sound difference. my notifications are waaaaay louder. Not sure what that is about. Camera is much nicer as well. Here is hoping they fixed the share link glitch as well...

I've seen so many people with that glitch. Thankfully I haven't come across it, but I hope that gets fixed too! Posted via Android Central App

What glitch? Posted via Android Central App

When you select an app to share a link, like from chrome, sometimes that app gets stuck as the only app you can share with next time you try it. Posted via Android Central App

What glitch? Posted via Android Central App

Flashed this update through TWRP recovery ....SUCCESS!! Camera focus, low light performance is MUCH improved! Posted via Android Central App

Stock kernel? Posted via Android Central App

I can vouch for the notifications ( stock ) being way louder than the original ones. I don't know if its placebo effect but they definitely sound louder!! Posted via Android Central App

Yes stock/rooted/TWRP recovery ....just download n flash ...I had zero problems. If you're worried make a back up first. Posted via Android Central App

Cool thanks. I got a backup already and from what I've heard if it doesn't work it just fails. So shouldn't be a big deal. This sounds like an awesome update so far. Posted via Android Central App

Fails for me too.
Only modifications I have are ROOT & Xposed. Other than that I'm stock with the stock recovery.

You need to disable xposed and try again. If that doesn't work, you can flash the system.img only (from the hammerhead factory image) so you won't loose data. Then the update will work for sure. Posted via Android Central App

Do you know anything about running a custom kernels and updating? I was told I need to flash the stock kernel (which I already did) and rename some system files. But the guy never responded to which ones needed to be renamed. Posted via Android Central App

You need to flash the stock kernel. You could flash the boot.IMG and the system.IMG if you have modified any system files. Posted via Android Central App

If you sideload this and you're using Chainfire's SuperSU, you might want to disable it before sideloading. There's a mean bug with the OTA.

I was rooted via ChainFire with SuperSU and side loading the update boot looped my phone. I had to use "fastboot format cache" to fix the cache partition, then did a restore by downloading the factory image from Google - I removed the "-w" from the "fastboot update" command so my data wasn't wiped - and then I was back, sans root. I removed SuperSU, and tried the "adb sideload *KOT49E.zip" again - everything worked just fine. Whew. Thanks Google!

If you had a backup it would have been much easier, i just flashed back my backup (which i did before rooting) and re-sideloaded the update. Then i restored all my stuff with TitaniumBackup. Took me 15 min.

You are correct mchockeyvette. It's definitely helped. Like I said...I flashed it through TWRP because I'm impatient. I don't wanna wait lol. Posted via Android Central App

FYI ...It did break root but no big deal! We all know ways around that. Posted via Android Central App

Yup...took like 2 minutes to re-root with WugFresh Nexus Toolkit. God I love that thing :D

I am using super user pro with "survival mode" checked and it kept root. Posted via Android Central App

Looks like the update went back to the previous way of handling volume for Bluetooth audio devices, which fixed a few issues I was having controlling volume with some of my Bluetooth devices. Very happy.

Yeaah! Can confirm this update did fix the dreaded bluetooth volume bug. The handset and headset volume controls are now totally independent and LG Tone+ no longer forces full volume onto Nexus 5.

Hi guys, i'm absolutely new to Android, and i used to have iPhone till 2007, till my new 5s fucked me up) I used to install beta in it. But i don't want to flash or root my nexus 5. Can anybody tell me, why doesn't my phone offer me to install 4.4.1 in updates?

see below. It will hit more sooner than later. This is a rather small update. Even so, Nexus full updates are usually pretty fast.

You can still sideload it though, sideloading official OTAs doesnt require neither root nor custom recovery, just an open mind and some good tutorials ;)

He doesn't want to flash anything.. He wants to go au natural ----------------------------------------------------
So where is the competition for the Note 3? Oh right there isn't any...

It's a staged rollout. Google 's servers randomly picks phones for the new software over a predetermined period of time. Sometimes this can take up to 10 days for every phone to be offered the update. This spreads out the load on the servers and allows them to stop the update if the first number of updated phones have problems.
Being that this is just a "fix'um" update the rollout should happened quickly. That said, I'm still waiting. :-( Posted via Android Central App

Thank you very much for such a detailed answer,because i couldn't make it out, remembering apples updates, when they were out they were available for everyone) ok so waiting)

Not sure if anyone else noticed the same thing (I assume it's related to the update package linked) but after flashing the update from this post, my phone changed to English (UK) from English (US). I noticed because my clock was now 24h time, and "Airplane Mode" in my quick settings was "Aeroplane Mode". No big deal to flip the setting back, but just wanted to share in case anyone else ran into the same thing and was stumped.

Huge improvement in listening to musing with headphones! Before the music at it's highest level was still pretty low, but now it's definitely louder. AlterBridge Fortress sounds GOOD!!

I'm on Sprint. Is this update going to push out to us? I checked manually but I can't get it. Posted via Android Central App

It'll get to your phone eventually...be patient.

Shame they couldn't do this with the Nexus 4. Even a 10-15% overall improvement would be welcome.

Am I the only one who is experiencing higher volumes on their n5? I sideloaded last night and this morning, my alarm was a lot louder than normal. I dont know if this fixes speaker, but certainly volume was increased

It is louder. Someone on XDA investigated and it seems Google was compressing the digital audio much more in 4.4. They've change that in 4.4.1 so the audio comes out louder.

This s really bad! Still haven't received 4.4 update on my Samsung galaxy s4 but nexus devices getting 4.4.1 Posted via Android Central App

Still waiting. I shouldn't have to sideload. When Apple announces an update everyone can get it immediately. Google has nowhere near that number of devices to update...

This is good! Ordered a N5 (Black, 32gb) as my 1st smartphone (previously had to use WiFi only tablets). Ordered Wednesday Night, shipped Last Night, and will be delivered Tuesday!!! So happy!! The update will make better even better. Posted via Android Central App on my Samsung Galaxy Tab 2 7.0 (Android 4.2.2)

So trying to sideload I'm having no luck. I've read some things about tweaking an INI file but was for nexus 7 not 5. Anyone have the specifics on this? Posted via Android Central App

So trying to sideload I'm having no luck. I've read some things about tweaking an INI file but was for nexus 7 not 5. Anyone have the specifics on this? Posted via Android Central App

I keep getting an error when trying to sideload with twrp "/system/bin/thermal-engine-hh" has unexpected E: Error executing updater binary in zip '/data any ideas?

Flashing official Google firmware voids your warranty, correct? Posted via Android Central App

Got tired of waiting so I used the instructions Jerry made for the Nexus 7 above and it worked like a charm on my Nexus 5 using a Mac. Now to check out all of the fixes especially the camera.

This can be done on any Nexus 5 no matter the Carrier?
Android Central Newsletter
Get the best of Android Central in in your inbox, every day!
Thank you for signing up to Android Central. You will receive a verification email shortly.
There was a problem. Please refresh the page and try again.